Posted on
Admin's contract rejected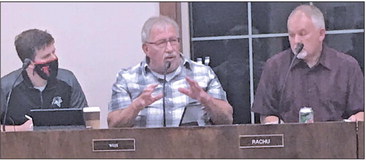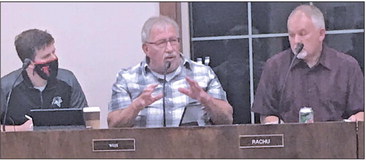 Abby mayor breaks 4-4 ties by city council
The future of the city administrator's position in Abbotsford was called into question Monday after a new contract for the current administrator failed to find enough votes among elected officials.
Abbotsford's city council deadlocked twice, 4-4, on whether or not to extend the contract of city administrator Dan Grady, and both times, the mayor cast a deciding vote against renewing the contract at the end of this year.
What started as a routine contract negotiation morphed into a larger conversation about whether Abbotsford even needs a city administrator.
Mayor Lori Voss and a couple of the council members who voted against the contract renewal said they got a lot of calls from constituents who think the position is just too costly.
"They looked at the contract online, and I took a lot of calls," Voss said. "They think it's too much money for the city of Abbotsford."
As proposed, the contract would set Grady's salary at $72,828, retroactive to Jan. 1, 2021. Starting in 2022, Grady could qualify for annual raises following satisfactory performance reviews. The city also pays $13,423 per year toward Grady's health insurance premiums.
The council was forced to revisit the contract renewal after Mayor Voss vetoed a 4-3 vote in favor of renewing the contract at the council's Feb. 1 meeting. In her veto announcement, Voss said the contract needed to be reviewed by an attorney and updated so it matched the language of a new employee handbook.
After a closed session discussion Monday that included city attorney Bill Gamoke, the council reconvened into open session to vote on the contract.
The first time it came up for a vote, Ald. Dennis Kramer objected to a provision that would have obligated the city to pay Grady a severance package equal to one full year worth of salary and health insurance premiums if he was terminated without cause.
"I'm very much opposed to the oneyear thing for anybody," he said.
Kramer was joined by Alds. Roger Weideman, Brent Faber and Jim Weix in voting against the motion, while Alds. Mason Rachu, Lori Huther, Dale Rachu and Frankie Soto voted in favor of renewing the contract. Mayor Voss broke the tie with a no vote, saying she also did not like the one-year severance package.
Before making a second motion to renew the contract, Ald. Mason Rachu agreed to reduce the severance package down to six months worth of salary and insurance premiums.
That was not enough to flip the votes of the four council members who opposed the contract renewal, nor did it change the mayor's mind.
Two of the no votes came from Alds. Faber and Weideman, who both voted against the motion to create the city administrator's position back in 2018.
"It has nothing to do with Dan," Faber said. "When we came up with the city administrator, I never wanted it. I probably still don't want it."
Faber acknowledged this wasn't very fair to Grady, who was hired in 2018 as a city administrator, but he thinks the city can "go a different route." He also mentioned the overall increase in salaries paid at city hall, which went from having one full-time position to three in 2018.
"In my head, it's hard to justify the entire dollar amount in the office, versus what it was five years ago," he said.
Still, Ald. Mason Rachu pointed out that other cities are able to afford administrator positions. "After looking at positions similar to Dan's in cities like ours — and some even smaller — a lot of them get paid more," he said.
Weideman acknowledged that the pay scale is "all over" the place, but it depends on factors such as how many people are working at city hall and whether the city itself is growing or not.
Rachu said he didn't like how the renewal of Grady's contract was handled.
"We alleviated all of the concerns from the mayor's veto, and now that was for nothing," he said.
Ald. Weix said he was "merely doing that the constituents are asking for." He mentioned a petition he submitted back in 2018 to force a referendum vote on whether to establish a city administrator's position. Instead, the council modifi ed the administrator ordinance so it was not subject to a referendum.
"Are we here to represent the constituents or are we here to do what we want to do? That's my question," Weix said. "I'm representing constituents who say we are paying out too much money to have a city administrator. Why can't we go back to a clerk-treasurer?"
Because Grady's contract doesn't expire until the end of this year, the council still has time to decide what to do about his position. Voss, who is not running for reelection in April, suggested that the council decide whether it wants to advertise for a clerk-treasurer instead and what the pay and benefits should be.
The council agreed to discuss the issue again at its next committee of the whole meeting on March 17.
Closed session call-ins allowed
Prior to meeting in closed session to discuss the administrator's contract, the council voted to allow members who are calling in by phone to participate in closed sessions as long as COVID-19 remains a public health threat.
As a result, Ald. Dennis Kramer was allowed to participate in Monday's closed session over the phone.
The decision came after a discussion with city attorney Bill Gamoke, who said the city shouldn't have to worry about allowing council members to call in as long as the council takes reasonable steps to exclude the public from closed sessions.
"How do we know that person is alone, other than them saying they are?" asked Ald. Dale Rachu.
Gamoke said the rest of the council will just have to trust that person, and if he or she violates the confidentiality, it could be "grounds for removal."
Once the pandemic "goes away," Gamoke said the council can always repeal its action allowing members to participate in closed sessions remotely.
_ Resident Jim Colby complained to the council about snow being plowed onto a section of sidewalk in front of his rental property on Second Street, implying that it was done in retaliation for him speaking against city officials in the past. Colby said he was worried about being ticketed for not removing the snow, but Grady told him the city crew would remove any snow left by the plow.
Later in the meeting, DPW Craig Stuttgen said the snow was not intentionally plowed onto the sidewalk in front of Colby's residence. Voss said she got a phone call about the issue and promised that no tickets would be issued if snow was left on the sidewalk.
"It is what is," she said. "It wasn't intentional, bottom line."
_ The council accepted a gravel-crushing bid from Earth, Inc., which submitted the lowest of four bids.
_ The council agreed to indefinitely postpone a road reconstruction and flood mitigation project planned for East Linden Street until funding is available. Stuttgen said the city had $200,000 budgeted for the project this year, but an estimate from MSA Professional Services was over $600,000. Even though a larger project won't be done this year, Stuttgen said he still plans on having a new 30inch stormwater pipe installed in that area to cut down on flooding.
_ The council approved a compliance assurance plan for the city's recycling program, along with changes to the city's recycling ordinance, as recommended by the Wisconsin DNR.
_ The council approved a $15,420 proposal from Hydro-Klean to repour four concrete manholes on Fourth Avenue.
_ The council approved a $555.06 sewer credit to the residents at 200 E. Pine St., who had a water leak caused by a failed hot water heater.
_ The council approved a resolution honoring the life and service of former Ald. Jeremy Totzke.
_ The council voted to open city hall to the public one hour earlier, at 8 a.m., starting April 1. The service desk will continue to be open until 5 p.m. every weekday, with Grady adding an extra hour to his day in order to avoid overtime pay for city hall's hourly employees.