Posted on
Custom fire truck selected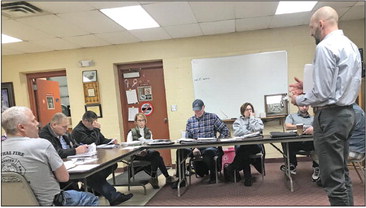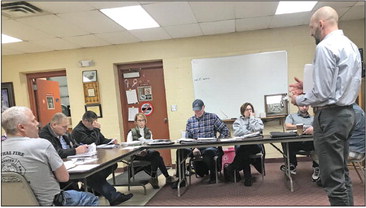 Municipalities need to approve purchase of $453,000 vehicle
By Kevin O'Brien
Over the next couple weeks, the seven municipalities in the Central Fire and EMS District will be asked to sign off on the purchase of a new $453,000 fire engine from Pierce Pumper.
Following months of discussion and more than a year of researching, the district board voted 6-0 (with one absence) last Thursday to select a proposal presented by the Appleton-based truck manufacturer.
Pierce was one of four companies to provide multi-option proposals for a new pumper truck. The others were Custom Fire Apparatus of Osceola, Custom Fab & Body in Marion, and Stainless and Repair in Marshfield.
Prices ranged from a high of $562,903 for a Spartan Gladiator custom chassis down to a low of $378,702 for a commercial International chassis.
In the end, the discussion came down to two truck options — a commercial cab and chassis offered by Custom Fire for $435,000, and the $453,000 custom chassis from Pierce.
See TRUCK/ Page 10 District fire chief Joe Mueller reiterated the firefighters' preference for a custom chassis, which has significantly more cab space and safety benefits.
"In my personal opinion, it would be taking a big step backward by buying a commercial chassis because everything else we have — and everybody's used to driving — is a custom," he said.
Board member Mitch Gumz said the extra $20,000 for the custom chassis is worth it to satisfy the firefighters.
"The firemen want a custom chassis, and for 20 grand, I really can't see not giving it to them," he said.
Board member Dennis Engel noted that the truck they chose will cost quite a bit less than a $582,125 proposal from Pierce that was rejected by the board last summer.
Now that the board has approved its selection, board chairman Larry Oehmichen said municipalities representing at least 66.6 percent of the district's property value need to approve the purchase.
Oehmichen said the local city councils and village and towns boards will need to vote on the proposal at their next meeting in order to secure an $18,000 pre-payment discount from Pierce.
"By us losing that $18,000 discount, that might throw this truck out the door," he said.
The truck's sticker price was $482,514, but the board deducted close to $11,000 by eliminating airbags and saved another $18,000 by taking advantage of a pre-payment discount.
The truck will be built on a custom Pierce Enforcer chassis with a 1,500 gallon- per-minute Waterous pump. Mueller said no new equipment, except for a radio, will need to be purchased, and all of the lettering and decals are included.
Dan Schultz, a Pierce Pumper sales rep, told the board about he and his company modified their original proposal so that it included fewer Pierce-brand parts. He said this will allow the district to get parts and service at other vendors.
"I tried to simplify it and get away from the proprietary products," he said. "You're still getting a Pierce chassis and our Enforcer cab, everything the fire department asked for." The truck will be built in Appleton over the next year, with delivery to the district expected in 12 months.
Brian Hafermann of Stainless and Repair also spoke to the board, emphasizing the company's nearby location in Marshfield.
"We're only about 25 minutes away from the station here, so we're close," he said. "I think that's an important consideration when you're factoring in where you buy the truck from."
Before voting on the truck purchase, the board went over a longterm truck and apparatus plan devised by firefighters that could allow the district to get rid of up to three trucks in coming years.
John Austin, the battalion chief at the Abbotsford station, said the new fire engine will likely be housed at station 1 in Colby, which will allow a 1997 Spartan pumper there to be moved to Dorchester. In turn, this will allow a 1998 Spartan pumper in Dorchester to be sold.
Another truck that could be sold is a 1999 International Heavy Rescue (a converted ambulance) in Colby. If this were to happen, a rescue truck from station 2 in Abbotsford would be moved to Colby, and the main fire engine in Abbotsford would be converted to a rescue truck.
Austin said station 2 in Abbotsford would be left without a "people hauler" if this plan were implemented, but he said there's various options to "make do."
The plan also outlines potential vehicle purchases (fire only) in the future, including a new command vehicle in 2023, a custom cab tanker/pumper in 2025 and another new engine in 2030.
"This report is a starting point for planning purposes only and is subject to change," the report states.
With a total of 33 vehicles and other apparatus in the three fire halls, firefighters and board members agreed that some assets can be disposed of as long as there are adequate vehicles to respond to calls throughout the district.
"We have to have equipment in every station; there's no doubt about that," Oehmichen said. "We don't know where the fire is going to be."