Posted on
Schools still grappling with COVID issues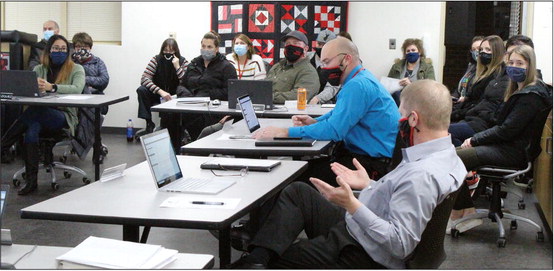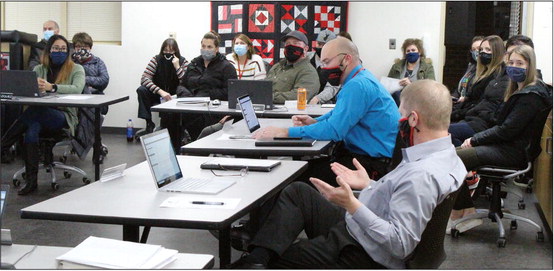 Abby K-12 stays at 4 days a week
As more and more vaccines join the fight against COVID-19, and the percentage of those who have recovered from the coronavirus continues to climb, schools in central Wisconsin are grappling with the decision of whether to return to five days a week of in-person instruction.
Colby, Greenwood and Prentice are among those area schools that are planning for a return to five days of in-person instruction for the second semester, but you can count the Abbotsford School District out, after the board of education voted Monday to remain at four days.
The board listened to comments made from teachers and students before reaching the conclusion that four days a week, with Wednesdays remaining virtual, was the best path forward for the district.
The board agreed to revisit the issue at next month's meeting.
Among those who gave public comments on the issue was junior class president Jade Severson, who spoke on behalf of students at Abbotsford High. Severson said she and her fellow class presidents from the freshman, sophomore and senior classes conducted a survey of the student body, and their response was overwhelmingly in favor of keeping virtual Wednesdays "We conducted a survey of over 200 students, and based on this survey, 70.6 percent were in favor of keeping Wednesdays virtual," she said.
Severson said the virtual day was benefi cial for students' mental well-being, and gave them a chance to catch up on homework and late assignments.
Severson and the student body were not alone in these sentiments.
Several teachers were on hand to lend their support for remaining at four days a week, with elementary school teacher Barb Salisbury addressing the board.
Salisbury noted that rather than hurting the district's academics, students were actually performing at a high rate. Salisbury said that the current system is working and should be left as is.
"We feel strongly . . . that academically this is not hurting our children. All the data is showing that we really are doing quite well," Salisbury informed the board. "I think we feel really blessed that things have gone as well as they have, longer than we thought it would even. We are kind of at the attitude that if it's not broken, let's not fix it."
Elementary school principal Gary Gunderson also weighed in on the issue, and while he wants to see things return to a normalcy, he told the board there would be some problems with a return to five days.
"We see the benefits of going back to five days a week, and getting back is our ultimate goal," he said. "If that is the case, that the board wishes to go that way, some of the protocols that we are using for social distancing, we wouldn't be able to keep doing that."
Gunderson said the virtual Wednesdays allows for proper planning to keep Abby
students isolated and allow music, art and physical education classes to take place while keeping grades separate from one another rather than using the space at the same time.
Superintendent Sherry Baker said another issue with a four-day-a-week schedule is that the district is not stateapproved as a virtual school.
"Overall, I would not be able to report to the DPI right now with the schedule we're in," Baker said. "We are nowhere near the amount of hours. In fact, we are about six days short . . . we're not at 187, we're more like 181."
Baker said that in order to meet the required days the district might have to extend the school year into mid-June.
"We are way short. Nobody wants to risk anyone. The point is how can we work this out? Either we are going to continue virtual Wednesdays because it's comfortable, or we work through that tough schedule and make it work to the best of our abilities. At some point we are going to have to make up days."
Board member Kraig Schindler asked Baker if the district would still have to make up those days if the state signed a waiver. Baker told Schnindler that the district could apply for a waiver, as other districts in the state have done.
"It's not about making up the days at that point, they are waiving hours and minutes," Baker said. "We signed a waiver last spring because we were shut down, but it's always the intent to get kids back into the school. Everyone is in a different place."
Abbotsford High principal Ryan Bargender said that, according to the district's COVID-19 dashboard, just 13 students from K-12 are in quarantine. Baker noted that based on a survey of the staff, 54 percent of the district would take a vaccine while 46 percent will not.
"At some point, we are going to have to get back to business," board member Jim Hirsch conceded. "But things are working now. We're keeping our numbers down. Why should we to risk it?"
The board voted unanimously to keep in-school instruction to four days, but as part of the motion, the board agreed to revisit the issue next month.
Donation, loan approved
After meeting in closed session, the board accepted a $50,000 donation from Forward Bank for the planned FEMA dome/storm shelter, contingent on naming rights.
The naming rights will extend for 15 years once the building is constructed, and funds will not be provided until the grant is officially awarded to the district.
The board also convened in closed session to discuss loan options for the repair of the district's pool. The board reviewed offers from AbbyBank, Forward Bank and Nicolet Bank.
The board approved a loan through Forward Bank for up to $700,000 at an interest rate of 1.99 percent for no more than 10 years, and no penalties for early payment. Nicolet Bank offered a 4.15 percent interest and AbbyBank came in at 2.2 percent interest.
_ The board accepted the resignation of Tyler Klieforth as a JV baseball coach, Dean Bellanti as the varsity boys basketball coach and Judy Salzgeber as a cook helper.
_ The board approved a motion to hire Brent Faber as the interim head boys basketball coach for the remainder of the 2020-21 season.
_ Maintenance supervisor Mason Rachu told the board that the pool project is moving forward, but progress is slow at this time. Because the pool is a public structure, Rachu said all repairs and changes have to be submitted to the state for approval, and that this will add another four to six weeks to the pool's estimated time of repair.
_ Principal Ryan Bargender said the high school hopes to keep graduation at the same date, but will look to move it outdoors as was done last year.