Posted on
Zion Lutheran finds new way to grow vegetables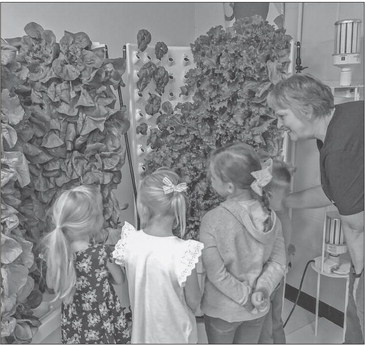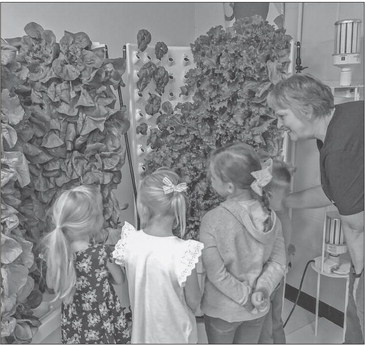 In addition to providing a safe and nurturing environment for children, Colby's Zion Lutheran Early Childhood Center is doing something very unique—they are teaching children how to grow their own produce.
Utilizing a collection of various pots and buckets, daycare staff and children started their very first outdoor garden this past spring. Under the staff's helpful guidance, children planted, cared for, and harvested their very own produce.
Daycare staff also provided the students with educational lessons throughout the process. After the harvest, students sampled fruits and vegetables that many had not tried before—and several proudly took home their yield to show their parents. This project generated so much excitement with the young children, that staff wanted to figure out a way to continue it year-round.
As luck would have it, the Clark County Health Department (CCHD) had recently been working to increase the number of hydroponic garden units in Clark county. Hydroponic gardens are ideal for indoor environments because they do not require soil. Instead, plants are suspended, and their root systems feed directly from a solution of water and nutrients that circulates through tubes.
In 2021, the CCHD awarded four Clark County school districts with a hydroponic garden.
This was made possible through generous donations by Aspirus Stanley Hospital and Marshfield Medical Center-Neillsville. When the CCHD heard that Marshfield Clinic Health System had an extra garden that was not being utilized, they jumped at the chance and contacted Zion Lutheran Early Childhood Center to see if they would be interested in taking it on.
Zion Lutheran Early Childhood Center's hydroponic garden was delivered in mid-August and the first harvest took place in mid-September.
The first yield alone generated 13.7 pounds of lettuce and over two ounces of basil. In total, the harvest filled 56 gallon-sized Ziploc bags and each family received one bag of lettuce per child. All extra lettuce was donated to the Community United Food Pantry at the Zion Lutheran Church.
Given that these gardens offer students educational opportunities and introduce children to healthy food at a young age, the CCHD hopes to continue implementing more hydroponic gardens in Clark County in 2023.