Posted on
This day in 2002: severe weather damage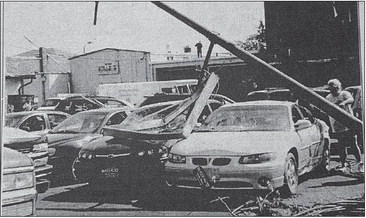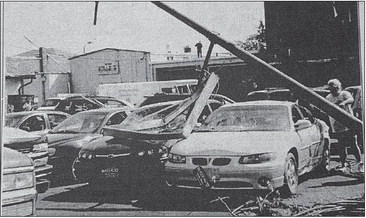 Twenty years ago, tornado-like weather struck Abbotsford businesses on June 25, 2002. The winds destroyed buildings in a 3 block radius of the storm. The businesses saw massive damage and even destruction of buildings. Winds up to 60 mph closed Business 29 from 10:30 p.m. until 6 a.m. the following morning. The storm only lasted about a minute.
"Two businesses, Holtz Feed Mill and McKee Auto, were wiped out in the storm. The feed mill buildings were leveled and every car in the McKee Auto lot is a total loss. Substantial damage was sustained to the Animal House Pet Store and Cliff's Auto. Roofs were damaged at Duke's Bowl, the Wisco Feed Mill and TP Printing. Windows were smashed on the south side of the Abbotsford Antique Mall," a story from the Tribune-Phonograph stated.
Although unconfirmed as a tornado by official sources, eyewitness Tom Weister, was '99 percent sure' a funnel cloud caused the damage. Weister was walking his dog south of the feed mill when the storm hit.
Wally McKee spent most of the night at his sales lot, which he has operated for 14 years. He was very appreciative of the efforts provided by the Abbotsford Fire Departments, Colby-Abby Police Department, and the Abbotsford city crew."
"I give all the credit in the world," said McKee. "They worked all night under some dangerous conditions to help us out."
In addition to the destroyed vehicles, the roof of his sales building was twisted and the windows were blown out. One whole row of cars was moved four feet. Several vehicles that were to be delivered to customers Wednesday morning sat in crumpled heaps.
When the storm hit, three reporters were still working in the Tribune-Phonograph office. They heard the storm sirens sound about 10:15 p.m., and headed to the basement area when the winds increased and the power went out.
We felt the whole building shake," said Aaron Romens. "We watched a tree bend over and then fleet a huge updraft of air. It came through really fast.
DPW Administrator Bill Beil said city workers stayed at cleanup efforts all night. The impact on the water and sewer plants was minimal, he said.