Posted on
Golfers enjoys home course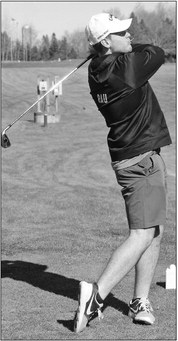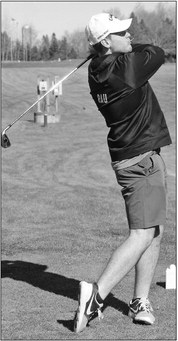 The Colby Hornets golf program enjoyed a rare home meet on Thursday, hosting multiple teams from the Cloverbelt at the Black River Golf Course in Medford. Colby followed that up on Monday with another title at their Cloverbelt rivals at Lake Wissota Golf Course.
The Hornets enjoyed a short trip to Medford and the Black River Golf Course for their only home meet of the season. Even with the home field advantage, head coach Brandon Butkus said Colby's home course can challenge even the most experienced golfer.
"The top player in our conference right now is finishing right around par or a few over. At our match he finished six over."
The sun was shining brightly, and the course was in perfect shape, and Butkus and his golfers took advantage of their closeness to the course to get a lay of the land and to strategize.
"The course was in beautiful shape, and this dry stretch of weather really helped green everything up," Butkus said. "We walked every hole the night prior to the match in preparation."
While the course and temps were fair, the wind was whipping around so fiercely on Thursday that even veteran golfers had trouble controlling their shots. That had a lot to do with the final scores, Butkus said.
"The wind certainly added some strokes to the cards," Butkus affirmed. "I overheard other kids from our conference say 'man this course is hard' and 'there are some really unique holes.'" McDonald/Regis took the meet with a score of 175 strokes, earning 11 conference points towards the Cloverbelt Conference crown. Altoona was second with 194 , followed by Neillsville with 196.
Colby placed tenth overall with their final tally coming in at 272 strokes. The Hornets earned two conference points.
Senior Jaden Underwood continues to lead Colby on the links. Underwood carded a 63 to finish 40th overall. Just one stroke behind Underwood was Carson Rau, who carded a 64 to finish in 43rd place.
Justin Hill was the third best golfer for the Hornets on Thursday. Hill finished with 47 strokes to place 47th. Tony Derrico and Maggie Sobeck finished as Colby's fourth and fifth scoring golfers. Derrico was 50th with 75 strokes, and Sobeck was 51st with 79 strokes.
"Although the Colby kids came away in good spirits, the scorecards didn't showcase the vast improvement that the second and third match did," Butkus said.
The Colby Hornets were on the road once more for their second golf meet in four days, traveling to Chippewa Falls on Monday to compete at the Lake Wissota Golf Course.
The skies were grey, and it had rained the night and morning prior, but had little effect on Colby's golfers. With multiple meets now under their belt, the Hornets posted some of their best results as a team and as individuals.
McDonald/Regis continues to put their stamp on the Cloverbelt Conference, winning the meet with 169 strokes, twenty above Eleva-Stum, who placed second with 189 strokes.
The Hornets finished eleventh overall, carding a season best of 243 strokes. Jaden Underwood paced the Hornets on Monday, carding a 54 for 38th place.
Maggie Sobeck showcased tremendous improvement between her meet in Medford and the one in Chippewa Falls. Sobeck went from a 79 at Black River to 58 strokes at Lake Wissota to place 46th.
Justin Hill remains steady, finishing as Colby's third golfer once more. Hill carded a 61 for 52nd. Carson Rau finished in 66th place with 70 strokes, and Tony Derrico was fifth on the team with 79 strokes for 71st overall.
Colby head coach Brandon Butkus says his golfers are improving, but he hopes the schedule doesn't become the biggest opponent to his young players.
"This week will bring a tough schedule with us having a match Monday, an 18 hole invite on Tuesday, and an 18 hole match on Saturday," Butkus replied.
"Their games should improve with playing those amounts of rounds in a week from a technical standpoint, but from an exhaustion standpoint . . .well, let's hope they make it through to the weekend."