Posted on
it's pretty much optional," she ….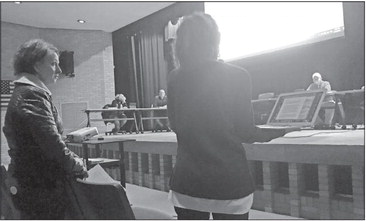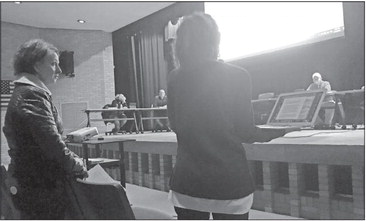 it's pretty much optional," she said. "But, coming to school, we have to, really?"
Leidberg said the district should at least reconsider requiring masks during gym class, since the CDC recommends against people engaging in strenuous physical activity while wearing them.
Beth Kosik cited one study suggesting that wearing masks and taking other precautions "doesn't control the spread of COVID-19" and another concluding that the spread by asymptomatic people is "very rare."
"People need to be educated that it's not a waste of time to come to voice their concerns to whomever has the ability to make and pass the rules we have to live by, whether on the government level or on the school board level," she said.
One parent, Amanda Haupt, stood up for the opposite side of the argument — expressing support for the district's mask rules and questioning why the board would even consider going against the governor's statewide mandate.
Part of educating students is teaching them to be good citizens, she said, and that includes following guidelines put in place by health officials. If people don't like the mandate, they can always contact state representatives, she said.
Haupt noted that the district has always set rules on what students can and cannot wear to school, so enforcing the mask mandate should not be considered out of line.
"You already tell me that I cannot send my child to school in spaghetti straps. I cannot send my child to school in flipfl ops," she said.
In a sign of how divisive the mask issue is, Sarah Halsell came to the microphone immediately after Haupt left and declared "I disagree with everything she just said."
Halsell did say she supported the board's decision to switch to five days a week of in-person classes as of next Monday, though she didn't like how the schedule for 4-K kids was changed.
"It would have been nice if we had been asked instead of told," she said.
Cindy Pagelsdorf, a district employee and parent, objected to the switch back to five days a week, wondering why the board was trying to "fix something that isn't broken."
Pagelsdorf said having no students in the schools on Wednesdays has many benefits, such as providing teachers and support staff with prep time and giving students a day without masks.
"These children are finally getting used to a schedule and then it all gets changed again," she said.
Pagelsdorf also said the district needs to do what it can to keep everyone safe as COVID cases remain high.
"I have no problem with the mask mandate, which protects my children as long as everybody is doing their part," she said.
Jessica Ertl asked the board to "give us back our parental rights" by allowing them to decide whether to send their kids to school with masks or not.
The board is elected to "make decisions based on what the community wants," she said, suggesting that the district take a survey of parents, students and community members about the mask rules.
Ertl said the conflict between parental rights versus mask mandates is a statewide issue, with one case headed to the Wisconsin Supreme Court.
"Just to make you aware, there are a few parents in this district that have already contacted a lawyer on this same issue," she said.
Lori Meyer said she, too, wants to decide whether or not her kids wear masks.
"I don't think it should be up to somebody else," she said. "I'm the one paying their hospital bills, not you. I feel it should be up to the parents; they should be able to decide."
Kim Meier suggested a survey of the public about the mask issue and worried that the "mandate is never going to end because the virus isn't going anywhere." "Let's stop the madness," she said.
Charlotte Haines said the mental and emotional damage being done to kids is "far worse than COVID," noting that almost no young people are severely affected by the disease. She recommended a return to simpler methods of controlling contagious illness.
"It used to be 'If you're sick, stay home,'" she said.
Board members respond
Board president Bill Tesmer tried to assure audience members that the board was taking their concerns seriously, but as elected officials, they also have to "answer to other people."
"We as a school district have to operate under the guidelines set by the state. The state says we wear masks," he said.
Tesmer said the board is also following the advice of the Clark County Health Department and the district's lawyer, which has advised them to follow health department guidelines on masks.
The board understand that parents and students are struggling with mask mandates and virtual learning, he said, but in many ways "our hands are tied."
"I hope you people don't think we aren't listening," he said. "We are. We hear you."
Board member Eric Elmhorst said there are teachers who have kids with preexisting medical conditions, and they need to be protected. By refusing to wear a mask, "you're infringing upon that parent's right to be safe," he said.
"That's where I have a problem, and that's why I support the mask mandate," he said.
Audience members peppered the board with questions about possible ways around the requirement that all students wear masks. One person ask if the district could just have at-risk staff members stay at home instead.
Another parent complained about having "limited" options to educate her children if she doesn't want them to wear masks in schools.
Superintendent Steve Kolden pointed out that parents can either have their students attend school in-person or at home via online software. In addition, he said students can be home-schooled, sent to a private school, or open-enrolled into other districts.
Parents in the audience warned that the loss of students over the mask issue could cost the district financially.
"What happens to the Colby school when we start pulling our children out and we do open-enroll them in a different school?" she said.
Eventually, Elmhorst said continuing the conversation was "a waste of time."
"In my opinion, I think we just need to move on. I'm not going to change your opinion," he told audience members.
Tesmer said he didn't want the conversation to become a debate, but he did agree to look into whether the district could offer parental waivers to the mask mandate like the Abbotsford School District does. "We will do some checking," he said. "I can't guarantee anything, but I can guarantee we will do some checking and report back to you at next month's meeting."
Other business
_ The board accepted the resignation of Sara Uhlig as middle school crosscountry coach.
_ The board accepted donations for the new Paul Johnson Memorial Scholarship (named after a former teacher who recently passed away) and the Vorland Family Scholarships.
_ In response to a question about offering 2% or whole milk as part of the school lunch program, Kolden said the district is limited to either skim or 1% in order to comply with the federal hot lunch guidelines.
_ Kolden presented the following date for this year's summer school: July 12-15, 19-22 and 26-29. He said the board will be asked to approve those dates at its next meeting in February.
_ Kolden said he looked into a CESA 10 grant that would help pay for solar power installation at the district's facilities, but he said the return on investment for solar panels is about 17 to 19 years for a school district. Board members agreed to hold off on pursuing a grant until the payoff is quicker.
_ The board approved open enrollment limits, which primarily apply to the number of students with special needs the district is willing to accept from other districts based on cost constraints.
_ Parent Josey Lueth urged the board not to participate in anti-bias and critical race theory training offered by the Wisconsin Association of School Boards. She called it "useless and toxic."
"This idea and idealism has no place for our school district," she said.