Posted on
Hornets falter in home opener with Dons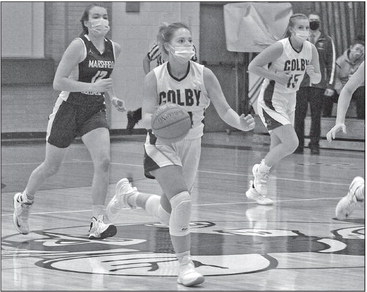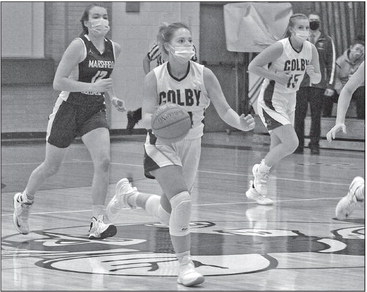 If you want an idea of how the Colby Hornets season opener went, you have no further than to look at an incident late in the second half. After being called for a travel, Brooke Suckow slammed the ball on the court, garnering a technical foul.
That frustration can be forgiven, even understood. It just was not going Colby's night on Monday, as the Hornets dropped their home and season opener to the Columbus Catholic Dons. The Dons were on a three game losing skid, and have lost five straight to Colby going back to 2017. But the Dons have been playing since November, and that experience shows, says first year Hornets head coach Terry Schmitt.
"They got more game experience, and the more game experience you get, the more comfortable you get," Schmitt said. "The Dons are a different team than when they were playing in November."
Turnovers, missed free throws, poorly executed lay-ups and indecision hounded the Hornets for two halves of basketball, and it led to a rough beginning to the Schmitt era, who takes over from Randy Rau, who stepped down after 15 years.
Thankfully, Schmitt has the ingredients needed to make for a winning team. Schmitt believes that Colby's issues can be fixed, and the first game gives him film to study and ways to improve for the Hornets' next game.
"It's the small stuff that we need to work on. We need to make better passes, keep our eyes open to see people that are open, and finish when we're at the rim. We do that, it's a whole different game."
The score doesn't paint the full picture, which is that Colby was right there through much of the game. Even with plenty of rust on Colby's game, the Hornets were in contention for much of the first half.
"We tied the game at least three different times in the first half," Schmitt said. "They got away from us and we pulled them back in."
The Dons hit some early outside shots, and led 24-19 with five to play. But by the end of the first half, the Hornets began to figure things out, attacking the basket to earn trips to the line. After one half the Hornets were only down 31-27.
And then the second half happened.
If the first half showed the Hornets promise, the second half revealed their flaws. Colby earned several early trips to the line but could not convert, going just eight of 19. A few makes, a few lucky bounces of the ball, and Colby might have taken the lead.
But the ball didn't bounce Colby's way, and the Dons' height and shooting gave Columbus a 44-36 lead with ten to play. The Hornets struggled mightily from the floor, scoring just seven points in the first eight minutes of the second half.
Colby's defense kept the game close, but without an offense to match the Dons, the game began to slip away. Brooke Suckow and Trista Meyer got a few buckets to fall, but points were few and far between in the last stanza.
Colby's shooting woes continued into the final minutes of the game, and the Hornets' deficit swelled, as Columbus Catholic handed the Hornets a 60-42 loss.
Brooke Suckow was Colby's leading scorer, with 10 points. Kya Viegut was solid in her first game, adding nine.
Last year's top two returning scorers, Lexi Underwood and Emma Peavey, also struggled, as double-teams and traps held them to six and four points. Trista Meyer had six points, Brett Schmitt had three. Olivia Vollrath and Brooklyn Filtzkowski got on board with two apiece.
Schmitt wants to see improvement from his team, as he voiced his desire for better help and movement from those without the ball.
"We just didn't finish. When we get these things fixed, we'll be a lot stronger." What they're not in search of is effort, Schmitt says. "I am proud of them. They didn't give up, that's a big thing to me."
One game is done, but more await on the schedule. Colby has time to study their first game, and should be ready to go when they face off against Spencer on Thursday in their first road game. Tipoff is at 7:15 p.m.