Posted on
Falcons still searching for first victory of 2020-21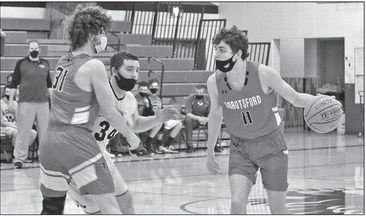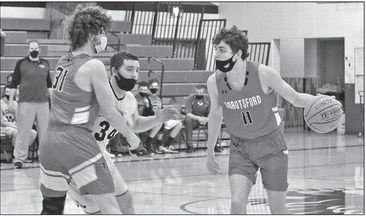 The Abbotsford boys basketball team is looking for their first victory of the season. They've come frustratingly close to it in their last contests with Owen-Withee, Newman Catholic and Loyal.
Second half stumbles have doomed the Falcons, and they lost to all three teams as their season record falls to 0-5 overall and a 0-3 mark in the Marawood.
Owen-Withee, 65-45
The Falcons took a short trip down Hwy. 29 on Tuesday, Dec. 8, to battle the Blackhawks of Owen-Withee. Abby hung with their non-conference opponent, but the Cloverbelt triumphed after Owen-Withee used a second half surge to pull away from the Falcons.
The game was up for grabs in the first half, with both sides probing the other's defense. Each side found very little to take advantage of as both teams scored under 30 points in the first frame.
Abbotsford's Cade Faber played like a man possessed in the first half, gashing the Blackhawks from everywhere, burying two treys and slashing and attacking the rim to score 14 points.
Faber got help from senior Hunter Soyk, who buried a pair of threes, but Brandon Diedrich was the only other player to score for Abby, adding two.
Owen-Withee relied on Aaron Ovyn and Logan Amacher to keep the game close, and the Blackhawks headed into the break up one at 23-22. The Falcons were in prime position to pull out the upset, but the Blackhawks found gaps in Abby's defense, and began to attack inside to earn free throws.
Owen-Withee converted 14 of 18 attempts, and this, along with a big second half from Tyler Weaver, allowed them to pull away from Abbotsford.
Faber continued to score, finishing with a game high 20 points. Abby saw six different Falcons in the scorers column in the second half.
Brandon Hawkey scored all six of his points in the last stanza. Adam Diedrich added all four of his points in the second half. Mason Carpenter and Bryce Draper finished with three and one point, while Brandon Diedrich added five points. Soyk was scoreless in the second half and finished with six points.
It wasn't nearly enough to topple the Blackhawks, who had four players in double figures, and they out-scored Abby 42-23 in the last frame for a 65-45 victory.
Abbotsford was on the road for the second consecutive game on Friday. This time it was Marawood versus Marawood as the Falcons played the Newman Catholic Cardinals in Wausau on Dec. 10.
Cade Faber turned in another huge performance, scoring a season best 26 points, but not even his superlative effort could overcome Charlie McCarthy, Nick Brenner and Mason Prey.
All three Cardinals notched double digits, with McCarthy scoring a team high 21 for Newman Catholic. Faber was the only player in double digits for Abby, with no other Falcon scoring more than five points. Brandon Diedrich scored those five, and Mason Carpenter added four points. JV Castillo and Brandon Hawkey had three apiece, and Bryce Draper and Adam Diedrich had two apiece.
Loyal, 60-58
The Abbotsford Falcons played arguably their best game of the season on Monday, hosting the Loyal Greyhounds in a non-conference meeting, but it was not enough to earn the W as Loyal pulled away in the final moments.
Cade Faber turned in a game for the ages on Monday, recording a new season high of 29 points. Faber displayed his leaping ability as he soared high in the sky to pull down 16 rebounds.
Faber scored 15 of his points in the first half, and he got some welcome help from Mason Carpenter and Hunter Soyk. Loyal did their damage from three, raining down seven treys to take a 31-27 lead.
The second half saw both teams go at it, with each eager for a victory. Faber poured in another 14 points, and Mason scored six to finish with 12 points.
Diedrich came on in the second half, burying three triples for nine points. Loyal relied on Daymain Baird and Kaiden Hagen. Baird especially had a big second half, scoring 17 of his 19 points. Hagen tallied ten points and the game came down to the wire.
The Greyhounds made the right plays when they needed them, and Abby fell 60-58. The Falcons will enjoy a few days off, and will return to action on Friday, for a Marawood - North contest in Prentice. Tip-off will be at 7:15 p.m.