Posted on
Abby girls set sights on winning season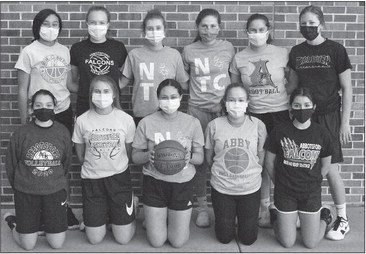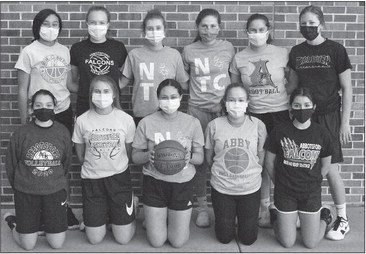 For the first time in five years the Abbotsford Falcons girls basketball finally has some consistency at the helm, with Ally Meserole returning for her second year as varsity head coach.
"I definitely think it's easier having the consistency in coaching staff. This is my second year as a varsity coach, and fourth overall with the program. A lot of the drills that we run they know, so we don't have to spend as much time teaching them. We can fine tune and focus on the skills."
Meserole's first year was a challenging one to say the least, with four starters from 2018-19's squad gone to graduation. As a result, the Falcons struggled, going 3-20 on the season.
But Meserole's first year laid the groundwork for this season, and the Falcons are already a much more improved squad as evidenced by their 70-36 victory over Owen-Withee in the first game of the 2020-21 season.
"One of the big lessons they learned is how to read the floor and see where their teammates are and what everybody else is doing," Meserole said. "Last year they played very individually, and they started to figure out towards the end, to find the open cutter, hit their teammates when they are open."
COVID-19 is also a constant cloud looming over the season. Meserole says every day brings new challenges.
"The entire season as a whole we really have no idea what's going to go on," Meserole admitted. "We don't know if the season is going to last two weeks, or if it's going to last three months. Every day is different, and we have to be extremely flexible."
While Meserole and the Falcons hope to improve upon last year's record, it's more important this season to develop players and give them as many opportunities to play as possible.
"I don't know if we have set goals because of COVID-19," Meserole explained. "We're not sure how many games we're going to get. Overall, we're just looking to make it a good season."
The makings of a good team are there, with multiple returners on varsity, including the bulk of last year's offense and defense, including second team All-Conference honoree, and leading rebounder, junior Alea Graff, as well as senior guard Catie Clement, an honorable mention selection.
"Catie Clement is probably the main leader offensively because she does such a good job of pushing the momentum," Meserole said. "Alea Graff, she's a top rebounder for us. If she can bring back those same rebounding abilities from last year and combine it with more offense, that will be huge."
Other starters include seniors Mya Ruesch and Bridgette Pogodzinski, who is healthy at the start of this season.
"Mya Ruesch is another senior leader. She really pushes the floor and is our top girl in terms of transition and speed. She really helps us in fast-breaks, and is a consistent scorer for us."
Abbotford has five seniors, but don't be surprised to see plenty of new faces on the court. This includes freshmen Sydney Falteisek, Sommer Brodhagen and Briseida Escalera.
"They've done great in middle school, but they were playing against girls their age. Now, it's a whole different caliber. I have faith that class will excel, but we have to see it first and how they mesh together on the varsity team."
Meserole's message this season, much like last year is all about improving. It's not just ball-handling, shooting or defense that Meserole wants to see improve on. She also hopes to see a change in attitude, a desire that is shared by the seniors on the team.
"I feel like we could have won a few more games last year but we just had this mindset of 'We're so bad, there's no way we can win.' I feel like if we can just keep an open mind, things will be a lot easier," Clement said.
Injuries and quarantines will be a huge factor in determining who plays, and also who can play. JV and varsity can't co-mingle at all, and players have expressed that playing and practicing with a mask can be difficult.
"It is a huge adjustment," Ruesch said. "We've never played basketball in a mask before. Even with volleyball this year, you're not running up and down the court, versus basketball, where there is constant running."
The Falcons might not be able to control what happens in the outside world with COVID-19, but one thing they can control is their approach to the game, and this year's squad brings in a new sense of belief and confidence.
"Playing last year we learned a lot and gained a lot and this year we're ready to show it off," Clement said. "We've all had a year under our belt so we've got a little bit more confidence in what we're doing on the court."