Posted on
CWF3 delivers another memorable hunting trip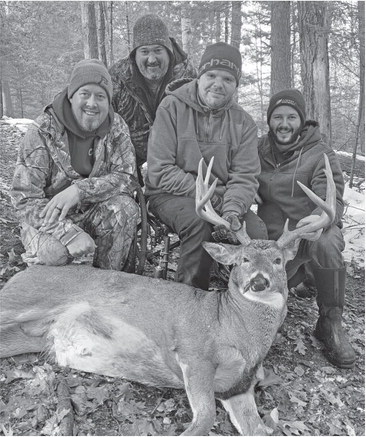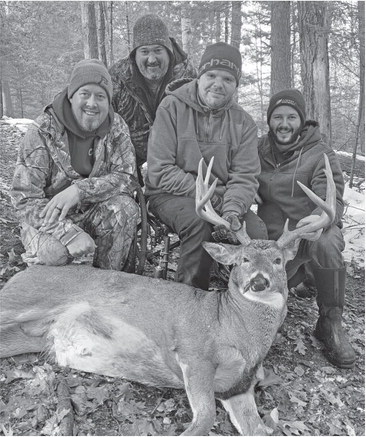 BY KEVIN O'BRIEN
TRIBUNE-PHONOGRAPH
Since being hit by a truck in 2006, Mike Stankus has learned to live with a paralyzed right arm and a missing leg. This hasn't been easy, but he still does what he can to enjoy life.
One source of enjoyment that has remained constant –– before and after the accident that nearly claimed his life –– is his love of the outdoors. As a lifelong hunter and fisherman, it was hard for Stankus to give up those hobbies.
"I have not really done any of that since my accident," he said.
Thanks to a group of local outdoorsmen, Stankus was able to achieve every hunter's dream –– bagging their first buck –– during the weekend of Oct. 23-25.
Members of Central Wisconsin Fin, Fur and Feather (CWF3), who are based in the Abbotsford-Colby area, chose Stankus for their annual sponsored hunt for someone with a medical issue or physical disability that might otherwise prevent them from hunting.
Stankus, 37, came to CWF3's attention through member Jeff Diedrich, who met Stankus while they were both camping. Diedrich watched Stankus set up a camper by himself and was immediately impressed by how determined he was not to let his physical limitations stop him from enjoying the outdoors.
CWF3 members voted to select Stankus out of three candidates for the annual hunting excursion up north, and he accepted the offer.
Eric Totzke, president of CWF3, said Stankus was chosen because members were impressed with his survival story and his love of hunting and fishing, which is something he's trying to pass on to his 8-year-old son, Jax.
Stankus said he was "speechless" when he found out that he had been chosen for the cost-free trip, realizing it was "an incredible opportunity" for himself, his girlfriend, Lindsey, and Jax.
Little Lakes Memories near Irma, a 105-acre deer farm that caters to hunters who require special accommodations, was once again the host site for this year's weekend hunting trip.
Stankus was joined by Jax and Lindsey, who were accompanied by Diedrich and his wife Sarah, Totzke and his wife Jenny and Seth Pinter and his wife Sheala. The four couples were met by the deer farm's owner, Dick Busha, his daughter Missy, son-in-law Erik, and their son, nine-year-old Luke.
Luke and Jax became fast friends during a scouting trip held two weeks before the hunt.
"Luke is an amazing young man who loves the farm and what they do there," Totzke said. "He lives and breathes the 'deer life,' searching for sheds as soon as he sees one drop in the spring."
Stankus said Luke and Jax were "two peas in a pod," who became inseparable as they explored the hunting grounds together before the hunt.
The hunting group arrived at Little Lakes Memories on the afternoon of Oct. 23, and within an hour or so, they were in the blind, watching for deer. It took a couple hours before Stankus saw the nine-pointer he took a shot at, and it wasn't much longer before the sun went down.
"It was almost looking like it was going to be a next-day thing," he said.
Those two hours in the blind were a fun time, he said, as Diedrich was there to keep him and his family company.
From the second they got into the blind, Stankus said they were seeing does all over the place, as many as 20 total, and then they spotted a couple of 9-point bucks.
"It was actually pretty incredible," he said. "You don't go hunting and see that all the time."
Stankus chose one of the nine-pointers to take a shot at, but after he pulled the trigger, it wasn't entirely clear if the bullet made contact. Diedrich thought maybe it had gone over the deer's back.
Fortunately, Diedrich was video recording the whole hunt, so they could review the footage after the fact.
"So, when we went back to the lodge, we were able to slow-mo it and watch it five million times," Stankus said. "We came to the conclusion that I hit it a little in the back, in the liver."
A small search was done to find the deer that night, but it was decided to wait until the following morning to continue looking. Stankus said he was "extremely bummed out" not knowing if he actually landed a kill shot.
"But, that's hunting, you know?" he said.
Fortunately, it look less than an hour the next morning for Missy to find the deer about 120 yards from the blind.
"It probably lived for a little bit, but not long," Stankus said. "It wasn't a perfect vital shot, but it was in the liver."
Once Stankus finally got to see his buck up close, that bummed-out feeling was instantly replaced by exhilaration.
"When I got to hold the horns, it was just incredible," he said. "I couldn't be more excited."
Not only was this his first time bagging a buck, it was also the first time he killed a deer with a gun. Before his accident, he was a bow hunter, having landed six whitetails from the top of his climbing stand.
Stankus said his son was also overjoyed by the experience, screaming out loud after he saw his dad's achievement.
"The sad thing is, now my son thinks that's how hunting goes," he says with a laugh, noting that it's rarely that easy to land a nice buck after a couple hours in the woods.
The rest of that Saturday was spent in celebration, with all of the couples and the two boys enjoying the post-hunt glow. There was an amazing dinner with ribeye steaks on the grill and "a nice night of B.S.ing," Stankus said.
The CWF3 guys couldn't have been any nicer, he said, and their wives also helped make the experience memorable.
"It was just great," he said. "We felt like royalty."
Stankus will be getting a full head mount of his nine-pointer, which will be presented to him at CWF3's annual banquet in March. He got the venison processed at a place near his home in Combined Locks, east of Appleton.
The experience has inspired Stankus to get his son more involved in hunting, with help from himself and a couple uncles who are really into the sport.
"Maybe this was just the push I needed to get back into it," he said.
Stankus said he, Lindsey and Jax are "outdoor people" by nature, so it doesn't take much to get them outside.
"We try to camp every weekend, if not every other weekend, during the summer," he said. "The kid loves the outdoors and so do we."
Anyone who is interested in having a similar experience — or knows someone who deserves it — is encouraged to send an email to info@cwf3.com or to visit their website, cwf3.com, and sign up on the spring banquet waiting list.
Totzke said they are lucky to have a large network of businesses and other sponsors supporting the annual trips, but they're always looking for candidates.
"Some years are harder than others to find those who fit or are willing," he said. "We've learned that many less fortunate feel there is always someone more deserving, which presents a challenge." Stankus said anyone who is offered this opportunity by CWF3 should not hesitate to take it.
"I would say you've gotta go for it. It's a once-in-a-lifetime chance to do this, and once I got there, I never looked back," he said. "I think it was exactly something I needed." Besides the head mount and venison, Stankus brought home some great memories and new friendships. "I can't say enough about the group of people," he said. "It was like we were friends forever the second we got there."