Posted on
Abby still working to get smaller trash carts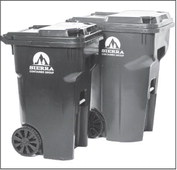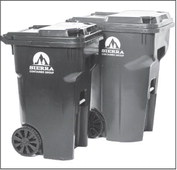 Abbotsford's city council is still trying to strike a deal with Advanced Disposal for those residents who want smaller garbage and recycling bins.
Last year, the city entered a 10-year contract with Advanced Disposal, who delivered 95-gallon trash and recycling receptacles for city residents, but some were unhappy with the size and complained that the carts are too hard to move.
The city approached Advanced Disposal about acquiring 80 pairs — or 160 bins — for those who wanted a smaller 65-gallon option. In response, Advanced Disposal wanted the city to pay half the cost of the new bins.
The council turned down this offer last month, saying that the city should not have to pay for trading 95-gallon bins in for 65-gallon versions.
In an Oct. 29 email to the city, Dale Marth of Advanced asked if the city could reduce its request down to 20 pairs of 65-gallon carts, or to pay a $20 "swap fee" for every resident who switches. At Monday's meeting, Ald. Dale Rachu wondered if the city's request could be trimmed to 50 pairs to avoid the fee.
No decision was made by the council, which plans to revisit the issue at its next meeting on Nov. 19.
The council spent the first hour of Monday's meeting debating the topic of insurance plans for two employees, city administrator Dan Grady and Abbotsford Public Library director Jenny Jochimsen.
Cory Toth of Spectrum Inusrance fielded questions from the council, which is debating whether to renew the current plan or switch to one of several options provided by Spectrum Insurance's regional co-op.
Toth told the council that in order for Spectrum Insurance to consider adding Grady and Jochimsen to their co-op she would need the council to approve a quote form and would need a Security Health plan agreement signed in order to submit for review.
The council approved both forms on Monday, but council members still need to decide which option they want from Spectrum. The issue will be discussed again after a 2021 budget hearing scheduled for Nov. 19.
Other business
_ The last date for leaf pick-up will be Nov. 6. After that date there will be a $50 fee for late pick-ups.
_ The board made a motion to approve plans for a six-foot high fence that would run around the soccer fields in the Schilling subdivision. The project would begin sometime in 2021, with the $21,000 cost covered by TIF funds.
_ The board approved a $2,500 contract with Cedar Corporation for staking out a walking trail that will run approximately 3,000 feet through Schilling Memorial Park. Cedar Corporation will do preliminary surveys this month, with the project set to begin in the spiring, using recycled blacktop from the city's current street projects. The cost will be covered by TIF funds.
_ The council tabled a change order and time extension request from Melvin Companies on the Spruce Street project. Approval was withheld until the subcontractor paved the construction corridor, which happened on Tuesday.
_ The council approved pay requests from Melvin Companies for work done on Spruce Street, and from Haas Sons for work on Opportunity Drive.