Posted on
the Falcons were forced to ….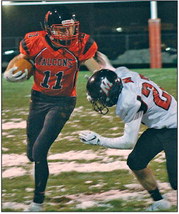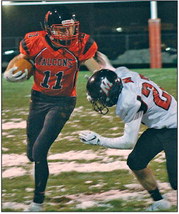 the Falcons were forced to punted.
"Defense gave us a shot, we had zero flow offensively," Knapmiller said. "I'll take the blame for that as a play caller. We also had a few chances to hit big open passes and didn't execute. We just need to do a better job overall in preparation and execution of our offense."
Marathon had a short field to work with, and marched 33-yards to score from nine yards out. The PAT was good, giving the visitors a 9-0 lead going into halftime.
The Falcons took the opening kick-off of the second half and drove to midfield, but were forced to punt. The Red Raiders methodically moved the ball on multiple pitch-and-run plays.
"We struggled on finishing on QB sacks and tackling in general. One play, the toss play really hurt us and it was partly because they executed, but mostly because we didn't understand or execute our jobs," Knapmiller said.
The Red Raiders scored their final touchdown of the night, but Abby stopped the two point conversion to make it a 15-0 ball game.
The Falcons converted several first downs on their next possession, including a 20-yard catch and run by Mason Carpenter, that was the Falcons' longest play from scrimmage.
Soyk found Wellman on a 12-yard reception that took Abby down to the Red Raider's five yard line, but the Falcons fumbled the snap and eventually turned the ball over on downs.
From there the Red Raiders milked the clock, using the run game to pick up first downs, taking time away from Abby's offense, and held the Falcons scoreless.
Abbotsford was held to 100 yards of total offense. Faber led Abby with 26 yards rushing and Wellman added another 19. Soyk finished with two completions for 32 yards, one to Carpenter for 20 yards, the other to Wellman for 12. Soyk led the way on defense with 12 total tackles and Carpenter finished with seven tackles.
Knapmiller continues to see the good and the bad, but knows that if the Falcons want to add wins to their season, improvements have to come soon.
"Everyone had a play or two that they really played well, but we made way more mistakes than good plays as a whole.
"We can dwell on the few good things, or pick a few things that we can improve on for next week and that's hopefully what we do."