Posted on
Swimmers enjoy virtual conference meet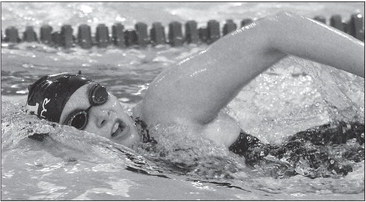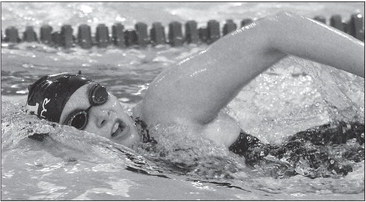 There were no large crowds. The typical deafening sounds of cheering, whistles and high fives were subdued But exciting finishes and the joy of competition remained as the Colby/Abbotsford swim co-op took part in a Great Northern Conference Championships unlike anything that has come before.
The Colby/Abby swimmers competed in their conference meet last Thursday hosting Antigo. Once their races were done, the times were added into a virtual database and compared with other teams and times in the Great Northern to determine the 2020 champs and All-Conference recipients.
Rhinelander took home top honors, with Lakeland just behind. Abby/Colby placed sixth out of eight teams, and did not have any swimmers finish with Great Northern honors, but that was OK for many of this year's swimmers, who were just happy to be competing.
"COVID-19 has been hard, but we found a way to have a season and I'm so happy we did," senior Lanie Hediger said.
The first race of the night was the 200yard medley relay. Colby/Abby had two teams in the race. The team of Olivia Krause, Hediger, Josie Hoppe and Zanza Haemer finished 11th overall in 2:20.61.
The team of Ivee Conley, Thea Fellenz, Hailey Meyer and Lilly Graun placed 14th in their time of 2:43.04.
Brooklyn Filtzkowski earned the coop's first top ten finish by placing ninth in the 200-yard freestyle in 2:19.17. Morgan Weber picked up Colby/Abby's top ten finish in the very next event. Weber's time of 2:38.96 secured her eighth place. Conley also competed in the 200-yard IM, and her time of 3:23.79 earned her 15th.
Hediger picked up her first top ten result in the 50-yard freestyle. Hediger finished in tenth in 28.67 seconds.
Morgan Weber followed soon after Hediger, taking 12th in 28.94 seconds. Josie Hoppe competed in the 100-yard butterfly and took 13th in 1:28.29. Colby/Abby had two swimmers race in the 100-yard freestyle. Olivia Krause was 12th in 1:07.00 and Lilly Graun was 18th in 1:15.51. Filtzkowski picked up her second individual top ten result when she placed ninth in the 500-yard freestyle in 6:29.91. Haemer and Conley also swam the 500yard freestyle, placing 15th and 16th in 6:59.64 and 7:40.37.
The co-op turned in one of its best results in the 200-yard freestyle relay. The team of Weber, Hediger, Filtzkowski and Haemer took sixth in their time of 1:54.73. The relay team of Krause, Hoppe, Graun and Fellenz finished 11th in the same race in a time of 2:14.67.
The co-op did not field a swimmer in the 100-yard backstroke, but did have three swim in the 100-yard breaskstroke. Krause was 14th overall in 1:34.08, Fellenz took 16th in 1:39.78 and Meyer was 18th in 1:41.24.
The co-op saved their best for last, earning their highest finish in the last race of the night. Two teams finished inside the top ten in the 400-yard freestyle relay. The team of Weber, Hediger, Filtzkowski and Haemer took fifth overall in 4:14.48, and the team of Graun, Conley, Hoppe and Meyer was tenth in 5:12.09.
The WIAA D-2 sectional meet is scheduled for Nov. 6-7, but times and locations have yet to be decided.
Hediger knows her senior season is coming to a close, and she shared her fellow senior's thoughts on the year.
"I have switched many goals, and I feel like I have met all of them throughout my four years," Hediger said. "I couldn't imagine going to any other school. I don't know how some people can switch schools. I just love being a Hornet and love being able to represent Colby."