Posted on
Colby's season comes to abrupt end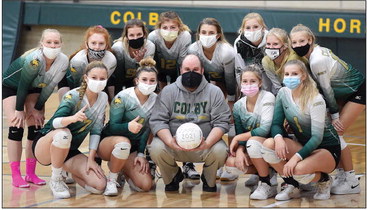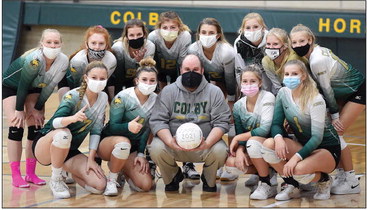 It's very rare that a volleyball team ends their season on a victory. It's even more unusual when a team ends the year with a win and there's no gold ball being handed out.
But this is 2020, the Year of COVID-19, and the abnormal is what passes for normal. The Colby Hornets found that out for themselves last week after their season came to a premature close after their match with the Tomahawk Hatchets in the first round of WIAA regional action.
The Hornets studied film and noticed a trend - Tomahawks' two big middles was the center of the offense. Colby head coach Nathan Larsen devised his game plan accordingly.
"To keep middles out of the game, you have to serve tough and make the setter move," Larsen noted.
That's precisely what Colby did, serving up a three set victory over Tomahawk off the back of stinging serves and superb hitting up front.
The Hornets amassed 15 total kills on the night, and sent a blistering 90 percent of their serves Tomahawk's way. Colby was able to defuse Hatchet serves, giving up just four errors on serve receive.
The Hornets took the first set 25-17, and then raced through the second set 25-13 victory. Tomahawk clawed back in the third, but Colby never lost focus.
"The girls went into that match knowing what they had to do to win, and they were able to execute. . . That allowed us to run our offense, and win that match."
The Hornets prevailed 25-23 in the third set to earn their sixth victory of the season. Emma Kroll had a big game, serving up five aces. Emma Peavey added four more, followed by Brett Schmitt with three and Brooke Suckow with two.
Peavey had a team high 11 kills, and Underwood added another seven. Underwood and Peavey matched great offense with great defense, finishing with eight and ten digs. Suckow led Colby with 20 assists, and added five digs.
What should have come next was a regional semifinal on the road against Mosinee on Thursday. Instead, the Hornets' season come to an abrupt stop with a positive COVID-19 case. It was a disappointing end to what was an otherwise excellent season as Colby finished second in the Eastern Cloverbelt at 5-2 in and a 6-5 overall season record.
Larsen says it is for those reasons he will remember the 2020 season, and not because of the coronavirus.
"From the start of the year, I kept reminding myself and the girls of one thing - we are getting the chance to play volleyball. Any game could be our last, so let's take advantage of each opportunity we are given.
"Unfortunately our season was cut short, but we got to end with an awesome win against a very good opponent. I am choosing to focusing on what we were able to do, not what we didn't get to do."
Larsen also highlighted the growth and progress the Hornets made under a new uptempo style of play, and he has high hopes for 2021.
"I am really excited about getting back to "normal" and having our full pre-season routine to really be able to change the culture from the bottom up.
"We made some big steps this year, thanks in large part to the amount of talented seniors we had."
Larsen says none of the successes of this year would be possible without his seniors, and he credits a lot of the joy he had in first year as head coach with their willingness to try something new.
"To the seniors, Lexi Underwood, Emma Peavey, Morgan Hawkey, Emma Kroll, Mariah Schneider, Olivia Vollrath, Trista Meyer, Emma Oelrich and Brooke Suckow, thank you for being my "guinea pigs" this year.
"I am so happy I got to be your coach for your senior year. Thank you for making me, and our town, extremely proud."