Posted on
Swimmers gear up for conference meet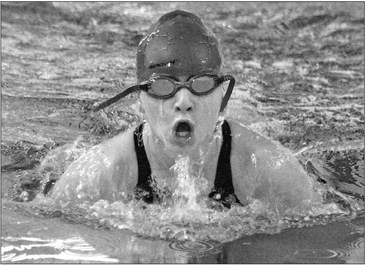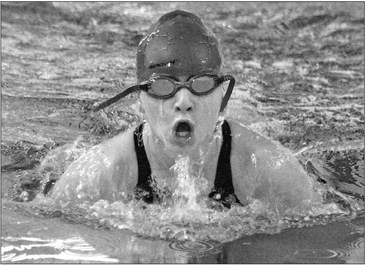 The Colby/Abbotsford swim team competed in its last regular season dual meet of the year on Thursday, Oct. 15, taking a trip to Ladysmith to take on the Ladysmith/Lake Holcombe/Bruce/ Flambeau Tridents.
Colby/Abby lost by a final score of 60 points to the Tridents' 115, but continued to see times drop, a good sign with the Great Northern Conference Championships just around the corner.
The co-op picked up their first points of the dual meet in the 200-yard medley relay. Olivia Krause, Thea Fellenz, Hailey Meyer and Lilly Graun swam to a third place finish in a time of 2:32.78.
Senior Brooklyn Filtzkowski earned a top three finish in the next race, the 200-yard freestyle. Filtzkowski's time of 2:25.64 earned her third, and teammate Paige Klement quickly followed, taking fourth in 2:30.70.
A pair of swimmers earned more points for the co-op's cause in the 200yard IM. Morgan Weber was third in 2:44.34, and Lexi White placed fourth with her time of 2:46.11.
Senior Lanie Hediger picked up Colby/ Abby's first win of the meet, defeating Sadie Heath by roughly one second to claim the 50-yard freestyle in 28.63 seconds.
Graun placed fourth in the same race in 31.68 seconds, and Meyer was fifth in 32.28 seconds.
Morgan Weber and Zanza Haemer formed a one-two punch in the dive portion of the meet. Weber was second with a final score of 138.90 points, while Haemer was third with 131.40 points.
The co-op was not able to field a swimmer in the following event, the 100-yard butterfly, but made up for it by having three swimmers score points in the 100-yard freestyle race. Lexi White was second in 1:05.13, Hediger was fourth in 1:07.63 and Graun took fifth in 1:13.94.
Filtzkowski earned another top three finish, this time in the 500-yard freestyle, placing third in 6:29.82.
Colby/Abby fielded two relay teams in the 200-yard freestyle relay. Weber, Hediger, Filtzkowski and White took second in 1:58.15. The team of Klement, Graun, Krause and Haemer was third in 2:05.36.
Klement added another podium placement for Colby/Abby in 100-yard backstroke, taking third in a time of 1:15.90.
In the final individual event of the night, the 100-yard breaststroke, Meyer took fourth in 1:36.29, Fellenz was fifth in 1:38.55 and Krause was sixth in 1:38.57.
The co-op finished their dual meet with the Tridents on a high note, taking their second race of the evening, winning the 400-yard freestyle relay.
Weber, Hediger, Filtzkowski and White earned first place in a time of 4:23.69. Their teammates Klement, Haemer, Krause and Meyer also scored points, swimming to third in 4:52.26.
The co-op will now host Antigo this Thursday, Oct. 22, with the meet to begin at 5:30 p.m., as part of the Great Northern Conference Championships.
The Great Northern has changed the format for this year's conference meet due to COVID-19, with multiple dual meets taking place simultaneously on Thursday.
Times will then be compared to determine who earns all-conference honors.