Posted on
Hornets clobber Red Raiders, 28-0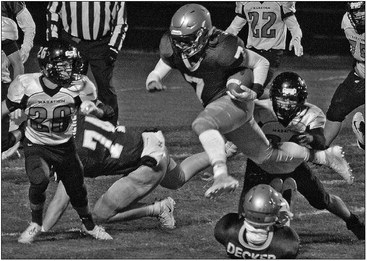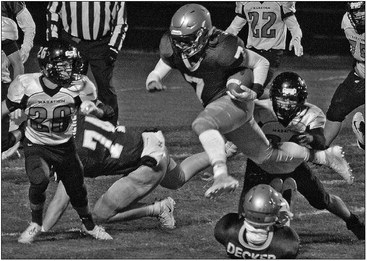 The Colby Hornets hosted the Marathon Red Raiders on Oct. 16 on what was a chilly Friday night. The Hornets came out victorious by a score of 28-0. Colby now has an overall record of 4-0, and a 2-0 mark in Marawood Conference play.
The game started slowly for both teams as neither the Hornets or the Red Raiders could find the end zone in the first quarter.
Each team's first two possessions resulted in punts, but on Colby's third possession they started the drive at their own 32-yard line, and finally went on a nine play drive that resulted in a one yard touchdown run by junior quarterback Brent Jeske.
Sophomore kicker Tucker Brost booted the PAT, giving the Hornets a 7-0 lead with 10:17 left in the second quarter. Marathon then started their third possession on their own 45-yard line, and hit the Hornets on a big pass play that had the Red Raiders knocking at the door.
However, on the fourth play of the drive, senior linebacker Joe Hawthorne hit the quarterback as he was releasing the ball, causing it to float in the air until junior defensive back Brandon Voelker intercepted the ball in the end zone and returned it 22-yards.
The Hornets were unable to sustain a drive and were forced to punt once again. Marathon took over at their own 48-yard line, but five plays later senior defensive back Ross Elmhorst intercepted a pass at Colby's eight yard line for the Hornets' second takeaway of the night.
Colby went on a nice twelve play drive right before the end of the first half, but stalled deep in Red Raider territory and went into the break holding a 7-0 lead.
"In the 1st half, we just couldn't get anything going offensively or sustain any decent drives," head coach Jim Hagen stated. "Give Marathon credit for playing their first game of the season. Their defense gave us fits in the first half, and we had a hard time blocking one of their defensive lineman.
"We had over 150 yards of offense in the first half, but we just had horrible field position, and failed to make plays on third down. Fortunately, our defense played extremely well and kept them out of the end zone."
Marathon began the second half by taking over possession at their own 36yard line, but the Hornets forced them to punt after just three plays. The Hornets took over at their own 35-yard line and proceeded to march down the field on a beautiful twelve play drive. The drive was capped off once again by Brent Jeske, this time on a five-yard run. Brost kicked the PAT giving the Hornets a 14-0 lead with 4:04 left in the third quarter.
Marathon took over at their own 33yard line and ran four plays before being forced to punt. Colby took over at their own 30-yard line, and it didn't take long to find the end zone as the Hornets went on a quick seven play scoring drive that was capped off by Ross Elmhorst on a seven yard scamper. Brost kicked the PAT, giving the Hornets a comfortable 21-0 lead with 11:26 left in the fourth quarter.
The Hornets' defense continued to play well, forcing Marathon to punt on their next two possessions. Late in the fourth quarter, Colby went on a quick five play scoring drive when Brent Jeske scored for the third time, on a run from 39-yards out. Brost once again booted the PAT, giving Colby a commanding 28-0 lead with only 2:31 left in the contest.
"We played much better offensively in the second half, and Brent Jeske had some big runs and rushed for 109 yards in the half." Hagen stated. "Our offensive line played well and wore down the Red Raider defense. Defensively we held Marathon to only 36-yard total yards in the second half, and forced a turnover, which was a key to the victory."
Colby had 391 total yards, with 315 yards rushing and 76 yards passing. Brent Jeske had 21 carries for 137 yards and three touchdowns. Ross Elmhorst had 15 carries for 90 yards and one touchdown. Joe Hawthorne had 12 carries for 70 yards. Jeske completed six out of 10 passes for 76 yards.
Brandon Voelker led all receivers with three catches for 49 yards. Marathon was limited to 112 total yards of offense, with 21 yards rushing and 91 yards passing, along with three interceptions.
Colby's next two games with Athens and Edgar have been postponed due to COVID-19. The Hornets next game will be with Abbotsford on Nov. 6.