Posted on
Haunted Trail delivers scares and screams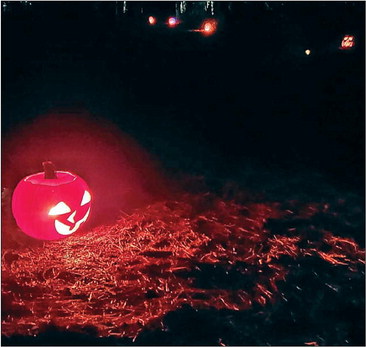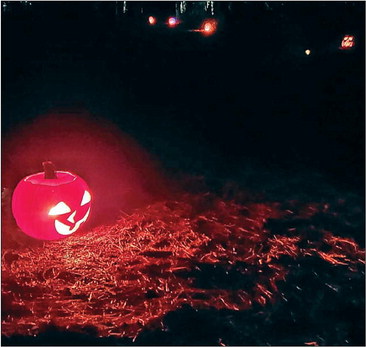 A feeble light reveals a darkened dirt trail while the ominous sounds of heavy breathing and twigs snapping warns the intrepid traveler that something hungry lurks ahead.
If you dare to walk The Haunted Trail you'd best beware — for who knows what terrors the night holds?
Only Colby's Matt Oehmichen knows. That's not surprising, since he put the terrors there in the first place.
For the second year in a row, Oehmichen, along with roughly 50 volunteers, including friends, family and students at the Colby School District, will be hosting The Haunted Trail in the school forest.
A longtime favorite of Colby High over the years, The Haunted Trail fell into disuse but made its triumphant return to the woods behind Colby High after a nearly 10 year hiatus.
Last year was a huge success, bringing in over 350 revelers of the spooky and macabre.
"I was overwhelmed with how many people actually showed up last year," Oehmichen said. "We were just shy of 400 people showing up, which went far beyond my expectations. We had people as far as Medford, Marshfield and Eau Claire coming in."
It also raised $2,000 for two very good causes, with the money split between the IDEA Foundation and the Colby Hornets Booster Club. One big lesson Oehmichen learned from last year's Haunted Trail was the importance of planning ahead.
Last year, Oehmichen threw together the Haunted Trail in a handful of weeks, but this year his preparations for 2020's Haunted Trail began months ago.
"So, this year I went in right away and asked what was on the community calendar and they told me October 30 and 31st were open and I said just book it."
Those dates aren't entirely set in stone, but this year's trail is expected to run both nights from 7-10 p.m. And, with a year to prepare, Oehmichen and his brother Wade have been building new attractions to terrorize attendees.
"I want to bring in more of a blend of the shock factor and the unknown terror element and present them with something they have never seen before . . . which I am going to leave at that."
Oehmichen is recommending attendees bundle up, and also wear masks and social distance as much as possible in order to prevent the possible spread of COVID-19. This means the starts will be staggered, and there will not be a concession stand like last year.
"We're trying to operate within the parameters that will keep things fun and entertaining and frightening, but also as safe as possible."
Even with the new guidelines in place, this year's Haunted Trail promises to be better than last year's response.
"I want to eclipse last year. I want this to be something we build upon, something that people can come to year after year and be excited about. I want it to be something that makes an impact on the community," Oehmichen says. "It's great to give people something new, or in this case something old that's new again."