Posted on
Falcons peaking in time for postseason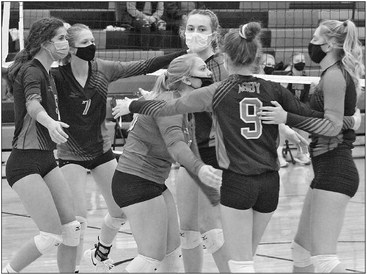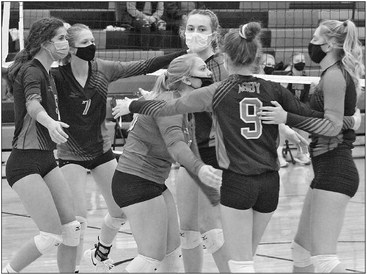 With such a slow start to the season due to quarantines and COVID-19, the Abbotsford Falcons volleyball squad played four matches in four days in order to earn match experience as they head into the post-season.
The Falcons lost to Auburndale, but stopped Assumption, Newman Catholic and Edgar to put some wind in their sails in time for WIAA regional action.
Assumption, 3-0
The Abbotsford Falcons volleyball team grabbed its first victory of 2020 on Tuesday, Oct. 13, dethroning the Assumption Royals in Wisconsin Rapids.
The Falcons took the first two sets by the identical score of 25-17, but were made to work for the third set. Abby rode its defense and offense for a 25-22 third set victory. Ava Decker, Olivia Hammel and Kaylee Boller all struck seven kills apiece. Alea Graff and Haylee Soyk rained down six kills each. Decker had a team high 17 assists. Courtney Bittner had 15 digs, and Amber VanLuven got in on the action with nine digs.
Auburndale, 0-3
The Falcons faced a much more dangerous and difficult task on Thursday, when they took on the newly named Auburndale Eagles, formerly the Apaches.
The Falcons were never really in the match as the Eagles used their serves and net play to record over 30 kills and eight aces en route to a 3-0 sweep.
The Falcons dropped the first two sets 25-16, put on a late charge in the third, but could not force a fourth set, falling 25-20. Stats for Abbotsford were not available upon publication.
Newman Catholic, 3-1
After four consecutive road matches, the Falcons finally had a home match, welcoming the Newman Catholic Cardinals to Abbotsford on Friday.
Proving there's no place like home, the Falcons stopped Cardinals in four sets. That outcome was in question after the first set as the Falcons fell 25-19, but Abby quickly regrouped to win a hard fought second set 25-22.
With the match now tied at one set apiece, the Falcons zipped past the third set, out-hitting the 'Cards for a 25-12 third set victory. Newman Catholic regained some of their first set form, but with Abby swinging freely the Falcons ousted their rivals 25-20 in the fourth.
Abbotsford absolutely dominated up front. Olivia Hammel led the net attack with a team high 12 kills and Kaylee Boller had nine. Haylee Soyk had seven kills. Ava Decker continues to do it all, picking up six kills, 24 assists and 16 digs. Courtney Bittner added another 16 digs and Bridgett Pogodzinski had 15 assists.
3-2
Abbotsford's most recent win may very well be their most impressive win of this shortened season. After trailing 2-1 at home against the Edgar Wildcats on Saturday, Abby head coach Lee Schreiber made a switch up at net that left the 'Cats dazed and confused.
"We moved Alea [Graff] to the outside and we put Kaylee [Boller] in the middle, and it clicked it at the right time. We built momentum into set four, took that into set five, we were able to rally back. The girls just refused to quit."
The Falcons whipped through the first set 25-14, but the 'Cats adjusted and rallied from a 13-9 deficit to take the second set 25-23. After losing that set, it took the Falcons sometime to regroup, and Abby came out flat in the third, trailing 7-1. The Falcons put on a 7-1 run of their own, and led by as much as 15-10, but errors crept in, and Edgar took the third set 25-21.
That's when Abby's seniors decided they had seen enough. With their parents on hand for Senior Night, the seniors went on the attack, with Ava Decker and Kaylee Boller rain down kills again.
"I've seen those girls play a lot of games and they refuse to quit," Schreiber said after the match. "They are always trying to be the best leaders they can be and everyone fed off of it." The Falcons made it 2-2 with a 25-18 fourth set victory and then rolled to the victory in the fifth set, taking it 15-7.
Oliva Hammel had a team high 15 kills, as Boller and Decker added 10 and seven. Graff added another eight along with nine digs. Decker and Bittner led the way on defense with 28 and 27 digs and Bittner had a team high 16 assists and Lydia Carlson added 15.
With playoffs now beginning this week, when asked if he thought Abby was trending in the right direction, Schreiber did not mince words.
"Absolutely, we are heading in the right direction. Still a little bit behind, some rust still in the gears, but we're getting there. We're tweaking the rotation just a bit here and there, but we're so close to where we want to be."