Posted on
Welcome to the Marawood, Falcons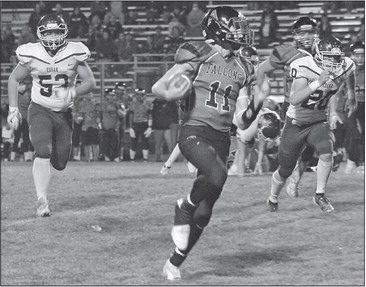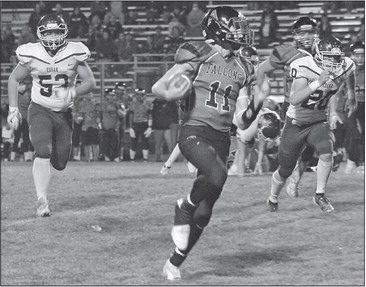 Abby falls 54-0 in first game of 2020
The Abbotsford Falcons football team learned an undeniable fact last Friday - the Marawood Conference is not the same as the Cloverwood Conference.
The Falcons received a rough welcome to their new conference at the hands of the Edgar Wildcats, falling 54-0. It was Abby's first shut out since a 47-0 loss with Athens way back in 2013.
There are some caveats to consider though. Friday's loss was Abby's first game of the season, with the Falcons missing the first two weeks due to COVID- 19, and the cobwebs were apparent through the first quarter.
Head coach Jake Knapmiller also had to get creative with his roster, with a dozen players unable to suit up. Abby also missed out on valuable practice time due to Abbotsford High going into virtual only learning for two weeks at the end of September. But Knapmiller was quick to heap praise on Edgar, and deflected any chance to make excuses for the Falcons' home loss last Friday.
"Edgar is a great team and we just aren't ready to play a team like that right now," Knapmiller said. "I'd like to get a shot later in the season with some experience and see how we improve."
There were times in the game when the Falcons' potent run game was on display, with Ty Falteisek and Cade Faber rattling off several big plays, but six turnovers, including five lost fumbles, gave Edgar way too much to work with.
The 'Cats took advantage, using their speed and experience to batter away at a young and inexperienced Abby squad, all but sealing the game away in the first quarter as they scored on offense, defense and special teams.
"They were the best defense we will see until we get to the end of the year," Knapmiller said. "At times on offense we matched the physicality and aggressiveness. We had success, but most of the time it was a revolving door of mistakes by one group or another and we stumbled on ourselves."
In a theme that was all too common on Friday night, Edgar gouged the Falcons repeatedly with big plays. The 'Cats wasted no time establishing their offense, scoring first with a 55-yard connection between quarterback Konnor Wolf to Kyle Brewster.
The PAT failed but the 'Cats quickly pounced, forcing a fumble that Brady Lemmer picked up and ran in for a 22yard score. Another PAT was stopped, but Edgar held a 12-0 just minutes into the game.
The 'Cats scored three more times in the first quarter: on a 61-yard punt return from Drew Guden, another fumble return for a touchdown, and a 77-yard rushing TD by Kyle Brewster that made it 33-0 after one quarter.
Edgar's ferocious start, speed and scoring prowess left Abbotsford reeling, with many Falcons wearing shellshocked expressions - though it does give Abby something to aim for.
"Edgar's speed is very special. We feel like we have some athletes with speed, but playing those guys shows what commitment to a program from middle school on can get you as a talented group. Those athletes buy into being great and exude that on the field."
Abby's shock quickly faded away as the game progressed, and by the second quarter the Falcons began to move the ball down field courtesy of several runs from Ty Falteisek and Cade Faber, but fumbles, as well as a goal line interception, stymied Abbotsford's momentum.
Edgar rattled off two more touchdowns in the second quarter, and Abby went into the break down 47-0.
It was a different ball game in the second half, with Abby continuing to find success on the ground, amassing 162 rushing yards. But those yards came from 53 plays compared to the 332 yards from Edgar's 21 offensive plays.
Abby's defense held firm in the second half, holding Edgar to just one third quarter score, a 24-yard rushing TD from Kyle Brewster that made it 54-0. But with a running clock, the time quickly expired, and prevented Abbotsford from finding its way into the endzone.
"The biggest thing we improved on was the speed of the game and pad level that they brought," Knapmiller said afterwards. "We saw some very good things and some inexperienced guys improve as the game went on. Looking for leadership to step up now that we have things we know we need to focus on."
Falteisek finished with 79 yards on 19 carries, including a 40-yard scamper that was the longest play from scrimmage for Abby. Faber added 65 yards on 10 carries and Mason Wellman tallied 13 yards on two carries.
Abbotsford will be on the road for its second game, playing the Crivitz Wolverines on Friday. The Wolverines nearly upset Abby in the first round of playoffs last year, and both sides are eager to establish some momentum as they head into the heart of the 2020 season.
Knapmiller and his Falcons are hoping for the W, but more than anything, just being on the field is all that matters.
"In this time of it seeming like a lot is not going our way it was a bright spot in our students lives," Knapmiller said.
"It's something that we can look forward too. If people say sports aren't important they are way off base. As mental and physical health deteriorates in our young people, sports can make a difference. More than most know."