Posted on
Falcons VB drops to 0-2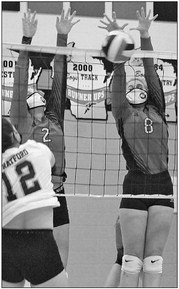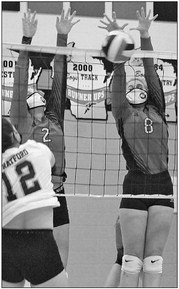 The Abbotsford Falcons volleyball program finally began its season, with a pair of road games, one against Stratford on Thursday, and the other against Marathon on Monday. The Falcons dropped both contests and are now 0-2 overall and in league play.
Stratford, 1-3
Abbotsford Falcons head volleyball coach Lee Schreiber is a firm believer in the mantra "Better late than never."
After a stilted start to the 2020 season, in which many wondered if Abby would ever see the court, the Falcons finally started their 2020 campaign on Thursday.
Their first opponent? Perennial powerhouse Stratford, and on the road no less. No matter to Abby. They've played the Tigers close, pushing Stratford to five sets in the Marawood Crossover.
"I told them to just go out there and play the game and have fun," head coach Lee Schreiber. "We have nothing to lose at this point. I'm proud of the way they've all handled all the ups and downs."
They darn near did it again, pushing the Tigers through four exciting sets. The Falcons took the first set 25-21, capitalizing on errors and using their serves and net game to great effect.
However, it didn't take long for the Tigers to wake up, and in the second set Stratford was the stronger team, tying the match with a 25-15 victory.
"I think the first set we stuck to our game plan. We wanted to keep them out of their system. Game two, we came out flat. You just can't do that against a team like Stratford."
The third set was a battle, and where the match hinged on. The Falcons had a lead late in the third, but could not hold it, and fell 25-21.
The Tigers jumped out to an early lead in the fourth, and while Abbotsford rallied to make things interesting, their charge came to late and they fell 25-18.
Olivia Hammel had 12 kills and nine digs. Ava Decker had seven kills, 19 set assists and three aces. Courtney Bittner had 24 digs. Kaylee Boller added six kills.
Marathon, 1-3
The Falcons were back on the road for their second match of 2020, taking on the Red Raiders in Marathon City on Monday. As if being on the road wasn't hard enough, the Falcons were without two of their best players.
"We played with no Ava Decker, and Sydney Falteisek went down in warmups with an ankle sprain," coach Schreiber staid. "We started a freshman setter who only set in one JV game ever, but we still hung with them."
The Falcons took the first set 25-22, but the loss of two key starters stung, and the Red Raiders won the following three sets, 15-25, 20-25 and 21-25.