Posted on
Colby goes 2 for 3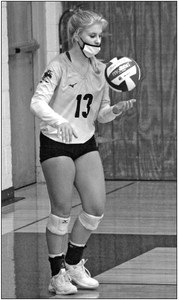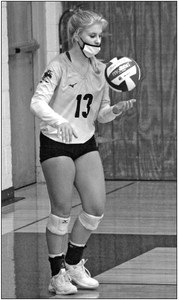 The Colby Hornets went 2-2 in their last four matches as they move to 5-3 on the year and 5-1 in the Eastern Cloverbelt Conference.
3-0
The Hornets came into Owen-Withee on a week long furlough on Tuesday, Oct. 6, but if there were any cobwebs Colby quickly shook them off with a 3-0 sweep of the Blackhawks.
Head coach Nathan Larsen credits the victory to a more relaxed and self-assured team, but also to a uptempo offense that plays to Colby's strengths.
"We are definitely updating our offensive approach, and trying to play faster this year," Larsen said. "It's time to bring our game up to the 21st century. That has taken some time to implement, but it is really coming together and we had some really nice connections last night."
Colby took the first set 25-19, and held off Owen-Withee in sets two and three to prevail 25-16 and 25-16. Emma Peavey had 10 kills and Lexi Underwood had seven. Brooke Suckow had a team high 18 assists, Trista Meyer had four aces and Brett Schmitt had 13 digs.
3-0
Colby made it three straight two days later, dropping the Loyal Greyhounds 3-0 for another Eastern Cloverbelt victory.
The Hornets took the first two sets in convincing fashion, winning them 25-15 and 25-16. Loyal stepped up its game in the third, but with momentum on their side, the Hornets took the third set 25-22.
Olivia Vollrath had a team high eight kills and Lexi Underwood added seven. Brooke Suckow finished with a team high 18 assists. Underwood and Emma Peavey had five aces apeice.
Brett Schmitt had a team high 17 digs along with three aces. Larsen gave Schmitt high praise for her season.
"Brett has been a monster on the service line. That jump float/topspin serve she has really has caused problems for our opponents."
The Hornets faced their sternest test of the season at home on Saturday, Oct. 17, as they took on the Fall Creek Crickets in the Cloverbelt Crossover Challenge.
Fall Creek entered the match-up ranked fifth in the state in D-3, and looked the part as they rolled Colby 25-9, 25-6 and 25-6.
"We knew going in they would be tough, and they play really fast," Larsen said. "They are going to be a great gage for what we need to do to beat Columbus on Friday." Olivia Vollrath led with five kills and Brooke Suckow had 13 assists.