Posted on
CC rocks home meet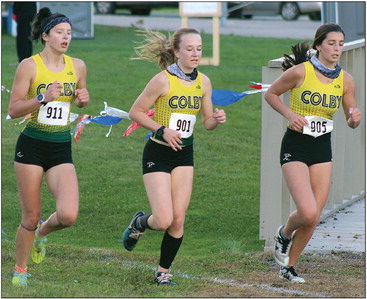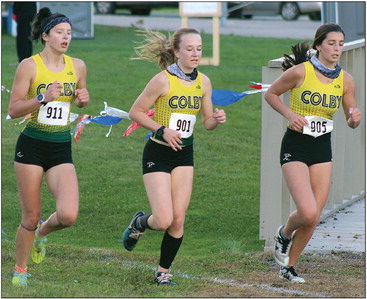 Seven teams were on hand for Colby's second home meet of the year last Thursday, and the girls, if you'll excuse the pun, ran away with the meet, taking first with 25 points to Loyal/Greenwood's 45.
With the return of Willow Oehmichen and Daisy Feiten, the girls were back to full strength, and four ladies placed in the top ten.
Severson was first to cross the finish line, notching a new personal record by over a minute as she placed second overall in 21:56.64. Oehmichen and Feiten crossed almost as quickly in second and third in 22:04.41 and 22:25.37.
Mercedes Sarkkinen was next, taking seventh in 23:38.96. Payton Roth was eleventh in 24:13.56. Reagan Schraufnagel was 13th in 24:59.27, a new best by over one minute.
Hanna Meier smashed her time from this same course a month ago by nearly three minutes. Her time of 25:38.21 gave her 16th place - and a new PR by 1:53.
Ella Halopka and Gianna Mundt rounded things out. Halopka was 24th in 27:14.13 and Mundt was 29th in 28.23.03.
While the girls were at full strength, the boys were missing Ryan Nelson, Matt Mateer and Sergio Camargo. Despite the losses, the boys barely missed first as Loyal/Greenwood claimed victory with 49 points, followed by Neillsville with 54 and Colby/Abby with 61.
Senior Chase Oehmichen made it four in a row as he won the boys race in 17:32.72. Talon Severson dug deep to take seventh in 19:38.59, and freshman Carter Roth set a PR by 43 seconds as he ran the 3.1 mile race in 20:26.31.
"It was pretty exciting to face more competition because all year we've just been facing a couple people. I think it did drive most of us to go a lot faster," Roth said afterwards.
Richard Streveler also had a new PR, taking 19th in 20:45.25. Braxton Smith was the fifth and final runner for the boys, taking 28th in 22:47.75.
"I think we have a better team than we thought we were going to have," Roth said. "I think we have a serious shot at winning conference. I think the mindset has changed because we have had guys step up and I think we are more determined to compete because we can win."