Posted on
Abby OK's plans for Linden St. project in 2021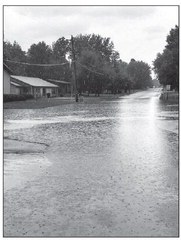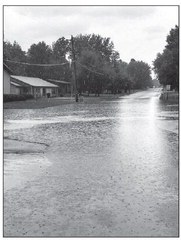 Abbotsford has selected a second street project for next year, one that is meant to improve drainage on a stretch of West Linden Street prone to flooding.
The city council approved a $55,300 contract Monday with MSA Professional Services, which has developed a plan for installing a concrete box culvert at the southwest corner of Linden Street and Industrial Park Road that will carry water to a ditch along the railroad tracks.
The project will also include installation of high-capacity stormwater inlets, new curb and gutter and 550 feet of improved roadway. MSA engineer Dan Borchardt said the goal of the project is to redirect storm water runoff from the low point on Linden Street and prevent frequent flooding in that area. Right now, he said storm water from the surrounding 150 acres drains into that one area.
"There's no feasible way for the four inlets on the street to collect water at the rate it's coming in, so that's why it starts to back up and gets completely flooded," he said.
DPW Craig Stuttgen said the project will be paid for out of next year's public works budget, but further work will be needed in the future, including the construction of a retention pond in the area.
"It will not be the end of our stormwater problems," he said.
Stuttgen and Borchardt said they met with property owners along Linden Street to discuss various options before settling on the box culvert.
Based on MSA's proposal, final project plans will be completed in February and the work will be bid out in March, with construction tentatively scheduled from May to July of 2021.
City administrator Dan Grady said the city may qualify for FEMA funding for flood mitigation after the project is completed.
In related news, the council approved a $28,600 contract with Cedar Corporation for designing and overseeing at least two blocks of road resurfacing on North Fourth Avenue south of Pine Street.
Stuttgen first spoke to the city's planning commission about the project on Sept. 28, saying it would be a good way to use a portion of the $850,000 expected to be generated by the city's TIF next year.
The plan calls for resurfacing 750 feet of roadway between Pine and Hickory, but Cedar Corp. is also offering to do topographic surveying all the way down to Spruce Street, in anticipation of eventually resurfacing that whole stretch.
Depending on how much TIF money the city has available next year, Stuttgen said it may be able to resurface one or two more blocks of Fourth Avenue south of Hickory. That will depend, in part, if other TIF proposals come up between now and then.
Cedar Corp.'s project timeline calls for bidding out the work next February, with construction starting in June and wrapping up at the end of July.
Monday's council meeting also featured a rundown of projects currently underway within the city.
Borchardt said all of the water and sewer lines have been installed on Spruce Street, and all the concrete aprons and curb and gutter have been poured west of the railroad tracks. One of the next steps is to install rapid-flashing beacons to improve traffic safety near the schools.
Stuttgen said his crew has been pulling up street light wires along the construction corridor and reburying them at a greater depth, about two feet in most places. He said the city has hired a licensed electrician to help with the work, and is likely to spend between $3,000 and $4,000 on materials.
The council approved a contract extension for Melvin Companies, which is behind schedule due to a variety of factors beyond their control. The final completion deadline is now Oct. 30.
The council also approved a total of $392,431 in pay requests from Melvin for the work it has completed on Spruce Street, which includes improvements for a Safe Routes to School grant.
Further to the south, Borchardt said CN Railroad has installed a new crossing over its tracks so that Opportunity Drive off STH 13 can be extended to the west into a future industrial park area. He also noted that CN cleared all of the trees along that stretch of the tracks.
"You now have a clear view to the west versus what was there before," he said.
The council approved a $55,931 pay request from Haas Sons, the general contractor on that project.
Stuttgen also told the council that the resurfacing of Hemlock Street in front of Abbotsford Elementary should be completed by Saturday. He acknowledged that all of the street work being done at the same time is not ideal.
"I realize that it'd be nice to get all the construction done before school starts, but it didn't pan out that way," he said. "That's just the way it shakes out; everyone will be happy when it's done."