Posted on
Colby considers borrowing for development area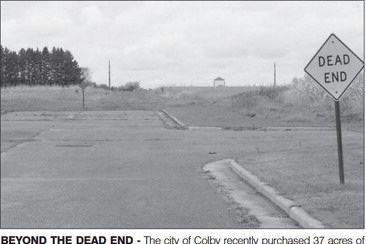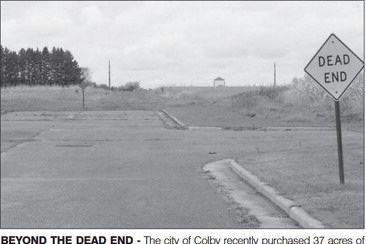 Colby is looking at borrowing money — and possibly creating a new TIF district — in order to pave the way for new development on newly purchased city land north of Community Drive.
The ideas were raised at a public works committee meeting held Sept. 22 in order to discuss the budget priorities for 2021.
At a previous committee meeting held in August, the stretch of North Second Street between Adams and Spence was identified as the area most in need of a complete overhaul, which is estimated to cost as much as $2.2 million with water and sewer replacements factored in.
Last week, DPW Harland Higley said just hiring an engineering firm to do plans and specs for a Second Street project could cost as much as $125,700. He said a similar plan could be completed for a Community Drive extension, at an estimated cost of $70,500.
Ald. Mark Kaiser said Second Street should be the city's first priority.
"People are going to scream if you don't do Second Street," he said.
Mayor Jim Schmidt, however, said the city also needs to spend money to provide access to a 37-acre parcel of land at 1004 N. Division St. (Highway 13) the city bought for about $298,000 in August. Right now, Community Drive dead ends just south of the property.
"You're not going to get any development up there if you don't have a road," he said.
However, as was mentioned at the public works meeting August, the city does not have a lot of money on hand right now to do a major project.
City clerk Connie Gurtner said a representative from Clark Electric Cooperative will be attending a finance committee meeting on Oct. 6 at 6 p.m. to discuss lending the city money to finance development in that area. The Greenwoodbased electrical co-op operates a revolving loan fund available to both private and public entities.
With the city's existing TIF district closing this year and all of the related debts paid off, Gurtner said now is the time for the city to start look at taking out new debt.
"When you have the borrowing capacity, you should be borrowing," she said. "Interest rates are really low right now."
The cost of the 37-acre parcel was taken out of the city's general fund balance, but Gurtner said the fund may be replenished as part of a new loan.
The area along Community Drive would also be a "logical" place to create a new TIF district, Gurtner said, but the city is not allowed to create a new one until the existing one is closed. Next year is the last year the TIF will collect any tax revenue, so she thinks the city will have to wait until after that happens.
TIF districts work by capturing all of the property taxes on any new developments within a given area and using that money to pay for new roads and public infrastructure in that area. Normally, those taxes would be distributed among the local school district, county, technical school and city government.
In other public works budget news, Higley said replacing the city's 1996 dump truck would cost an estimated $120,000, which includes $36,000 for a snow plow attachment.
The city also needs to spend an estimated $36,000 to crush its existing concrete pile in order to provide fill for street projects, he said. Higley did not provide cost estimates for chip-sealing or crackingsealing streets next year, just because he didn't know if it would be a priority with limited funds available.
Higley is tentatively budgeting an extra $6,000 for sidewalk repairs and replacements next year, but committee members questioned if fixing any of the stretches along Second Street would be a good idea if the city plans on doing a major street project there in a few years.
The committee penciled in some line items for 2021, but did not pass any motions last week. Mayor Schmidt said the city will have a better idea of where its overall 2021 budget is at when the finance committee meets on Oct. 6.
Parks budget also reviewed
Colby's parks and recreation committee also met last week, on Sept. 23, to discuss its budget priorities. The committee tentatively allocated about $15,000 for smaller projects next year, and it also expects to roll over $5,000 from 2020.
The biggest parks project for 2021 is the replacement of the outfield fence at the city's main ballfield, for an estimated $9,025. Another $2,000 to $5,000 is expected to be spent on landscaping work to provide better drainage at the ballpark.
The committee also set aside $1,000 to purchase six new trees for the South Sixth Park, and committee members also talked about paying to roll out rough spots on the east side of the park's sledding hill.
Higley said the city was able to get all of this year's parks projects done and still have some money left over, but part of that is being used to install a new wheelchair ramp in front of city hall.