Posted on
CC tops the field at Spencer Triangular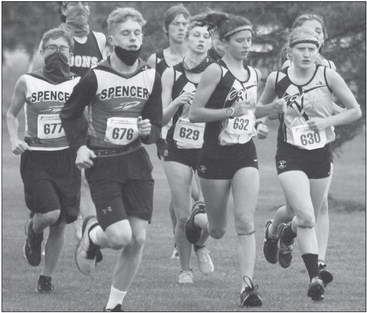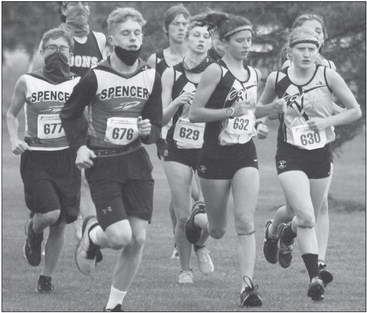 The beauty of a cross-country race is that no matter how small the field is, and no matter what division a runner competes in, fast is still fast.
Being first ain't half bad either.
That was the case for both cross-country teams as the boys and girls teams not only took first at the Spencer Triangular, but also had the top runner in each race.
Chase Oehmichen and Trinity Severson guided their respective teams to a victory on a grey, drizzly day at Frey Field last Thursday. Compared to their first meet at this same place in early September, the times were significantly faster the second time around.
With Abbotsford High under a twoweek virtual only instruction platform, the boys cross-country team was without Matt Mateer or Ryan Nelson. So it was up to the boys of Colby to carry the banner.
They did not disappoint, with four runners notching personal bests. The field was small, but the boys saw all five scoring runners place inside the top ten.
Chase Oehmichen continued his ferocious start to the 2020 season, rattling of a new season best as he won his third consecutive race of the year in 17:31.
Sergio Camargo flew through a 3.1 mile race faster than he's ever done before, running under the 20 minute mark for the first time as he smashed his old personal record by 32 seconds to place fourth overall in 19:32.
Talon Severson was the third runner to cross. Like Camargo, Severson also succeeded in running under twenty minutes for the first time in his career, taking fifth in 19:48.
Richard Streveler's time of 20:54 was the fourth personal best for the boys, and by 43 seconds, the largest margin on the team. Streveler's PR earned him eighth overall.
Carter Roth was fifth man through for Colby, placing ninth in 21:11. Braxton Smith ran a new personal best in 23 seconds as he placed 13th in 22:24.
Girls
The Colby girls might have been the only team to field a full varsity squad, but that does little to diminish their achievement as Colby won the Spencer Triangular with a final score of 15.
Trinity Severson and Mercedes Sarkkinen finished in first and second place at Frey Field, with Severson running under 23 minutes to capture first, and a new PR, in 22:33.
Sarkkinen charged ahead of the field for a new season best as she ran the five kilometer race in 23:47. Payton Roth took fifth overall in her time of 24:53, also a personal best.
Regan Schraufnagel was next to complete the 3.1 mile loop around Frey Field, running a new PR by five seconds as she took seventh overall in 26:02.
Casey Reynolds was the final scoring runner for the Colby girls, placing eighth overall in 26.15.
Hanna Meier, ninth overall in 26:18 a new season best and personal best by over one minute.
Kaylee Podevels was running in her second meet of the year, and absolutely smashed her first meet's time, improving by over five minutes as she took 12th overall in 29:39.
The teams will be in action this Thursday in Colby. The races will start at 5 p.m. Due to COVID-19 concerns, no fans will be allowed to attend the meet.