Posted on
Fire board hears options for truck designs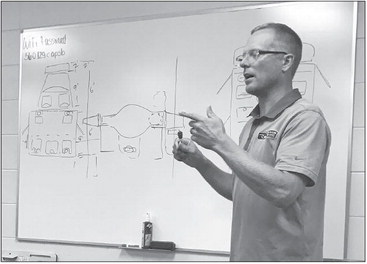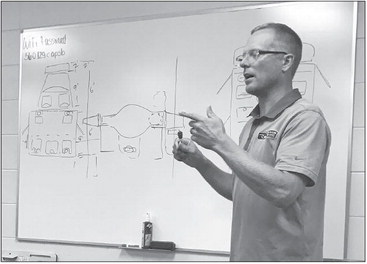 Questions about what kind of fire truck to buy dominated the Central Fire and EMS District's latest monthly meeting, as board members engaged in a lengthy conversation with an engineer who designs the vehicles for a living.
Wayde Kirvida, a factory sale rep for Custom Fire Apparatus in Osceola, spoke to the board for about an hour last Thursday about the different options available for fire truck designs.
Kirvida had previously met a couple times with the committee of district firefi ghters that is exploring fire truck options, and said he was invited to speak at last week's board meeting.
Before his presentation, he provided board members with specs and design drawings he developed based on conversations with the firefighter committee. He said none of the specs include proprietary parts, so any manufacturer could submit a bid based on them.
"I only put things in there that are available industry-wide," he said.
In June, the firefighter committee presented the board with a proposal to purchase a Pierce Pumper for roughly $580,000, but board members voted it down after expressing concerns about the cost to local municipalities.
Prior to that, board chairman Larry Oehmichen had floated the idea of having one of the district's existing fire engines refurbished instead of buying a new one.
Kirvida spent a lot of his time in front of the board talking about the differences between custom and commercial chassis. In general, he said commercial chassis are substantially cheaper, but they don't allow the truck to turn as tightly and they don't have as many safety features.
Custom Fire also offers the option of a "full-response cab," which allows up to six firefighters inside the truck at a time and would enable the district to respond to more mutual aid calls.
District chief Joe Mueller said a sixperson crew is needed in case two firefi ghters need to enter a building, along with two outside providing backup. Anything less than that will not allow the fire engine crew to take action.
"All you're going to be able to do is sit outside and wait for more help to come," he said.
The full-response cab can be built behind either a commercial chassis or a custom-built one, providing enough room for up to four additional seats, Kirvida said.
"That's why the full-response has been successful for us because it kind of spans the gap between a four-door Freightliner and a full-on custom chassis," he said. "It's the Goldilocks right in the middle, if you will."
Kirvida recommended that the district decide what style of truck it wants before sending a request for proposals to truck manufacturers.
Oehmichen said the board will take Kirvida's advice into consideration when it seeks bids. He said the board plans to consider multiple bids from various manufacturers at a single meeting, when a decision will be made, but that likely won't happen until 2021.
"We want to get the firemen what they want, but ultimately, the board will make the decision on what gets bought," he said.
Other business
_ The board reviewed and approved $21,811 in monthly bills.
_ Mueller told the board that the Chevrolet Kodiak fire tender at the Abbotsford station, which was no longer being used, was sold to an individual for $10,000. The district was originally looking at removing the tank and placing it on another vehicle, but that plan was abandoned in favor of selling the vehicle as is.
_ Six of the district's seven municipalities — all but the village of Dorchester — reported yes votes on the 2021 budget, resulting in its adoption as presented.
_ The board voted to purchase a mechanical lift for an ambulance at the Colby fire station, at a cost of $27,704, which includes $23,109 for the lift, $1,200 for installation and $3,400 for a necessary cot upgrade. A similar lift was previously installed on an ambulance, with the goal of preventing back injuries to EMTs who need to transport heavier patients.
The board also voted to take $22,251 in unused money out of this year's EMT education and training fund to help pay for the lift, with the remainder coming out of contingency.
_ The district responded to 41 ambulance calls and two fire calls (including one false alarm) between Aug. 20 and Sept. 17. The total number of ambulance calls for 2020 is at 444 so far, which significantly down from previous years. Mueller said he expects to end 2020 with about 100 fewer calls than last year, but a rash of calls could always change that.