Posted on
Colby wins first match for coach Larsen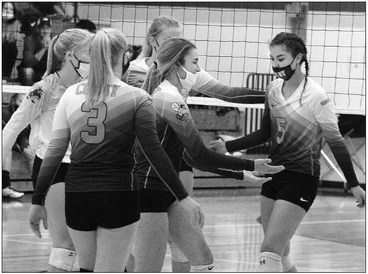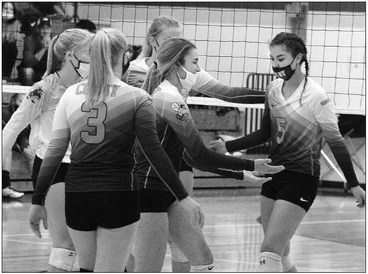 New is definitely in at Colby. There's new uniforms, new court, new season and even a new head coach. The Nathan Larsen era was ushered in last week when the Colby Hornets opened their 2020 campaign with the 3-1 victory over Gilman at home.
Larsen's first victory as head coach was quickly followed by his first loss as the Hornets fell in straight sets in a nonconference road meeting with Stratford that moves Colby to 1-1 on the year, and 1-0 in Eastern Cloverbelt action.
3-1
There was a visible feeling of relief on Nathan Larsen's face after the Colby Hornets were victorious in their season opener with Gilman last Thursday. There was also the joy of knowing he'd be getting a good night's rest.
"It feels really, really good," Larsen said after getting his first win as head coach in his first match. "I didn't sleep well last night, all day today I was on edge, especially with all these COVID protocols, but it was a really great day and I am going to sleep really well tonight."
That Colby was playing a real, live match was a blessing, and not even the masks or COVID could diminish each teams excitement to be on the floor as Colby knocked off the Gilman Pirates three sets to one in their home opener.
Both teams traded shots in the first set, with the Pirates holding the early advantage. Colby tied things up at 20-20, but could not overcome several errors as the Pirates slipped by with a 28-26 first set.
From there, it was all Colby as they erased the errors and rained booming serve after booming serve upon the hapless heads of the Pirates.
"They were a little nervous the first set but then after that set, it was like they were just playing a back yard game of volleyball," Larsen said. "We were able to set up our hitters and Lexi Underwood and Emma Peavey were hitting really well tonight and then our middles were also getting in there and being crafty and real creative."
The Hornets raced out to an early 14-7 lead in the second set, and were never truly troubled, quickly evening the match at a set apiece as Colby took the second set 25-12.
The third set saw more of the same as Colby rode the booming serves of Lexi Underwood, Emma Peavey and Brett Schmitt for a 18-6 lead. Gilman tried to muster a response, but Colby raced away with a 25-11 third set.
"The serving was unbelievable. Morgan Hawkey, Brett Schmitt, Peavey, everybody was serving real well. We started out with some service errors, but in the last three sets we cut those down and our serving kept Gilman out of the system, and that was the key to this game."
Things looked to be well on their way in the fourth set as Colby took a 14-5 lead before Gilman rallied for a 6-1 run that made it 15-11. The Hornets struggled to string together points midway through the fourth, and Gilman pulled to within three points at 21-18.
Colby quickly regrouped, and got the match back on track, returning to their aggressive net game. Underwood, Peavey, Kya Viegut and Emma Oelrich all finished shots up front to help the Hornets snuff out the Pirate's comeback hopes for a 25-20 victory.
Peavey led Colby with three aces and ten kills. Underwood also had ten kills. Brooke Suckow led Colby with 16 assists and Schmitt had a team high 20 digs.
"It was so awesome to watch. They were communicating and passing. That's the key to the game," Larsen stated after the match. "If you can pass the ball you're going to have success and our passing really shined today."
3-0
The Hornets made their first road trip of the season on Monday, taking a short ride down to Stratford to take on the ranked Tigers in match up that pitted Cloverbelt against Marawood.
The Tigers have enjoyed the better part of their rivalry with Colby the last few years, and despite return one of the tallest line-ups in D-3 in the state. Stratford raced out to a 25-11 first set, and then rained down kills en route to a 25-8 decision in the second.
Colby regrouped in the third, but could not get shots past the Tigers' stiff defense up front, and fell 25-11.
"The first set we came out fighting and stuck with them for the first 20 combined points or so, but then the wheels fell off and we could never really get them back on," Larsen said after the match. "We are definitely going to work with our hitters on changing up their shots when we have those big blockers in front of us."
Lexi Underwood and Emma Peavey both had five kills. Brooke Suckow had nine assists. Emma Oelrich had two blocks. Brett Schmitt had nine digs.