Posted on
Woik Memorial Blood Drive on Saturday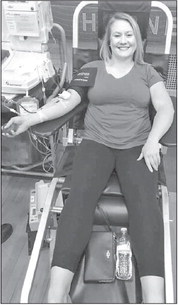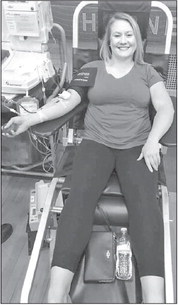 Donors' blood to be tested for COVID-19 antibodies
The Denis Woik Memorial Blood Drive will be returning to Colby this Saturday, Aug. 22, at the Colby Elementary gymnasium, and will run from 8 a.m. to 1 p.m.
With the event now in its second year, Woik's family — wife Kris and daughters Hanah and Elise — are hoping for another great turnout.
"Denis was a true believer in giving blood to help others," Kris says.
Anyone who knew Denis Woik knows he was a man who loved to give back, to help where and when help was needed. One of the causes that was nearest and dearest to him was the act of donating blood, his daughter Hannah said during a phone interview.
"Dad always donated," she said. "I think one of the really cool things, after he passed, is we would have people come up and tell us that they started donating 20 years ago because of dad. I thought that really highlights the importance of giving."
Woik battled pancreatic cancer for several months, and routine blood transfusions were one of the things that gave him the strength to keep fighting. The fact that cancer patients need blood was something that surprised the Woiks.
"We had no idea cancer patients needed as much as they do," Hannah said. "I think we were all kind of oblivious about where blood donations go. We thought it went to just trauma patients."
Hannah said she could always tell when her father had received a blood transfusion, as it not only changed his appearance, but also his demeanor.
"I remember sitting with Dad one day, as he was receiving a unit of blood to get his counts up for his next treatment and fight his fatigue," Hanah recalls. "It was amazing what a difference each blood transfusion made for him as his cheeks became rosy again, and his smile would return" "I have no idea whose blood he received that day or throughout any of his transfusions, but we are forever grateful beyond words for the donors that kept him with us just a bit longer," she said.
Denis lost his battle with cancer in 2018, but the Woiks were determined to find ways to keep his giving spirit alive. So it made perfect sense to start a blood drive, with the first one taking place in Colby last year.
With help from the Smazal family, who also run a yearly blood drive, and the Versiti Blood Center in La Crosse, the Woiks were able to gather 141 units, which has the potential to save up to 423 people.
"We had a lot of people step up and a lot of first-time donors, and I think that was just a testament to people wanting to give back and wanting to give back in dad's name," Hanah said.
With the COVID-19 pandemic still raging, there will be some changes to this year's drive. Masks will be required indoors and there will be someone checking temperatures at the door. The Woiks also ask for donors and volunteers to social distance as much as possible.
Those who donate can find out if they have had COVID-19, with Versiti scanning blood for COVID-19 antibodies.
In a press release, Versiti stated that SARS CoV-2 antibody testing will be performed on all donations as part of their standard testing.
"We will be conducting this test as we continue to fight the ongoing COVID-19 pandemic with the help of our donors," the company stated. "The test will inform donors if they have antibodies refl ective of a prior COVID-19 infection."
Donors with these antibodies may be eligible to donate COVID-19 convalescent plasma. Visit Versiti's website and see their frequently asked questions section at www.versiti.org/faq/blood-donationfaq for more information.
For those interested in donating, the Woiks advise volunteers and donors to make an appointment ahead of time by calling 877-232-4376, or visiting the site bit.ly/Woik2020.
The gift of blood can not only save a life, says Hanah, but it's a fitting tribute to her father and his legacy.
"I think it's definitely part of a lovely way to remember him and people to remember and honestly do it in a way that was reminiscent of his life, where he gave it back to people. It was just as rewarding for us to host it and give back blood donations."