Posted on
Colby identifies road repair, equipment needs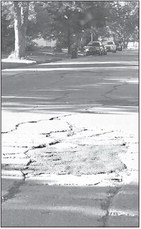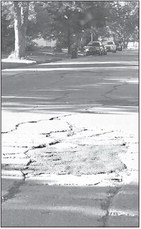 Fixing North Second Street and replacing a 24-year-old dump truck were identified as two of the top priorities for Colby's public works department last week, but as of right now, city officials are unsure of how to pay for those expenses.
The city's public works committee met Aug. 12 to discuss the 2021 budget, and DPW Harland Higley used the opportunity to list a series of street projects and equipment upgrades that should be completed in the coming years.
When it comes to street projects, the stretch of North Second Street between Adams and Spence was singled out as the area most in need of a complete overhaul, which would include replacement of water and sewer lines and resurfacing.
Higley said a much smaller milling and overlaying project could be done for about $10,000 on the half-block of Second Street south of Adams that is coming apart, but that would still leave most of the road in rough shape.
"We need to start thinking about what we're going to do about that street," he said. "It's the worst street in town and it's the highest-traffic area we have."
A rough estimate for replacing all of the utility lines and reconstructing the roadway on North Second Street is around $1.7 million, he said.
Ald. Tammy Solberg wondered it if was worth it to spend $10,000 for a temporary fix on a half-block stretch.
"Everything below it is pretty rough," she said. "It's not going to hold up long."
Higley agreed that it was not much of a longterm solution, but he said a lack of funding "There's no money," he said.
Ald. Dan Hederer, however, said the city needs to come up a way to pay for a Second Street overhaul.
"At some point in time, we're going to have to afford it," Hederer said. "We're not going to have a choice."
"You're getting there now," Higley said.
Mayor Jim Schmidt said the city applied for a state grant last year that would have covered 90 percent of a street project, but it was not selected as a recipient.
Higley said the city could at least pay to get engineering plans written for a Second Street reconstruction, just so the project is "shovel-ready" if grant money becomes available. He estimated it would cost between $50,000 and $60,000 to do a plan like that.
"I've always been a supporter of having a set of plans on the shelf because a lot of grants come through, and 'Are you shovel-ready?'" he said. "Those plans don't come up overnight."
It was suggested that the city look at breaking the Second Street work into smaller projects over several years, but Ald. Todd Schmidt said doing it piecemeal would sacrifice the "economy of scale" of doing one big project.
"If you going to look at carving it up into increments, you're probably going to pay more," he said.
Another area that needs work is the railroad crossing on Broadway Street near the fire hall. Higley said he's been in contact for years with Canadian National, which is planning to install new railroad ties in that area.
If the city wanted to blacktop the road crossing in conjunction with that railroad's project, Higley said it would cost about $7,900 just for the asphalt.
"It could happen this year, but it's something you're going to have to look at for next year as well, too," he said.
Higley said the public works department also needs about $40,000 worth of concrete crushing done to provide material for future road projects.
On the list of equipment that needs replacing, Harland said the city's 1996 dump truck, which is used to collect brush and do other work, is starting to cost the city a lot of money in maintenance.
"It's only going to get worse," Hederer noted.
Based on the city's last truck purchase — a 2011 model bought in 2012 with a plow and sander — Higley thinks a new brush truck will cost around $140,000.
Higley said the city will also need to replace its sewer jetter for an estimated $73,000 and completely upgrade its SCADA computer system, which is used to operate its sewer utility system, for a high-end estimate of $134,000.
Since the city's existing SCADA system is over 20 years old, Higley said most of the technology is obsolete at this point.
The jetter and the SCADA system are both expenses that would come out of the sewer utility fund, which is generated by monthly bills paid by residents and businesses. The dump truck would be paid for by the general fund, which primarily consists of property taxes and state aid.
"I know we can't afford all this, by no means, for next year, but we're going to have to start prioritizing what is the most important stuff we need to get done," he said. "This stuff is all starting catch up with us now."
Higley said the dump truck can make it through another year at least, but that will likely require more repairs.
The city's equipment fund has been depleted over the years, and the city council did not budget any new contributions to it for this year.
City clerk Connie Gurtner said the city can always borrow money to pay for street projects and equipment replacements.
Ald. Hederer said the city needs to consider all of its options.
"It's going to get to the point where we have to do something, we have to," Hederer said.
Ultimately, the committee directed Higley to get estimates for an engineering firm to write a plan for overhauling Second Street. Mayor Schmidt said he and Higley would also come up with proposed numbers for next year's public works budget.
Ald. Mark Kaiser agreed with other committee members about the importance of getting the wheels in motion on North Second Street.
"The public is hollering about Second Street; I hear it all the time," he said. "I just tell them it's the next street on the list, which it is."