Posted on
Aguilera, Diaz are ready to rumble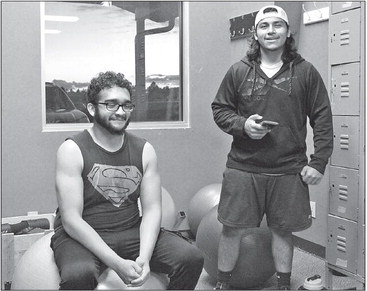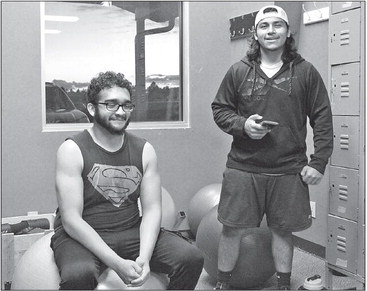 Dynamic duo to lead Abby on field, mats
In a few short weeks the 2020 football season will be getting underway. It's a later start than past years, with COVID-19 leading to some uncertainty facing the 2020-21 sports schedule.
One thing that is not uncertain is that, if and when the season starts, Abbotsford High seniors Martin Aguilera and Angel Diaz will be more than ready.
"We don't really care when the season starts, we just want to play," Aguilera says. "We've put a lot of work in and we're ready to go."
There will be new teams they'll be squaring off against in 2020, with Abbotsford moving from the Cloverwood to the Marawood. They'll be playing the likes of the Edgar Wildcats, who have made it the WIAA D-7 state title game in back to back years.
Rather than be intimidated, Diaz and Aguilera are eager to test their skills against one of the best teams Wisconsin has to offer.
"Honestly, we want to be the best that we can be. We want to win the conference and be all-conference players," Diaz says. "We want go to the playoffs and go undefeated again like we've traditionally done. If we can do that against a team like Edgar, that's even better."
It's a special bond that Aguilera and Diaz have for the Abbotsford Falcons. It's more than a sport and it's more than a team, says Diaz.
"It means a lot because putting that Falcons' uniform on, playing varsity for Abbotsford, it's like being part of a family. All the players have a bond."
Aguilera and Diaz been a part of something special during their first three years, helping the Falcons win back to back Cloverwood titles in 2018 and 2019. That level of sustained success is only possible because each man is committed to doing whatever they can to make Abbotsford a force to be reckoned with on Friday nights.
"I want to win first team all-conference on both sides," Aguilera says, 'But I just want do everything that I can to help the team succeed again and stay at the top. "
Aguilera has certainly done that, playing at all three levels of the game. In 2019, he was Abbotsford's kicker, starting linebacker and also played on the offensive line. At jus 5'7", he's not the tallest player on the field, but he's 190 pounds, and when he hits an opposing player, it takes them time to get off the ground.
His physical playing style caught the notice of his peers when he was selected as a Second Team All-Conference offensive lineman his sophomore year. The honor was nice, but it only added fuel to the fire for more in 2019.
"I was happy to get recognized, but I wanted that first team real bad, and so that was a big goal of mine last year, getting first team," Aguilera says in between reps on the squat rack. "I came in to my junior year really motivated to get better and work harder."
His time in the gym in the offseason paid off, with the strong and durable athlete helping the Falcons reach the statesemifi nals for the second time in three years.
Along the way he racked up 96 tackles, four sacks and two forced fumble while also scoring his first defensive touchdown in a 59-7 blowout over the Assumption Royals.
Aguilera's play-making abilities netted him more hardware at the end of the 2019 season, as he picked up that coveted first team recognition, and in two positions, offensive lineman and kicker. He also added an honorable mention as a linebacker.
Diaz had his own big plays on defense, scoring a pair of defensive touchdowns last season. He also had career highs for tackles, with 25, including his first sack.
He wants to do even more in his final year in a Falcons uniform, and he's confi dent he can do it. After all, he overcame an ACL tear several years ago, and after getting through that, he feels he can do anything.
"During the ACL tear, when I was sitting on the couch, watching friends play, it was a pretty depressing time, but once I was told I could do my exercises, that brought out my hope, but I still had pain in my knee. When I could practice and move like I used to before the tear, that was a great feeling."
A two sport athlete, Diaz is hoping to use the football season to build towards his wrestling season, where he hopes to win big on the mats and advance to sectionals. From there, he says, anything can happen.
But for now, he and Aguilera's attention remains firmly fixed on the upcoming football season. Just like last year, there are question marks for the team, with Abby losing all-region linebacker Blake Draper and Cloverwood Offensive Player of the year Dalton Feddick.
"It meant a lot winning conference last year, and the success we've had these past couple of years,"Aguilera says. "Everyone doubted us and said they were going to beat us, but again, we beat them and proved them wrong."
Both players have had great role models to look up to as underclassmen, and they're happy to be the new leaders on the team - and happy to announce their arrival on the big stage.
"People should be saying watch out for Abby this year because Martin and Angel are still on the team," Angel says.