Posted on
How to run a library during COVID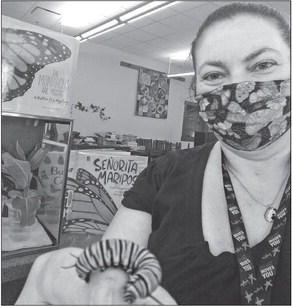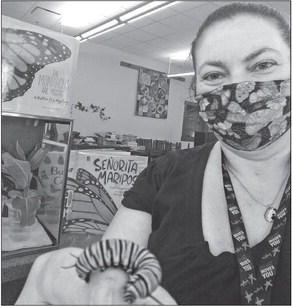 Amid pandemic, Abby director named 'Librarian of the Month'
2020 is not an easy year to be a library director.
With the COVID-19 pandemic striking in March, libraries were like any public space — they had to learn how to keep operating without being able to offer in-person services.
When Wisconsin's Safer at Home order took effect, patrons could no long browse the bookshelves or jump on public access computers. Months worth of carefully planned activities had to be cancelled or somehow replicated online.
Even after curbside pickups and limited hours were allowed, library staff had to spend extra time sanitizing materials so they could be checked out again.
These unprecedented restrictions and added responsibilities make it all the more impressive that Abbotsford's library director, Jenny Jochimsen, was named July's "Librarian of the Month" by the Junior Library Guild (JLG), a book vendor focusing on materials for kids, teens and young adults.
Jochimsen, who has been the library director since 2016, caught the attention of the guild with her innovative use of social media to continue promoting library activities while patrons were stuck at home.
As surprised as she was to receive the honor, Jochimsen said a representative from JLG told her it had a lot to do with her online presence.
"They do take nominations, but from what I could tell, she was actually browsing librarians' social media," she said. The JLG rep took notice of the take-and-make crafts the APL was offering.
"For a small library, she was impressed with the amount that she saw," she said.
Before the pandemic, Jochimsen said she would set up little crafting stations in the library once a month, allowing younger patron to make things like "spooky" bookmarks for Halloween. She decided to increase the crafting activity to once a week after COVID-19 hit.
"Without being able to offer a summer reading program, we kind of said 'Well, we could offer a new one once a week,'" she said. "It would give them something to do when everything's being cancelled."
Jochimsen said she sets up at least 30 crafting kits per week, and nearly all of them are picked up by patrons who complete the projects at home. Some of the projects for the month of August include yarn-wrapped bees and tissue paper gift cards. Kids and their parents are given instructions to follow, and a completed craft is put on display at the library so patrons know what it's supposed to look like.
Jochimsen said she also encourages parents to do a story time activity that is somehow related to the craft of the week.
On Tuesdays, she posts "Boredom Busters" tutorials on Facebook, showing kids how to complete the crafting projects and suggesting additional activities for parents to try at home.
Jochimsen said she has started issuing weekly at-home challenges, which range from word puzzles to asking kids to create a landmark using Legos or write their name using binary code.
For the last week of this month, she'll be taking pictures around Abbotsford and seeing if kids can identify where they are in the city.
Keeping busy
With the library still closed on Tuesdays and Thursdays, Jochimsen said she's doing what she can to keep her staff busy and her patrons engaged. Still, she says it's been tough to maintain connections during the pandemic.
"You feel like, by closing the doors, you're cutting off the community," she said. "You feel like you're not doing enough."
Jochimsen said she hasn't seen many of her regular patrons since March, including one mother who used to come in for story time with her newborn baby who was not even crawling a few months ago. That baby is a now toddler who was running around the room during a recent stop at the library.
"I was like 'Oh, my gosh.' That's how long it's been since things have been weird," she said.
Other mothers have asked her when in-person story times will start again, but she's not sure what to tell them. That's been one of the hardest things about this year — having to plan activities on a month-to-month basis, she said.
"I don't even know if we're having our annual Christmas program, which we've held 30 years in a row," she said.
At the same time, as people start to come back into the library, Jochimsen said she doesn't want to be in the role of "enforcer" when it comes to wearing masks or maintaining other restrictions.
"I'm probably one of the laxest libraries in our system. I'm letting kids in with parents," she said. "Some aren't even letting kids in if they're under 16." The Wisconsin Valley Library Service, the network of public libraries that Abbotsford belongs to, has been "great" about holding regular meetings with all the library directors to share ideas and best practices on sanitization.
"Our system is being wonderful that way," she said.
Besides keeping her younger patrons occupied, Jochimsen and her staff has also been trying to keep older library-users active. The local book club still holds regular meetings, which started off as virtual ones but have now moved to in person with everyone wearing masks or socially distancing outside.
Even though Facebook and other virtual venues offer ways for her to stay connected to her patrons, Jochimsen said it just isn't the same as having inperson activities. She doesn't always see the level of participation she would like with webbased events, mostly because of how oversaturated the internet is with others things to do and see, she said.
"There's so much else going on online," she said.
With the gradual reintroduction of in-person services, Jochimsen said the community has generally been very patient and cooperative with the precautions that are still in place.
"They seem to be understanding that it takes a little bit longer to get materials," she said.
Jochimsen said she and library board members were a little concerned about how kids and others would react when the public access computers were reopened for non-leisure activities only.
"We actually didn't have any of the kids complain," she said. "That was one of the biggest worries, that the kids would be really upset with that."
The library continues to be an important resource for adults, many of whom use the computers to filed for unemployment and check on their claims, Jochimsen said. The library's meeting rooms also continue to get used, she noted.
When asked what she looks forward to the most when thinking about "returning to normal," Jochimsen smiles as she talks about planning events for more than one month at a time.
Her friends have suggested a live-action version of the classic educational video game "Oregon Trail," similar to the life-size "Candyland" games the library has hosted in recent years. It's an idea she really likes but doesn't know when she can actually implement it.
Still, she most looks forward to being able to physically see and interact with the patrons she's gotten to know over the past four years. Just recently, she said one of her story time regulars wanted to give her a hug, but her mom reminded her about social distancing.
"To not get that hug, that hurt," she said.
An unbroken tradition
Besides her take-and-make crafts, the Junior Library Guild also mentioned Jochimsen's annual tradition of releasing monarch butterflies after collecting eggs and raising caterpillars at the library.
Jochimsen said she's done the butterfl y project every summer since she came to Abbotsford, and she really enjoys showing kids and others the whole process, from egg to caterpillar to cocoon to bright-winged insects.
"I have patrons that look for them now every summer," she said.
Living in the rural Dorchester area when she grew up, Jochimsen said she has access to plenty of milkweed plants, where the butterflies lay their eggs. She's thought about taking the next the step and tagging the butterflies so they can be tracked, but right now, she's happy with just letting them go.
"For me, it's more about letting the kids release the butterflies than the tracking aspect," she said.
When it comes to the "Librarian of the Month" title, Jochimsen said she was "totally surprised" and "super humbled" to hear about the accolade.
"I was not expecting it," she said.
Jochimsen said she knows there are a lot of librarians working really hard right now to make it through the COVID- 19 crisis, but she's proud how of she and her part-time assistants have risen to the challenge.
"For the staff that we have, I think we're doing really great," she said.