Posted on
'Spin' says goodbye after 22 years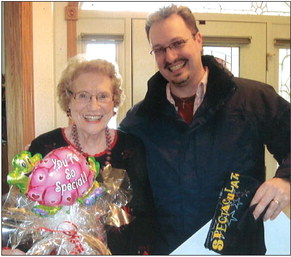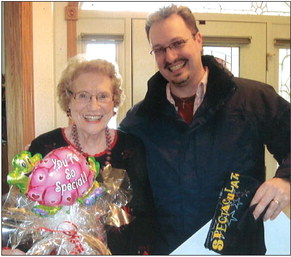 Nearly 30 years ago, Kevin Spindler was at a crossroads in his life. On one side New York City and the chance to be on the stage, singing and dancing for the masses, beckoned. On the other side was the life of an educator, with the chance to foster a passion for the arts.
Years later, an untold number of students are beyond grateful that Kevin Spindler, (or "Spin" as his students affectionately call him), chose the latter. And for the last 27 years — five at Berlin and 22 at Colby, Spin has taught others to see and believe in the music that sings and dances within themselves.
"I learned so many lessons and developed a music philosophy which is a very student centered philosophy from lessons learned, educator focused and wisdoms driven," Spindler says about his approach to teaching. "It's about passing and sharing the wisdom. To me that is the key of humanity."
Music was a vital aspect of the Spindler family dynamic for Kevin growing up, with several family members working as music and band directors.
"I don't know of anything but music," he said. "Music is a continual tie that brings this family together. It was always a joy."
He can still recall the first time he was asked to perform, when he was just three or four years old. His father asked him to sing "Silent Night" and he remembers how nervous he was.
His father promised him an extra gift from Santa if he was brave enough to sing. The gift was nice, but the applause was even better. From then on, he's been hooked on the arts.
As he went through school at Brillion High, Spindler balanced his love of music and theater with sports and work. His passion for music took a great leap forward when he went to college at UW-Green Bay in the fall of 1989 to study music. But it wasn't without controversy.
A larger-than-life personality at the Colby School District, many have been drawn to Spin's joy for the arts, but the desire to teach was a dream Kevin had to fight for early on in his life.
"I really wanted to be a music teacher, but I was still a business major with a music minor," Spindler says about his early college years. "I was fine with doing something on the financial side and all that because I was all about that and being potentially involved with huge shows and New York City."
A year into his college career, he was devoting more time to his music than to his business degree, participating in musicals and the dance program. In his sophomore year, Spindler chose to major in music, but a hard conversation awaited with his dad, who Kevin knew would be unhappy with his decision.
"It was Thanksgiving, and my dad and I went for a walk, and I told him 'Dad, I know you might be disappointed in me, but I decided to change my major to music and education minor.'" Spindler stayed true to his passion, and later that summer, was selected to be a part of Kids From Wisconsin. This proved to be only the beginning. His performance career reached new levels when he became part of the Six Flags Great America's production — an astounding feat as only nine girls and nine boys are selected from the 1,000 who audition.
Spindler auditioned for more parts, and was hoping to be part of a cruise show, but while his 6'2" frame was perfect for sports, in the world of performance, that was a liability.
"That really infuriated me, and I considered stopping performing. My goal had changed to become a music teacher, but I wanted to perform to give myself an educational understanding of the process to give my students a better in faster than what I had to go through."
He threw himself into his studies and he was soon volunteering to choreograph shows and musicals for local high schools. This not only gave him experience, but helped build his resume as an educator.
"I saw that I could take them on their journey to increase their chances of opportunity and their outlook," Spindler said. "It's about giving them a different perspective than the path they are on. Students should have a spectrum of things to look and choose from."
Kevin benefited from the guidance of professor, Euginia Erdmann, a modern dance teacher who, in her youth, attended the famed Juilliard School of Dance in New York City.
Erdmann urged him to join a dance class conducted by David Parsons and his dance company. Over the course of the class, Spindler was approached by Parsons himself, and proceeded to work with him one on one. His professor approached him later and told him that Parsons was impressed with him.
Euginia told Spindler to go to New York and audition for Parsons. She told him he could be a professional dancer. The path to bright lights and a city that never sleeps beckoned.
Spindler did not go.
"I had to choose between the path of performance or to settle down to the life that I really wanted. I chose the correct path," Spindler said with great emotion. "It is the path of service, of giving and sharing wisdom and passion. I could have done it individually. A lot of people say that what I've done here in Colby is 'The Kevin Spindler Show,' but no. They're wrong.
"'The Kevin Spindler Show' would have been performing, it would have been New York City. I gave that up. If I was interested in that then it'd be called the Kevin Spindler Show Choir, everything would be called Kevin Spindler. I'm not interested in that — I'm interested in giving back."
Pursuing education as his calling, his first teaching position was at Berlin Middle School. For five years, Spin fine-tuned his teaching craft and worked to understand the students' perspective, but also to bring students a teacher's understanding of music.
"It became a great opportunity to explore and to try new things. I had the perfect opportunity in that middle school to grow and foster kids with opportunities through musicals and to introduce them to the arts."
Spindler introduced junior musicals to his students such as "Fiddler on the Roof" or "Annie Jr." His passion allowed his school to often be one of the first, not just in Wisconsin, but across the country, to perform new productions.
Spin loved his time at Berlin, but at Colby he would have the chance to build a music program and coach students through middle and high school.
In the fall of 1998, Spindler began working in Colby. He brought with him from Berlin the tradition of the Madrigal dinner, which has been going strong at Colby for all 22 years Spindler has been with the district. But perhaps the greatest gift he gave to Colby was the Show Choir Spectacular.
For 16 years, the Colby show choirs and hundreds of students have given central Wisconsin a feast for the eyes and the ears.
Spin loved putting on the show and directing it, but what he loved more than anything was watching his students perform, seeing them experience the same joy he felt when he was on the stage and singing.
"It was a huge undertaking, and still is, putting on a show like that, and I am glad it gave the community publicity and pride, but more than anything I am so happy so many students got to experience something of that magnitude."
Over the years the show choir and Spin made many trips and cherished memories. Kevin did finally make it to New York City. He vividly remembers his students singing in front of the Statue of Liberty.
There was also the trip to Florida, when his students spontaneously sang the "Star-Spangled Banner" as a rocket from Cape Canaveral soared to the heavens. It brought tears to his eyes.
Through it all, Spindler's passion and commitment to his students and music never wavered.
"I never did anything for myself. If I had wanted that kind of life, I would have left for New York. Do I take pride in a job well done? Of course, but it was never about me — it was always about inspiring students and teaching them to love music and singing and dancing. It was always about them."
But, after 22 years with Colby, a new path beckons. Teaching is still his passion, music still his love, but the desire to keep growing as a person and educator has led to the New London School District.
This is why his last Show Choir Spectacular in Colby was the perfect way to leave, with Spindler delivering a homage to Colby and its history and heritage as a pioneer in the farming and dairy industry.
"What a perfect way to go, right? A home show and a theme with home at the heart. Does it get any better than that?"
Spin is used to hard choices and he will be sad to leave Colby, but he has no regrets. He knows he is leaving Colby and its students in a great place.
When asked if he's ever regretted his life as a teacher, his answer is swift and voice firm.
"Not for one second," he says. "I could not imagine doing anything other than this. This is my calling and my purpose."