Posted on
Two running for Clark Co. treasurer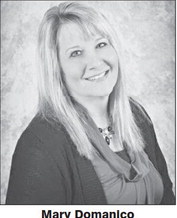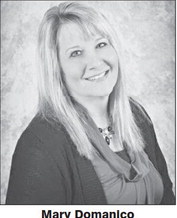 Incumbent says she's made crucial upgrades
Over the course of her first four-year term as Clark County treasurer, Mary Domanico has overseen a change-over to new computer software systems, implemented some changes in the way the office serves taxpayers, and become familiar with all the financial functions for which the office is responsible.
Now running for a second term on the Republican ticket, she has an Aug. 11 primary challenger in Renee Schoen, an 18year employee of the treasurer's office.
Domanico was first elected county treasurer in November 2016 to succeed the retiring Kathryn Brugger. Prior to her election, she had 22 years of experience working with real estate transactions at local title companies.
As treasurer, Domanico is in charge of multiple areas of operation. There is the property tax listing and property tax functions (the area in which Schoen works), and the handling of the county's revenues, bills and financial investments. A treasurer has to oversee them all, and Domanico said after four years in office, she is intimate with the "ins and outs" of all functions.
"It's been a busy, exciting almost four years," Domanico said. "I've streamlined a lot of the processes in the office so we can run more efficiently. I want to make the treasurer's office more convenient for the taxpayers."
One of those upgrades was in the software that taxpayers can use to access information to their property tax accounts. Through the Ascent program, they can log in to their accounts and see what portion of their tax bill they have paid, or how much they may owe.
"To me, it's much more user friendly," Domanico said.
Meanwhile, the county has also implemented a new software system for its billpaying functions. The public doesn't use that one, but Domanico worked with the county's finance department to install the system and improve intra-county functions.
Domanico said she also worked to lower the amount of debit card fees taxpayers are assessed if they use that option to pay their bills. In the past, they paid a fee equal to 2.39 percent of the amount they owed, while now the fee is lowered to a flat $3.95.
Another upgrade that occurred in her first four years, Domanico said, was a protection in the checking account system that makes it far easier for the treasurer's office to detect potentially fraudulent checks. Other counties have had experiences where fraudsters duplicated county checks and drew county funds with them, but Domanico said the new application prevents that.
"It's a must," she said.
Domanico had years of experience with the property description side of the treasurer's office work, but had to learn the system for collecting and accounting for all county revenues, and then overseeing the bill-paying work.
"It was a little challenging at first," she said, "but it was a challenge that I took head on."
A county treasurer is involved in such business aspects of investing county funds in local banks. Domanico has to seek bids from financial institutions and then follow a process for storing the county's excess funds where they will earn the most return.
"We work very closely with the managing bank," she said. Another function is to handle the county's daily cash flow. A county has more than 20 departments that have money flowing in, and those receipts are all collected in the treasurer's office and processed to match a department's records. Some departments, such as forestry and parks for summer camping receipts, have significant sums of cash to record.
For that function, Domanico said she budgeted for a currency counter.
"We could easily spend hours counting cash," she said. "It is a huge, huge time saver."
With the recent software upgrades, Domanico said the treasurer's office is current and there should be no major changes coming in the near future.
"Technology-wise, I think we're pretty set," she said.
One area Domanico wants to explore is the possible conversion of old county real estate records into computer form. The county has decades of old records in paper ledger form, and she wants to check into the cost of upgrading those records as citizens often want to look up old information.
Another thing Domanico wants to do in a next term would be to work with taxpayers who have overdue tax bills. Some taxpayers aren't able to keep up with their payments, she said, and that can lead to extra costs for penalties/interest and even loss of their property if a bill is past three years delinquent.
Domanico said she would like to help people explore options that could save them money, such as paying partial balances.
"Send in what you can, it'll help you in the long run," she said. "My next term I'd like to work closely with the tax delinquencies in the county. I'd like to work with them so there's hope. I know it can be overwhelming."
Another improvement she's looking at is establishment of property tax payment locations around the county near the summer second installment deadline. Currently, all payments come through the office in the courthouse in Neillsville, but Domanico said she will look to establish locations in other communities to make it easier for citizens to take care of their tax bills.
Domanico said she is "very customer oriented" in her job, and that is the basis of why she feels she is the best choice for treasurer.
"I know what the job entails," she said. "I'm always looking to improve and better the service of the treasurer's office. I want to make the service as convenient as possible for the taxpayers and residents of the county."