Posted on
Colby native promoted to Lt. Col.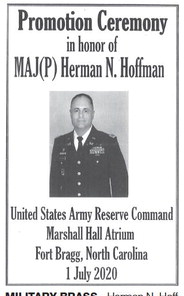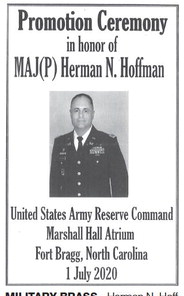 After graduating from Colby High School over 30 years ago, Herman N. Hoffman IV embarked on a military career that brought him around the world and introduced him to experiences most people only read about.
The life of a career military officer has demanded a lot of sacrifices — he's moved 20 times in 30 years — but he's been willing to make them because it's the life he's always wanted to live.
"Even when I was 15 or 16, I always wanted to be a career soldier," he said. "That was kind of my thing."
On July 1, Hoffman reached a major milestone in his career when he was promoted to the rank of lieutenant colonel in the U.S. Army Reserve Command at a ceremony held at Fort Bragg, N.C.
Even with COVID-19 restrictions in place, his son, Herman, 25, and daughter, Jennifer, 30, were able to fly in and attend the ceremony so they could see their father receive his new rank insignia. The ceremony was taped so his family back in Wisconsin, who were unable to attend in person, could witness the moment.
When he started out as an enlisted private right out of high school, Lt. Col. Hoffman said he never really knew if he'd become a commissioned officer, so reaching this level after 30 years is "quite an achievement in my eyes."
"It's been a long haul," he said. "It's wearing us out, but I'm definitely proud of what I've achieved so far."
The "us" he refers to his wife of 31 years, Petra, a native of Germany he met while stationed there. With degrees in retail sales and veterinary grooming, she had filled a wide range of jobs during their marriage.
"She's just kind of rolled with the punches," he said. "Every time we went somewhere else, she just kind of adjusted and continued to support me. I give her a lot of credit, because that's hard to do."
Military service is a proud tradition with deep roots on both sides of Hoffman's family.
On his mother's side, his great-greatgreat grandfather, Peter Dirkin, was a corporal for the Union Army during the Civil War.
"Their unit marched all the way from Wisconsin down to Vicksburg, Mississippi," he said. "When General Grant was there, his unit was there. They weren't directly involved in fighting, but they were there."
One of his uncles was in the Battle of the Bulge during World War 2, and a couple other uncles served in Vietnam.
His father, the late Herman W. Hoffman III, served in the Korean War and was heavily active in Colby VFW Post 2227. His mother, Gloria, who now lives in Stratford, was also involved in the VFW Auxiliary Post during their years in Colby.
Lt. Col. Hoffman said being exposed to military veterans at a young age — while volunteering at VFW steak and chicken frys — is a big reason he joined the armed services. He wanted to experience the camaraderie he saw on display.
"That's the kind of job I wanted to have," he said. "I wanted to work with people like that. It still rings true to this day."
His son, Herman Hoffman V, is continuing the family's legacy of service as an Army lieutenant at Fort Hood in Texas.
"I'm in engineering and he's a maneuver guy, so if we went to war, he'd be trying to move his tanks and I'd be trying to help him," he says with a laugh.
'A long haul'
Lt. Col. Hoffman joined the U.S. Army immediately after graduating from Colby High School in 1987, and he spent six years in the active army before joining the combat engineering unit in Wausau as a reservist.
His military service provided him with unique educational opportunities, starting with an apprenticeship in mechanical design drafting from the Franz Oberthuer Schuele Professional School in Wurzburg, Germany. This required him to learn all of the technical terminology of thermodynamics, hydraulics, and pneumatics in German.
"When I came back to the States, I was like 'Well, I know what that is in German, but I don't know what's it called in English," he said.
He studied German for four semesters at the University of Maryland's European campus for U.S. military personnel, but prior to that, his only foreign language experience was three years of French at Colby schools.
Over the years, he's continued to build on his education, while also earning numerous commendations, including Bronze Medal Star, National Defense Medal and a Global War on Terrorism Service Medal. He was commissioned as a first lieutenant before deploying to Iraq in 2005. When he returned to the United States, he joined the Active Guard Reserve, where he has been serving for the past 14 years.
Lt. Col. Hoffman just finished three years at Fort Bragg as a movement cell chief, overseeing Army Reserve mobilizations to places like Afghanistan. His team was the first of its kind, taking over for a component of the active Army that always previously handled deployments on behalf of the Reserve.
As an engineering officer, Hoffman said the work was outside his normal area of expertise, but he used his years in leadership to manage those with more direct experience in the field.
Just this past week, Lt. Col. Hoffman moved to Darien, Ill., where he will serve as the chief of operations for the 416th Theater Engineer Command.
"It's actually the largest engineer formation in the entire Army, active and reserves," he said. "The active component does not have engineer divisions. We have two, and I'll be the chief of operations for one of them."
With three brigades under his command, Lt. Col. Hoffman said he will oversee soldiers with a wide array of capabilities, from heavy equipment maintenance and firefighting to building and bridge construction.
The move from North Carolina to Illinois is just the latest time he's had to uproot himself and his family in order to advance his military career. Looking back, he says he's lived in at 12 states and has probably been to all 50 at one point.
Lt. Col. Hoffman said this can be tough on a family, especially when raising kids.
"Either you become disconnected as a family and dysfunctional or you become very tight," he said. "There really is no inbetween, because it really doesn't work any other way."
The Hoffman family seems to have taken the latter route, as both siblings have stayed connected with their parents while living independent adult lives.
"They're very resilient kids as a result, but we had to put a lot of effort into it and support them," he said. "It puts a lot of stress on the family, but if you put a lot into it, you get a lot out of it in the end."
Lt. Col. Hoffman said his current assignment typically lasts three years, but he's also put his name in the hat to be a full battalion commander, and if that comes through, he could be moving again in a year or so.
"I'm not giving up on being a full-bird colonel just yet," he said. "In some regards, I'd just like to retire too, because it's been a long haul."
Going for that next step would take another six to eight years, he said, or he could retire at his current position after three, "so it's a lot to think about."
Looking ahead to retirement, Lt. Col. Hoffman said he and wife would like to settle in eastern Tennessee near the SmokyMountains,aplacetheyfellinlove with while he was stationed in another part of that state. He said his wife has no desire to return to Germany, where they would likely not have the same wide-open space available to live.
"I like the freedom of having some land and having a house, and things like that," he said. "It's the American Dream; it's hard to pass on that."