Posted on
Abby-Colby area a COVID hot spot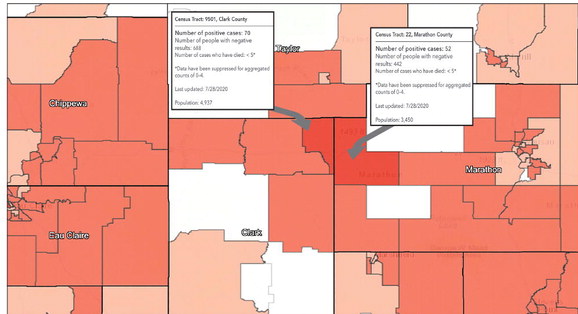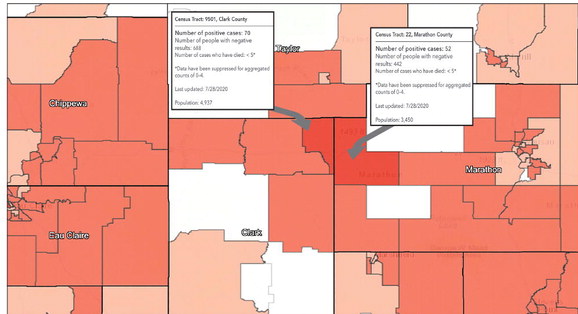 122 cases have been reported in immediate area
As of Tuesday, if the Abby-Colby area were its own county, it would outrank 35 other counties across Wisconsin in total number of COVID-19 cases.
The two census tracts that encompass Abbotsford, Colby, Dorchester and nearby townships have amassed a combined total of 122 cases. That includes 70 cases on the Clark County side, and another 52 on the Marathon County side. A total of 1,130 residents have tested negative.
With its combined population of 8,387 people, the area has seen more COVID cases than nearly half the state's 72 counties, including Taylor (41), Price (19), Lincoln (56), Jackson (43) and Dunn (95).
On the bright side, the area has suffered less than nine deaths as a result of the virus, according to data from Wisconsin Department of Health Services (DHS). Because each of the two census tracts have had less than five fatalities, the actual numbers are not reported.
All of Clark County has had seven reported fatalities and Marathon County's death count is at four. Ten Clark County residents have been hospitalized, along with 40 Marathon County residents.
A total of 166 cases have been reported in Clark County as of Tuesday, which includes 138 people who have recovered and 21 cases that are still active. In Marathon County, 330 of the 512 confirmed cases have recovered.
Census tracts are used to report COVID case numbers for small sections of counties, but the DHS does not provide as much detail at the tract level as it does for entire counties. Looking at a census tract map like the one shown above, it's clear that the Colby- Abby area is an outlier.
All of the other census tracts in the surrounding areas have had no more than 50 cases, though several have had more than 10 based on the color coding. There are no other dark-orange census tracts in Clark or Marathon counties, including in the entire Wausau metro area.
To the west, the next nearest dark-orange census tract is in Eau Claire County, in an area with 6,292 residents and 55 positive cases. Another 50-plus tract is in St. Croix County, right along the Minnesota border. Located between Hudson and River Falls, its population is over 10,000, with 60 positive cases.
Going south, the next dark-orange square is in Sauk County near the Wisconsin Dells resort area. The population of 6,800 has had 58 positive cases. The Abby- Colby area by itself has one more case than Green County, a county of nearly 37,000 residents located south of Madison along the Illinois border.
To the east, the next nearest dark orange spots are in Brown County around Green Bay, and in Oconto and Marinette counties to the north.
Following a decline in active cases, the Clark County Health Department (CCHD) has been trying to raise red flags about the continuing spread of COVID-19 at the local level.
In a post on its Facebook page last Friday, July 24, the health department noted that 23 new cases were reported last week — the second highest number of new cases in a one week period since the pandemic began. The highest one-week total was the week before, with 34 cases.
The highest number of active cases in one day occurred on Sunday, July 19, with 51 active cases, according to the post.
"Although it may appear that our active cases are decreasing, please be aware that there is still a very active outbreak occurring in Clark County," the post stated. "We do not know yet if this trend will continue — so please do not find a false sense of security in the recent shortterm decline of active cases. The active case count is still very high."
County officials urged residents to "remain diligent about wearing a mask when out in public and avoid large groups."
Clark County public health officer Brittany Mews, when reached by phone on Tuesday, said she doesn't have a defi nitive explanation as to why the Abby-Colby area has more COVID-19 cases than other communities.
"Certain industries in the area where we've had more workplace outbreaks is probably a key factor," she said.
At least two food processing companies in the area have gone public about their employees getting infected with the virus, although detailed information about those outbreaks is not always readily available.
At the end of May, it was reported that three Abbyland Foods employees had tested positive for COVID-19, a number that increased to eight by June 11, according to a joint press release from the company and the Clark and Marathon county health departments. One of those employees worked at the pork pack plant in Curtiss.
Since then, no new information about the number of cases at the meat-packing company has been released by the health departments or the company itself.
On July 14, Welcome Dairy announced in a press release that several of its employees had tested positive for COVID-19. Those employees were quarantined, the company said, and close contacts were told to also quarantine if necessary.
The company, which is located in the town of Hull just outside Colby, also decided to have every one of its employees tested, in collaboration with the Marshfi eld Clinic. However, the actual number of employees that tested positive has not been released.
County health departments normally do not release information about specific workplace outbreaks unless the company itself agrees to publicize the information in a joint press release.
The state, using data from county health departments, does report the number of what it calls "facility-wide public health investigations." This type of investigation is started whenever two or more confirmed COVID-19 cases can be traced back to a single workplace, venue or other gathering place.
For nursing home facilities, however, just a single case of COVID-19 can trigger one of these investigations. Two of these facilities — Colonial Center in Colby and the Abbotsford Healthcare Center (formerly Dycora) have been the subject of these investigations, according to the DHS, but both cases have since closed.
Because of Medicare requirements, the names of nursing homes undergoing outbreak investigations must be made public, but the same rule does not apply to other types of businesses or public places, so it's not always possible to know where a local "hot spot" might be located.
Marathon County has 20 active facility- wide investigations, including 13 at non-medical workplaces, three at longterm care facilities and one at a healthcare facility.
Clark County currently has four active facility-wide investigations, all of which are at non-medical workplaces. Investigations at two long-term care facilities and one at a group housing facility have been closed.
Mews says "community spread" — person-to-person transmission within a given area — is still a big concern.
'Community spread'
In the age of COVID-19, it can seem as if no summertime tradition is sacred when it comes to the threat of "community spread."
A three-day softball tournament in Colby, July 17-19, was identified as a potential "exposure site," according to a July 24 post on the CCHD's Facebook page, and so was Smazal's Hunters Choice, a bar in downtown Colby that served participants in the tournament from 7:30 to 10 p.m. and 11:30 p.m. to 1 a.m. on Saturday night.
The declaration of the tournament as an "exposure site" was based on contact tracing and case investigations conducted by the health department, the Facebook post stated.
Everyone who was present at the tournament or the bar afterwards has been encouraged to "self-monitor" for COVID- 19 symptoms for 14 days afterward, and to call their health care provider if they develop symptoms.
The weekend before that, an individual known to have tested positive for the virus visited Rowdy's Bar in Unity, from midnight on July 11 to 2 a.m. on July 12, according to the health department.
"While at this establishment, this individual was considered to be contagious," the press release stated. "This patron resides outside of Clark County and is currently isolating at their home."
Meanwhile, Clark County is now mandating that everyone entering a county facility wear a mask or other face covering.
"These requirements are being put in place to protect employees and visitors to Clark County facilities," said county clerk/administrator Christina Jensen. "Cooperation with these requirements is necessary and appreciated."
Maps of case counts by county and by census tract, which are updated on a daily basis, can be found on the DHS website,
dhs.wisconsin.gov/covid-19/cases-map.htm