Posted on
Tazz-D Enterprises flip grills represent quality product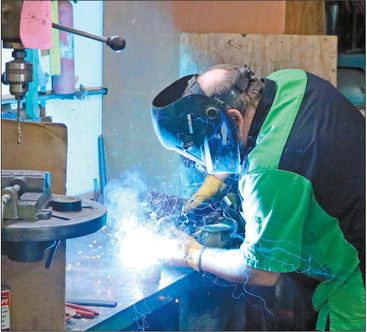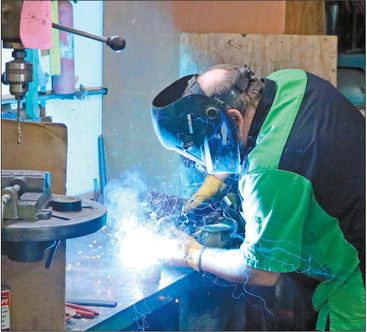 By Ginna Young Courier Sentinel
Have you ever tasted charcoal chicken served by the Lake Holcombe Lions Club at one of their fundraising dinners? If so, it's a good bet you've had some cooked by longtime member Bryan "Tazz" Olichwier, owner of Tazz-D Enterprises in Bloomer, who makes custom flip grills.
"I stand proud on my design and the fact that I am building a quality product, that I want you to only have to buy one," said Tazz of his invention. "If you buy two, it's because you want a second. I don't want to build a throw-away."
Tazz-D Enterprises started in 2003, in Cornell, when Tazz bought a skidsteer and began trucking, when, after direction from his dad, Olie Olichwier, he started a landscaping company, doing that work for 10 years. After Tazz's mom developed cancer for a third time, Tazz decided to sell his equipment to "start over" and ensure there was money to pay for his mom's healthcare.
He kept a handful of tools, moved to Ladysmith, and opened a welding shop for custom jobs, small engine repair, etc. Eventually, after his wife passed away, Olie asked Tazz to move in with him in Bloomer, as he had a large house with extra rooms.
"My dad at one point told me, 'Make sure you always know enough trades to where you always have a job,'" said Tazz. "I've taught myself everything that I know."
He took those words to heart, and Tazz now has a background in block and concrete work, landscaping, towing, welding, custom metal fabrication and even building log homes.
"Actually, I was on the crew that built Eastbay Restuarant (in Holcombe), that's where I got into log homes," said Tazz, who built the homes before he crushed his shoulder and started trucking. "When I moved here, I couldn't get a job to save my life."
Because he was self-employed, companies wouldn't believe Tazz had "verifiable experience," so he worked a couple part-time jobs, then was hired in Eau Claire, then at a sand plant where he worked for two seasons.
"I started renting here (shop in Bloomer) and doing work on the side," said Tazz.
His work included designing his version of the flip-flop grill. The flip-flop grill was designed by a couple families in Bloomer.
"And then, as time went on, Mark Ruff, from Catalytic Combustion, bought the patents and has continued the original flip-flop grill," said Tazz.
Tazz has done custom catering with Olie for more than 35 years, roasting
Along with help from his family, Bryan "Tazz" Olichwier does all the work in his shop on his own - welding and designing his custom flip grills.
pigs, chickens and ribs, so he knows what is needed for large-scale cooking.
"I wanted something that was going to be functional, operational and transportable for myself," said Tazz.
He spent five years designing every component before he ever built the first flip grill, drawing, changing, fixing, altering. Tazz also partnered with Project Management Institute (PMI) in Bloomer, which has been an integral part of his success. Tazz sends his hand-drawn sketches to PMI, who creates blueprints and dimensions, then cuts the parts upon Tazz's approval.
One day, Tazz hopes to be able to purchase a program to design directly on a computer, then send the specs to PMI to cut out.
"They said, 'Until you get to that point, we'll continue helping you,'" said Tazz. "The whole staff…they've done phenomenal work for me."
Tazz is also looking into getting his tubing work done by a gentleman in Iowa, who purchased one of Tazz's grills.
"So, when I get it here (tubing), I don't have to hand drill it," said Tazz.
He also has a goal of hiring one or two welders full-time by the end of the year, to free him up for designing. But, for now, it's just Tazz, with help from his wife, Brittney, and his dad.
Before their daughter was born, Brittney cut steel and ground the ends, and still helps with trailer assembly and wiring. "She's helped me do all of that on these grills," said Tazz, adding that Olie comes in and helps cut bigger pieces of steel. "I hand-build every one of these. They're not mass-produced and pushed down a line."
continued on page 18
Bryan "Tazz" Olichwier demonstrates his custom flip grill, by cooking a case of chicken for a fundraiser. The cooker is made of heavy duty materials and can be stored outdoors, although Tazz recommends keeping the grill in a building, to keep it clean. Tazz-D Enterprises flip grills represent quality product
continued from page 17
Tazz would like to get enough inventory to offer the grills to fulfill customers' requests in a timely manner, as it now takes four to six weeks to construct a grill. Tazz says he should have operating capital investments in the near future to build up an inventory.
"It's been a long struggle," said Tazz.
Added to in the mix, catering has exploded for Tazz, which helps advertise his ware's versatility.
"You can cook burgers to corn on the cob with these," said Tazz. "They are that versatile."
Through his specially designed flip grill, baby back ribs can be fully cooked in one hour and so tender they fall off the bone. Tazz says he is laughed at during grilling competitions, for cooking ribs, but that he almost always brings home the trophy.
"It's (grill) almost perfect the way it is, for what it does," said Tazz.
The heavy duty grill is not just for catering, as the ordinary person can own it if they have the money to spend on it. It is ideal for tailgating or heading to a NASCAR event, as the grill is housed on its own trailer for transport.
The stainless steel baskets can hold 40-45 ears of corn in each basket; 90 brats; a case of 96 pieces of chicken; and 40 thick burgers. It can be loaded up with hot dogs, thick pork chops and pork steaks, beef steaks and ribeyes, using charcoal or wood, or by spreading wood chips over coals.
"It's truly amazing what the grill is capable of doing," said Tazz.
Once a person purchases a grill from Tazz, he will be glad to show the person how to use it, cook with them if they ask, and at anytime, will come and assist as best he can.
"When you buy a grill from Tazz-D Enterprises, you are buying a relationship, not a product," said Tazz.
Although he has had people tell him to use cheaper materials, Tazz says his goal is to not make as much money as he can, but to provide a product people are happy with and that he is proud of.
There is a limited lifetime warranty, focusing specifically on the baskets,