Posted on
Out of control collection leads to unique Wisconsin museum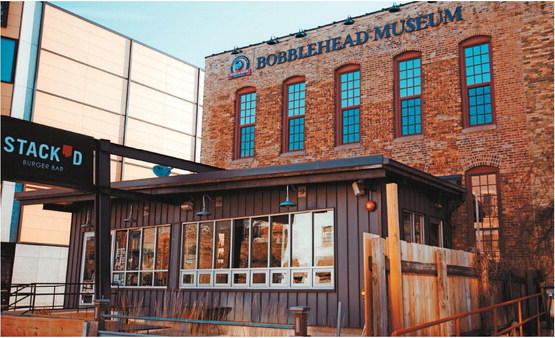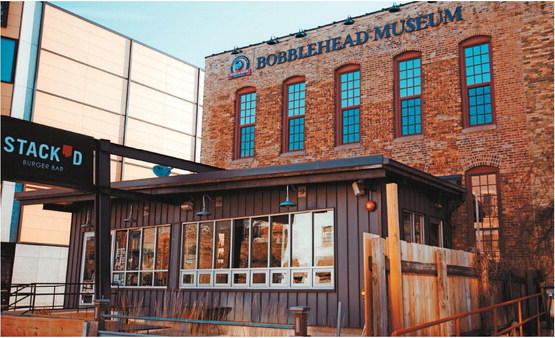 By Matt Frey The Star News
Feeling like everything during these pandemic days carries a negative tone? There is at least one thing out there that will always give you a positive nod.
A bobblehead.
Bobbleheads in various forms have been around for centuries, but their popularity has exploded in the last 20 years –– largely due to sports. And nowhere is that popularity captured more than at the National Bobblehead Hall of Fame and Museum located in downtown Milwaukee.
Co-founders Phil Sklar and Brad Novak had no idea in the early 2000s what going to bobblehead giveaway nights at Milwaukee sporting events would lead to. Slowly but surely over a 10-year period their bobblehead collections grew to a point where something had to be done.
"The collection at that point was growing out of control," said Sklar, who serves as the museum's CEO. "It was in the kitchen of our condo. It crept from one display case to two to three and then all the bookshelves. It was pretty crazy. It was like, OK what can we do? We sorta combined the two ideas of producing and having a museum dedicated to bobbleheads."
While the concept has been in place since late 2014, the Hall of Fame and Museum didn't physically open to the public until Feb. 1, 2019 on the second floor at 170 S. 1st Street in Milwaukee above Stack'd Burger Bar and Colectivo's Foundry Cafe, just over a mile from Fiserv Forum, just across the Milwaukee River from the Summerfest grounds and a fiveto 10-minute drive from Miller Park, depending on traffic.
"We're right in the downtown area where the Third Ward meets Walker's Point," Sklar said. "It's a really bustling area, lots of shops and restaurants and things to do."
For Sklar and Novak, Rockford, Ill. natives who had known each other since middle school and both attended UW-Milwaukee, the opportunity to get a bobblehead or two as college students turned into something they could never have dreamed of at the time.
"It just started as a hobby," Sklar said in a late March interview. "It goes back to my dad who collected baseball cards growing up and got me into baseball and sports cards at a really young age. I enjoyed collecting and looking at them with him at card shows and watching sports.
"(Novak) was working for the minor league baseball team in Rockford in the summers and they gave away a bobblehead for the first time in 2003," Sklar added. "He got that bobblehead and we thought it was pretty cool. We decided to go to some of the bobblehead games in Milwaukee, so we'd circle the Brewers, Admirals, Bucks and Wave games. Anybody who was giving away a bobblehead, we'd try to go to those games. We built the collection up slowly and then after school, we made a goal to go to all of the baseball stadiums. So every year we'd usually go to a couple and we'd pick up some bobbleheads. By 2014 somehow the collection had grown to about 3,000.
"Looking back, and every time I say that, it's like I don't know how we possibly accumulated that many. Somehow we ended up having close to 3,000 and we thought, 'OK what are we going to do with all these bobbleheads?'" In 2013, Sklar and Novak decided to produce their own bobblehead of their friend Michael Poll, a longtime manager for UW-Milwaukee (UWM) Panther athletic teams and a Special Olympian. All proceeds from that sale benefitted Special Olympics.
"We had a really good experience with that process and also realized that there might be a need in the market for somebody to produce and bring bobbleheads to the market," Sklar said. "A lot of the companies out there were just focused on the stadium giveaway bobbleheads. So we sorta filed that in the back of our minds. We combined those two ideas of producing and having a museum dedicated to bobbleheads.
"During those (baseball) trips we'd go to the Rock 'N' Roll Hall of Fame and Museum, Cooperstown and some off the wall museums, really just different attractions locally and I think that sort of sparked it a little more," Sklar continued. "I was in corporate finance, spent about 11 years in accounting and then corporate finance and Brad was in retail sales for cell phones. So it was definitely a big switch. We both went all-in when we announced the concept in November of 2014."
It took longer than expected to get the museum open, mainly due to finding out the building needed to have a sprinkler system installed. The muse-
continued on page 26
continued from page 25 um, which has about 4,000 square feet of space, currently has 6,500 unique bobbleheads on display, a store featuring bobbleheads and merchandise and the online store is always available for those looking to add to their collections.
"Now people and teams will send them in to have them on display," Sklar said. "We don't even necessarily have to go to the games or reach out to a lot of teams to get them unless there are some that we see and really want to add."
While sports-themed items make up the majority of the bobblehead market, Sklar said people are often amazed at the variety that's out there.
"People are definitely surprised to see the variety of non-sports," he said. "They're coming in expecting to see the baseball, basketball, hockey and football. They they see the animals, poker players, Marilyn Monroe, Wizard of Oz, Star Wars, just dozens of Star Wars and Disney ones, cereal characters, Scooby-Doo.
Bobbleheads have been made of pretty much anything and everything."
Since producing their original bobblehead of their college friend, the co-founders have produced several different series on their own. Among their most popular were a bobblehead of Sister Jean, whose fame took off when Loyal Chicago made its run to the Final Four in 2018, bobbleheads of longtime University of Wisconsin band director Mike Leckrone and two series of the football Watt brothers, JJ, TJ and Derek.
One series depicted them in their