Posted on
"I plan on taking this out of the basement and get into an actual shop…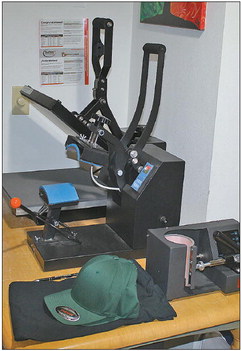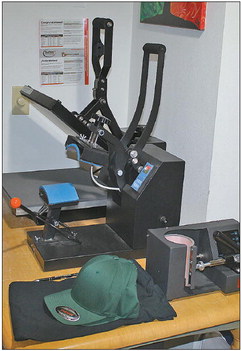 needed. For that he hit the road, taking a trip to Nebraska for a used 2005 Roland SP-540V that could be used to print and create signage and posters and bigger print projects.
"The printer was pretty expensive since it cost me about $5,400, but relatively speaking, for starting a business, six thousands dollars isn't all that much to start one. Once I got that, I was pretty well set and started getting work."
Since the fall of 2019, Brockhaus has been hard at work to grow his business, adding clients and offering his printing and design services to those who know great quality doesn't have to come from a massive brick and mortar building.
He's acquired his resale license and begun to branch out into apparel, printing t-shirts, hats, hoodies with the Colby Hornets logo of his alma mater.
He's also taken to social media to build his brand, starting a Facebook page and website. Like most new ventures, Brockhaus says his first jobs were with friends and family, but as word of mouth spread, he quickly began to create products for local businesses, and recently had his first out of state job.
"Once I got started it was small. Right away it was just friends and family," Brockhaus said. "Then it started to spring out to where I got some jobs from local businesses, like Colby Chrysler, Medford Chrysler, Fourmen's in Colby.
It was signage for Abby Ford, and then some courtesy cars.
"The more people I've dealt with and the more projects I've done the more word of mouth and other work is starting to come in. It's gone from people to companies now reaching out. It's getting further away - someone in Washington state, I just did a race car decal for them."
It hasn't been a seamless transition to go from student to business owner, with Brockahus having to acquire vinyl, ink and supplies before he even began.
He's overcome obstacles with equipment, which can be years older than his competitors, but he gets the job done and handles it all with a shrug.
"There's always going to be a few hiccups along the way, but you have to work around it. I can't go out and buy a brand new unit, that's going to be forty grand.
So you have to be creative and solve problems on your own sometimes."
For the moment, Brockhaus is a one man show, though he does receive help with bigger projects from his father, Phil, and friend, Trent Underwood.
In the future he hopes to have multiple employees, and continue to serve the needs of Central Wisconsin and beyond.
It's a hard time to start a business, with COVID-19 creating global uncertainty. Even before that, small businesses have struggled in the face of online retail and increasing automation, but Brockhaus encourages others to be bold and hopes his classmates and those coming behind him are encouraged by his results.
"Go for it. Start slow. I didn't have all of the stuff that I do now. I just started out with a couple things, you know? Just $300 got me my first vinyl cutter, and then it just transferred from there. You can invest anything into it."