Posted on
Double L Acres near Curtiss turns sap into syrup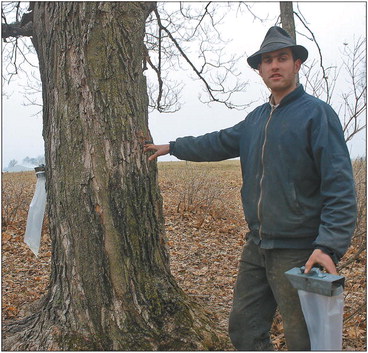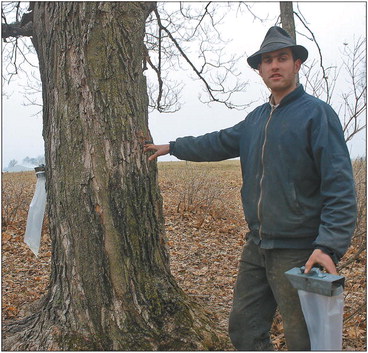 By Kevin O'Brien The Tribune Phonograph
Double L Acres, located on CTH E just south of Curtiss in Clark County, is the type of place you might pass by if you didn't know what awaited you at the end of the gravel driveway.
The small, family-owned outfit produces some of the sweetest maple syrup in Central Wisconsin, made possible by an attention to detail that is rare in many operations.
Levi Hoover and his wife, Lenora — the two L's in Double L — are part of a family tradition passed on by Levi's father, Aaron, who moved to Clark County from eastern Pennsylvania 42 years ago.
Aaron Hoover, the patriarch of the family, said the spring of 1978 was the first time he tapped maple trees in Central Wisconsin after moving here. That first time in the woods, it was just him, his older brother and a blanket to keep warm while they cooked the sap into syrup.
"If you got cold, it was time to put wood on the fire," he said, laughing.
Back east, he said it would warm up a couple months earlier than in Wisconsin, so he had to get used to the cooler climate.
Levi is the youngest of Aaron's five sons, which also include Martin, the oldest, along with Harvey, Aaron Jr., and Samuel. The Hoover family also includes 25 grandchildren.
Double L taps a total of 3,330 maple trees during the syrup season, producing an average of 1,000 gallons of the golden-brown sugar every year.
They started tapping trees on March 7 this year, and were cooking by March 12, according to their meticulous, hand-written records. By April 3, as the weather started to steadily warm up, the Hoovers could sense the end of the season was drawing near.
"People are starting to pull their taps," Aaron said while holding the reins of a horse-drawn wagon used for collecting syrup from a sugar bush on a hill overlooking the family's home. Next to the house is a syrup shed, which yields a steady stream of wood smoke while sap is being boiled down inside.
A wood-burning furnace fuels the Intens-o-Fire — a high-efficiency evaporator inside the shed, which was built in 1990 after a shanty on the property burned down earlier that year. By the spring of 1991, Aaron and his family were boiling sap inside their new metal shed, and it's been that way ever since.
For many years, Aaron said they used a flat pan to cook the syrup, and then about eight years ago, they got the evaporator. The only drawback to the evaporator is the noise it makes, he said.
"With the flat pan, there was no noise," he said. "You heard it boil and that was it."
The family has made other modifications to their process over the years to make it easier and more efficient. Levi points out the pattern of tap holes on the trees, which are evenly spaced by going two inches up and two inches over.
"When you come back the next year, you know right where you want to drill," he said.
With this method, some trees can be tapped for 15 to 20 years in a row, without using the same hole twice, he said.
Aaron said he didn't realize the importance of following a pattern when he first started tapping trees.
"After 10 years you don't know where you drilled and where you didn't," he said.
Aaron said he's also learned to avoid certain fads over the years.
"A lot of people used blue bags years ago, but if you get a warm season, your sap spoils a lot faster," he said. "The sun gets hotter on it."
Using a horse-drawn wagon, rather than a tractor or other motorized vehicle, also has its advantages.
"One thing with the horses versus the tractor, we've got ruts, but not deep ones," he said.
Levi said they also have livestock on his property, so they don't bother setting up a line system for collecting system, but they do employ that method at other woods
continued on page 12
continued from page 11
rented by the family.
Without a line system, Aaron and Levi say it usually takes about an hour to fill up a tank with sap, but that can vary depending on the conditions.
"It depends on if you're knee-deep in snow or there's no snow, but when there's no snow, there might be less sap in (the trees)," Aaron said.
When the sap is really flowing, Aaron said they'll be out in the woods for most of the day.
Once the sap is brought in from the woods, it's deposited in a storage tank, which is actually an old cheese vat they've had for nearly 40 years.
"It's all stainless steel in the inside," Aaron said. "Back in the '80s, you get these for a couple hundred bucks."
An overhead tank feeds the Intens-o-Fire, and the pan is pre-heated.
Levi said they measure the sugar content and figure out how many gallons of sap it takes to make one gallon of syrup.
Aaron says 86 is the magic number.
"If it would be two, then it would be 43, but at this operation, we usually run three and better on sugar," he said. "Three to four is normal."
Distilled water is tubed in to keep the syrup warm until they run it through the filter press and bottle it.
A wire thermometer is used to make sure the temperature stays steady.
Levi said they collect a small sample