Posted on
Davis Furniture builds on 40 years of quality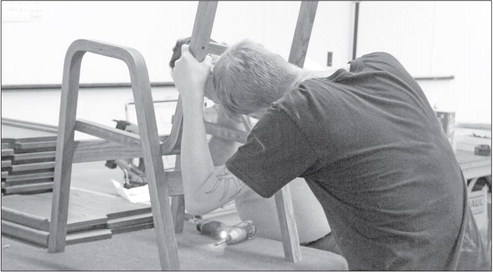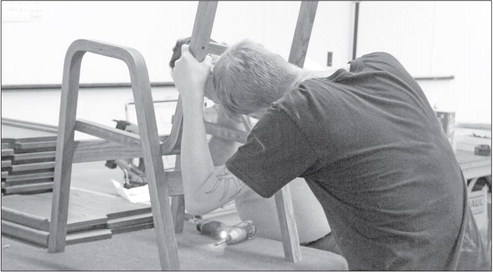 By Brian Wilson The Star News
For more than 40 years Davis Furniture Manufacturing has been building and installing pews, chairs and other furniture used in worship spaces, educational settings and courtrooms around the country.
Last year, Kristopher Davis became the second generation of ownership, buying it from his father and moving it from the Black River Falls area to Medford.
The company was started 40 years ago and began as a dream of Davis's father. He was serving in the U.S. Navy at the time and when he completed his service wanted to do something with woodworking. He found work making church pews and built a reputation for quality workmanship. In 2000, the company expanded into theater and auditorium seating, Davis's father still manages that division including managing a sales force that handles sales for both divisions.
Rather than going right into the family business, after finishing school Davis went into the lumber industry and spent the next 25 years running sawmills around the midwest. He rose to being the division manager of the largest lumber company in the midwest.
However he saw changes in the lumber industry and grew tired of the ups and downs of the commodity market. "When you are in a commodity business, so much of it is out of your control," he said.
Davis was looking for a change and at the time Davis's father was looking to sell off the manufacturing side of the family business. He purchased it last year and then bought a building in the Medford Industrial Park, taking up the mantle of making furniture his father started decades ago.
"We make chairs, pulpits, church pews, and benches for courtrooms," he said. He said they also do installation work for the auditorium seating sold by his father as well as combination jobs involving both manufacturing and installation.
"His and my business work together on those types of jobs. It is a pretty good partnership," he said.
Davis said they picked Medford as a base of operations because his wife is from the area and over his lumber career Medford has been central in the territory he ran. "We moved here and as things developed we were not ready or willing to relocate," he said.
In a bit of luck, when Davis began looking for a building in Medford he visited the former Countryside Publications building and saw that it was a near perfect fit for his manufacturing business with separated areas between the wood cutting and shaping and the finish areas.
"It was the right building for what we wanted to do," he said.
As a custom manufacturer, Davis has the flexibility to produce original designs for clients as well as do restoration work. He is currently working on a job with UW-Madison for seating in a number of historic lecture halls on the campus. This is exacting work with the need to closely follow specifications.
This work has involved removing the existing fixtures, disassembling them, having the metal parts refinished with powder coating and replacing the fabric and cushions. Once reinstalled they look brand new. This contract has been keeping the company busy and they have six more classrooms to do by the end of the summer.
Davis noted that the demand for their products has remained strong and that he has jobs booked through the end of the year.
He said one of their niches is that they are not afraid to take on small custom duplication-type jobs. He gave the example of a recent job for a Chicago area church where they just delivered 100 custom kneelers for the chairs.
He said those types of jobs can be challenging because you have to match how it was done by the original maker rather than how you would do it yourself, noting this can take a lot of time and resources, which has to be accounted for when they bid out jobs.
Davis explains that reputation is everything in his industry. He said it is a reflection of their craftsmanship and reputation for quality that architects will even include their company in the specifications for new buildings. "Our reputation and name brings demands for bigger jobs," he said.
Last year the company did pews for the chapel at an Air Force base in Florida, courtroom benches in Kansas City, Mo. and a really big church at a military school in Alabama. He said they have done work for projects from New Jersey to California and everywhere in between. Being located close to the Hwy 29 corridor is a benefit for the company as they do their own shipping and installation of the fin-