Posted on
Chippewa River Distillery meets need for hand sanitizer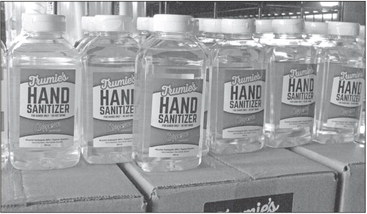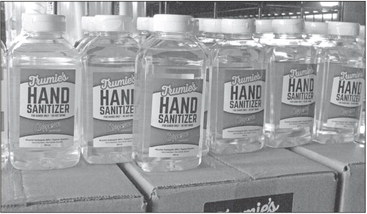 By Brian Wilson The Star News
For years the owners of Chippewa River Distillery and Brewster Bros Brewing Company in Chippewa Falls have been providing high quality beers and spirits to customers throughout the region. They recently took that service to another level answering the need for hand sanitizer during the COVID-19 pandemic.
The Chippewa River Distillery plant includes a popular tavern that serves up beer and mixed drinks to hundreds of patrons each week. All the company's spirits and beer served at the taproom are produced in house, said Gary Vidlund, the distillery's general manager.
The company is located at 402 River St. near downtown Chippewa Falls.
Following the state's Safer at Home orders in March, the tavern, like taverns throughout the state, was shut down. At the same time, company ownership was seeing a pressing need for hand sanitizer as suppliers were quickly running out of stock as people secured the item to prevent the spread of the virus.
With the distilling equipment idled, bar manager Sydney Schneider suggested they produce a vodka-based hand sanitizer. In a partnership with Chippewa Falls-based Leinenkugel Brewing they converted hundreds of gallons of beer into 160-proof alcohol which after going through a denaturing process and with the addition of other ingredients was turned into sanitizer. A pallet load of sanitizer was donated to area fire departments, EMS and other responders.
Members of the distillery family were kept busy through the shutdown packaging the sanitizer, converting the bar room into an assembling room filled with boxes of the sanitizer.
Gary noted that he does not think anyone in the company ever expected to be making hand sanitizer, but credits Sydney for thinking outside the box and coming up with the new product. It has been a popular addition since it was introduced. In their first month, the distillery filled 15,000 12-ounce bottles and demand has been steady. The company offers a variety of sizes from gallon jugs with pumps to refill smaller containers to personal use bottles. They will soon be introducing a small spray type bottle. The distillery sells the sanitizer as Trumie's Hand Sanitizer. Trumie's is the brand name of the vodka and spirits line created in the building. The name goes back to Trumie Schneider, the grandfather of co-founder Kurt Schnei-
... the company swtiched gears to make hand sanitizers...