Posted on
Restaurant reopens as Thiago's Cafe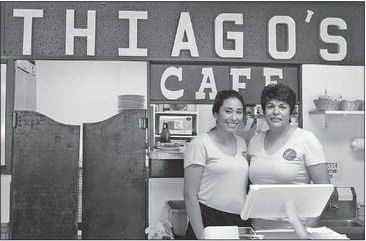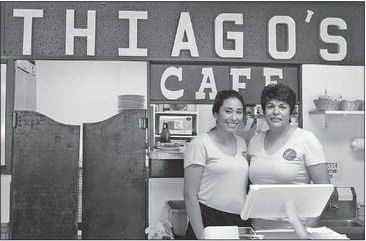 The name on the signs is different, the menu features new options, and the interior has undergone some dramatic changes, but the delicious aromas and savory smells are the same as always from the little cafe that sits on the corner of Clark Street and STH 13 in Colby.
Thiago's Cafe is a family-run, minority owned small business that highlights what the American Dream is all about. The cafe is owned and operated by family matriarch Maritza Vazquez and her husband Alejandro, along with help from daughter, Ivone, who owns and operates La Botana in Abbotsford.
"It's so nice and a good feeling because now we're here living in America, living our dream," Maritza says with great emotion. "The reason we came to the United States is to have a better life, having a better opportunity. To have my own restaurant, and the owner of the cafe, for me, it's like a goal, a dream."
Formerly Amber's Colby Cafe for the past 15 years, much of the staff that worked at Amber's is still here, and Maritza is hoping to see a mix of old and new customers come through the doors to sample her cuisine.
"My vision for Thiago's is to have as many customers that we can have. We are open for all the diversity — everybody is welcome to come to Thiago's," Maritza says. "I want this to be a place for everyone. For me, the most important thing in Thiago's is my customers."
The cafe just opened its doors to the public on Wednesday, July 1, but it has the ingredients to become a favorite among residents of Colby. The Vazquezs have burgers and fries, but encourage their customers to try new things, like their fajitas and enchiladas. They are also open to suggestions from their patrons.
"We are always going to be open to everybody to give us better ideas, either for the building, with the menu, with everything. We pretty much open to everything," Maritza says. "We care a lot about our customers. For me, to be a successful business, is the customers, because if you don't have no customers, you don't have no business."
One thing that is clear when you watch Maritza and Ivone is that they have a natural affinity for people, an incredible work ethic and passion for food.
"She has always been involved in the food industry," Ivone says about her mother's love for cooking. "Her dad had a bakery in Mexico, so she has always loved the food and it was always a dream of hers, and now she has her own cafe."
Many of Maritza's recipes come from her family, from watching her grandmother, mother and mother-in-law cook, so it's important to Maritza that her food has all the flavor of Mexico.
Maritza prefers to make nearly everything from scratch — that's the only way the food will remain up to her high standards. "Everything tastes better that way," she says emphatically.
In order to ensure the most delicious food, Maritza will be relying heavily on the local produce. The milk, cheese and juice will be provided by Bushman Dairy, Marshfield, while the meat at Thiago's will come from Smith Bros. in Colby "It's not because I worked there for 11 years; I know they have the best products in the area," Maritza says.
Her time at Smith Bros. Meats in Colby taught her a great deal, and Maritza admits it was extremely difficult to make the decision to leave a business and people that were like a second family to her.
"To me to make this decision, it was very hard because I worked for a great company for 11 years," she said. "They showed me a lot of things, they taught me many things. To make that decision to leave, that is hard."
With eyes welling up with tears, Maritza says that she has overcome so many obstacles to get to where she is now. To hear the compliments and praise for her cafe, her dream, it's made all the sacrifice and hard work worth it.
"To own your own place is not easy, especially when you are in another country," Maritza explains. "For me to take the decision to have a business is very hard, but very exciting at the same time.
"Now that I have it, now you can see, with all these good people and good comments and that people feel so good in here, it's what I wanted. It's a dream come true."