Posted on
From Dorchester to Las Vegas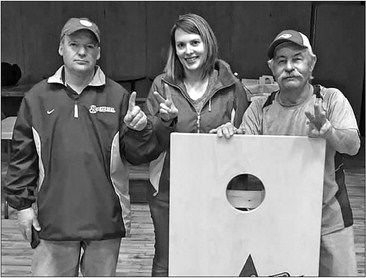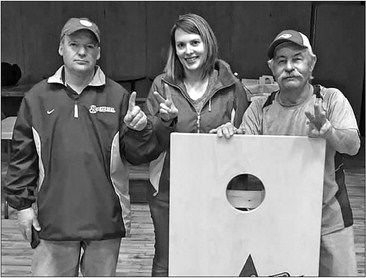 Dad, daughter find a home on pro circuit
On its face, the game of cornhole is simple. A weighted cloth bag is tossed onto a wooden receptacle called a cornhole platform some 30 feet away. A bag in the hole is worth three points, and a bag that falls on the platform scores one point. Reach 21 points before your opponent can and you win.
Simple, right?
As with any game of skill, it's a lot harderthanitlooks.ButwatchingWayne Rau and Maggie Geiger of Dorchester play, the ease with which they accomplish this feat borders on magic as they deftly fling their bags through the air with unerring accuracy.
What's amazing to them is how that skill landed them onto a professional circuit that's taken them all over the U.S.
"Honestly, it started as just something of a hobby and fun thing to do," Geiger says. "My brother Preston and I started out playing about ten years ago at little bar tournaments. Dad decided that if me and Preston could win at these tournaments then so could he."
That hobby evolved six years ago when the American Cornhole Organization (ACO) came to Marshfield and hosted a state tournament. Wayne decided to participate and found himself enjoying the sport. He wanted to expand beyond just regional tournaments but to do that he needed a partner who was not only skilled, but was also willing to travel.
"In June of 2016 dad took me to my first state tournament to see what it was all about," Maggie said. As it turned out, she was a natural. "I ended up winning the women's division and ever since then I kinda got hooked."
Tight-knit community
Cornhole can trace its origins back to 14th century Germany. It fell out of favor for a time, but was rediscovered 100 years ago in the rugged hills of Kentucky. Over the years its popularity grew, finding a home on college campuses and backyard parties across the country. In 2005 the first pro league, the ACO, was founded.
For those that make up the pro circuit, cornhole is more than just a test of skill it's being part of a family. "We call it our cornhole family, which it truly is," Maggie says. "You go to these tournaments and everybody has open arms and is very welcoming."
Now that they've been on the circuit for several years, Maggie and Wayne are quickly recognized by longtime competitors, and there's a camaraderie that is seldom seen in other sports.
"Up until World's last year we were kind of an unknown commodity," Wayne says. "Now when we walk in, people from Kentucky or South Carolina recognize us and say 'Hi Maggie! Hi Wayne! How's the kids doing?'" Wayne and Maggie are part of a growing group of throwers that make up the ACO, with members hailing from all across the country. The ACO is divided into eleven conferences that compete in local and regional tournaments. The level above that is the 'majors' and above that is the ACO World Championships.
"The way it works for ACO, you have to pay a membership to play, and then every tournament you go to you earn points for how you finish," Wayne explains.
"So you need to finish in the top 80 to be considered a pro, or if you go to the World Championships, and you place in the top 96, then you'll also get to be considered a pro."
Life on the circuit
Each tournament is a busy time for Maggie and Wayne, who take part in multiple events. Oftentimes Wayne will compete in seniors and men's singles and co-ed doubles with his daughter while Maggie takes part in women's singles, co-ed, doubles and open singles.
Each enjoys the challenge of competition, and winning is certainly nice, but one thing they wish they could do is tour more of the cities and parts of the country these tournaments send them to.
"Sadly, when we go to these faraway places we don't go an extra day or two to enjoy the city," Wayne said. "We go in and we stay only as long as we have to. We try to save a couple bucks."
They might be pros, but they're not about to get rich anytime soon. For plac-
CORNHOLE ing second at the co-ed World Championships last year, they each pocketed $300 - barely enough to cover their expenses.
"We're still working full-time jobs," Maggie says with a laugh.
That could change in the future as the sport continues to gain visibility and popularity, with the pro tour recently gaining Annheiser-Busch as a sponsor.
"This year they posted that each bracket can be up to $20,000," Wayne says. "So they got sponsorship . . . If you're top dog in the singles and doubles you can do well."
Playing on the big stage
For Wayne and Maggie it's never been about making a living off the sport. It's always been about the joy of competing, seeing friends, and having a good time. But they're more than happy to see the sport grow, with many of the majors and the World Championships streamed live on social media or TV.
"I think it's social media and ESPN," Rau says as the driving force for the growth of the sport. "Anyone can tape themselves and put it on a page. Everybody has the phone and tripod and a lot of people tape the tournaments. Now, when I'm bored, I can go on YouTube, and watch something that somebody did earlier that day."
It might not be long before residents of Dorchester and beyond see more and more of Wayne and Maggie. The two have emerged as some of the most talented throwers not just in the Midwest, but in the country.
They had a chance to display their skills before a national audience when they qualified for the ACO World Championships in Las Vegas in July last year. The father/daughter duo made it to the co-ed doubles championship round, and their finals match can be seen on the ACO's YouTube page.
"To me it was kind of an out-of-body experience," Maggie said, attempting to describe playing in a world championship event. "Right now, even a year later, it's still hard for me to believe that we made it to that point."
Maggie and Wayne did not win the world championships, but in the year since they've continued to compete. They are also beginning to realize maybe they're better than they initially thought.
"At first it was very hard to believe we made the finals," Rau said. "But it just so happened she wins three majors, I end up winning three senior majors. We won a couple of co-ed tournaments, a couple doubles tournaments this past season. Now you realize maybe last July wasn't such a fluke. Maybe we can be that good."
Next steps and defying odds
The season continues as cornhole is uniquely suited to the social distancing now required from the coronavirus, and Maggie and Wayne are still active on the circuit, but are now hunting for greater competition.
"When we realized we were competitive with the top pros, we started searching for more tournaments and wanted to see how far we could get with this," Wayne says.
However, it's Maggie who might get the greatest joy out of competitions. By its own admission, the ACO's membership is 80 percent male and only 20 percent female, but Maggie is proving that girl power is alive and well on the pro tour.
"I like beating the boys," Geiger says with a fierce grin. "I get more excited out of beating the top male throwers than I do playing against the women because when we first went to tournaments people would be like 'I'll throw with the girl.' They thought I wasn't as good, but then we'd beat them. I like that - I like to shake up the stereotypes."
Geiger and Rau now have others gunning for them at tournaments. They've stayed sharp with local and regional tournaments, and are looking forward to a return to the world championships. Once there, anything can happen.
"I would like another chance at co-ed, but it's not all skill. It's also luck of the day. We're still learning," Wayne says. "We all started from the bottom and we've worked our way up."
If you should chance upon Wayne and Maggie at a tournament they'll encourage you to join the ACO. But if you've got plans to beat either one of them, they have a message for you.
"Let's throw," Maggie says simply.