Posted on
Drive-thru dairy breakfast Sunday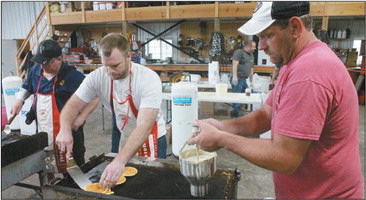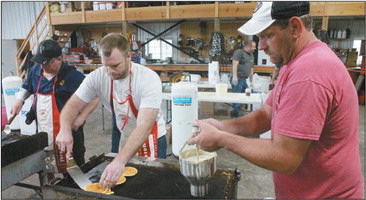 Members of the Colby FFA Alumni are not about to let the month of June come to an end without at least one dairy breakfast in the area.
This Sunday, from 7:30 a.m. to noon, area residents will be able to drive through the parking of the Colby Lions Shelter and pick up a traditional dairy breakfast, complete with pancakes and sausage, applesauce, cheese curds and, of course, cartons of milk.
With most June Dairy Month events cancelled due to the threat of COVID-19, local volunteers are getting creative in order to deliver dairy products to the public.
Jeanie Tesch of the Colby FFA Alumni said the idea for a drive-thru breakfast started out as "sort of a joke," but eventually the group decided it was worth pursuing. Volunteers will be wearing face masks and gloves and taking other precautions, she said.
"Obviously, people's safety is the number one thing we worry about," she said.
Vehicles that come to the Lions Shelter parking lot will be split into two lines, with money-takers at the front of each line to collect payment and issue tickets for everyone who wants a meal.
Ticket-takers will then provide freshly made breakfasts in styrofoam containers, which will contain pancakes and sausage. Applesauce, butter, maple syrup and a cookie will also come with the meal.
Each person will also receive a fourounce container of prepackaged cheese curds from Nasonville Dairy, made either on Friday or Saturday.
"They should be fresh and squeaky for people to eat," Tesch said.
To top it off, a 16-ounce container of chocolate milk, donated by Kwik Trip, will be handed out to each person.
Tesch said on-site parking will not be allowed, so they are encouraging people to enjoy their meals at a park or at home.
"It will be a straight drive-thru," she said. "There will be absolutely no indoor seating."
As usual, the Colby FFA Alumni is co-sponsoring the event along with the Abby-Colby Crossings Chamber of Commerce. Those volunteering will be alumni and representatives of local businesses who help out every year.
Tesch said they normally need 70 to 90 volunteers in order to host a dairy breakfast at a local farm, but this year, she thinks 30 volunteers will be sufficient.
Those putting the meals together will be grouped together based on their family relations or with their co-workers, she said. This way, people who have to be closer than six feet apart will be those who already live or work together.
When asked how many people they expect to show up for the breakfast, Tesch said the group thinks it could be as many as 2,000 people. Last year's Colby Dairy Breakfast, held at Heeg Brothers, happened to be the largest one ever, she said, with over 1,700 people coming out to eat.
With the help of local police, she said they hope to keep traffic under control.
"Our goal is to have people drive through and go out right away so there's no waiting," she said.
Any leftover dairy products will be donated to the local food pantry and businesses that contributed to the event, she said.
Tesch said one of the main reasons the alumni group wanted to have this event was to show support for farmers and raise awareness about the dairy industry, which has been hit hard by the COVID crisis after years of setbacks, from horrible weather to low commodity prices.
The sharp economic slowdown that came with the pandemic has meant that farmers aren't able to sell as much of their products to restaurants and other food-related industries. This has an impact on the entire economy, Tesch said.
"People don't realize that we are still making milk," she said. "Cows get milked 365 days a year, but if one of those entities gets shut down, it affects everybody."
Tesch said the shutdown of schools has also led to few opportunities for students to learn about dairy, whether it's through a classroom visit by Alice in Dairyland or a hands-on ag class in high school.
"This whole year has just put a stop to influencing and giving these kids ideas of what really goes on in our industry," she said.
Wisconsin normally has over 50 dairy breakfasts during the month of June, Tesch said, but that's down to just four or five this year, including other drive-thru events in Menomonie and Appleton.
Tony Meyer, president of the alumni group, said the money raised at the breakfast is used "to support the Colby FFA and its members through scholarships to attend career development events, leadership development events, post-secondary education and more."
Tesch said the Colby FFA Alumni have already been active this year in supporting farmers during a tough time.
The group raised $3,860 to purchase 600 pounds of block cheese, 800 string cheese sticks, 580 pounds of butter and 100 pounds of cheese curds for Colby School District's lunch program.
"So, by doing that, 14 tons of milk via cheese, butter and ice cream were given just in the area through the support of the alumni and local businesses that sponsored this," she said.
Looking ahead to next year, Tesch said the FFA alumni tentatively plan on holding the 2021 dairy breakfast at JTP Farms in Dorchester, which was originally supposed to host this year Jay Heeg said his family was honored to host last year's breakfast, and were very thankful for all the people who came to enjoy a meal or help out. He thinks the drive-thru event is a great idea, as it will give the community an opportunity to celebrate June Dairy Month.
"2020 has been an extremely challenging year for everyone and everything has been a little different," Heeg said. "I am really glad the Colby FFA Alumni did not cancel the 2020 Colby Dairy Breakfast."