Posted on
Abby takes no action on ATVs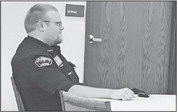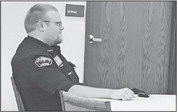 A handful of speeding ATV riders continue to cause headaches for local residents and police, but Abbotsford officials are not at that point where they want to ban the vehicles within city limits.
That was the conclusion arrived at by the city council at its June 17 meeting, which included a discussion with Colby-Abbotsford police officer John Stubbe about ATVs and UTVs on city streets and enforcing local speed limits.
Since 2016, Abbotsford has permitted ATVs and UTVs to travel along Business 29 and Hiline Avenue, which provides access to local businesses and restaurants while also linking to routes in the townships of Mayville and Holton.
Local riders are allowed to use side streets to get to and from the official route, but they are supposed to travel by the shortest distance.
Last August, Ald. Frankie Soto urged the rest of the council to reconsider allowing ATVs/UTVs within the city due to all of the problems on the side streets in his neighborhood.
Soto says the situation has gotten better since then, but at a police commission meeting earlier this month, chief Jason Bauer said his officers don't have time to chase down speeding ATVs and UTVs.
City administrator Dan Grady told the council that Bauer would have no problem rescinding the ATV/UTV route.
"If the city council wants to consider that at a later date, we'd have Chief Bauer's enthusiastic support," Grady said.
Mayor Lori Voss agreed with others who have said that most riders follow the speed limits and other rules, but those who don't create a lot of problems.
"It's sad that there's a few that could ruin it for everybody else," she said.
Soto said the one or two problem riders near his house will start accelerating beyond 25 miles per hour before reaching Business 29.
"I don't mind the noise," he said. "All I want is for them to slow down and go the speed limit."
Stubbe said a lot of riders just don't know all of the rules and regulations for operating an ATV or UTV. Anyone born on Jan. 1, 1988, or later is required to take a DNR safety class, he said, but that leaves a lot of people who have never taken the course.
It helps if people who call in complaints can write down the vehicle's plate number or provide other information to officers, Stubbe said.
"If you know where they live, I have no problem going and talking to them," he said. "We have ATV/UTV regulations in the squad car, pamphlets of information."
When it comes to issuing tickets for violations, Stubbe said he most often cites violators under the city's local ordinance, but he does have the power to issue DNR citations, which can carry heftier fines and other punishments.
After listening to Stubbe, Soto and other council members said they were not at the point where they want to consider ending ATV/UTV operation in the city.
"I hate to shut it all down because of one or two," said Ald. Dale Rachu.
A separate conversation about speed limits was a response to complaints from Pine Street residents who say they fear for their safety due to all of the vehicles racing through their neighborhood.
A set of stop signs was recently added at the intersection of Pine and Fourth Avenue, but Grady says Chief Bauer is not in favor of putting up more signs on that stretch.
Officer Stubbe said speeding is a constant source of complaints, and if time permits, officers will respond to reports of speeding vehicles in a certain area.
"Sometimes we get them, sometimes we don't," he said.
A lot of times, the mere presence of a squad vehicle will cause drivers to slow down, he said, so officers don't always catch speeders in the act.
Mayor Voss said anywhere there is an uninterrupted straight-away, such as Pine or Linden, drivers will be tempted to exceed the speed limit.
Ald. Brent Faber said it's unrealistic to expect officers to catch every speeder.
"We ask you to enforce the law, and speeding is just one of them," Faber said to Stubbe. "There are many things we don't catch a lot of people doing. It's all 'right place, right time.'" When asked why the police chief is reluctant to put up more stop signs on Pine Street, Stubbe said adding more four-way stops along a straight-away would create more congestion with constant starting and stopping.
Faber agreed, saying that speeders will just respond with "over-acceleration and excessing braking" at intersections.
"If you're in a hurry, you're going to fly through everything as quick as you can," he said.
Other business
_ The council approved the creation of a task force consisting of the mayor, city administrator, public works director, council president, and a police department representative to identify houses and businesses in need of safety code inspections. Based on the findings of a licensed inspector, the council could work with the city attorney to order the owner to make repairs or issue a raze order.
Grady said the local school resource officer, Patrick Leichtnam, has a list of about 20 residences and 10 businesses he thinks should be inspected.
_ The council approved new progressive discounts for those who purchase multiple residential lots within the Schilling Meadows subdivision. A single lot will still be sold for $5,000, but with a 5 percent cumulative discount, two lots would be $9,500, three lots would $13,500 and four lots would be $17,000.
Council members also emphasized the fact that they are willing to consider any alternative offer from a developer willing to build new homes right away — ideally, within a year of purchasing the lots.
"If you were actually going to build houses, I wouldn't care if we gave the land away," Faber said.
_ The council approved a listing agreement with NAI Pfefferle, which will be marketing the residential lots in the subdivision to potential developers and collecting a $2,000 fee for each lot sold.
_ The council delayed action on a conditional use permit for building residential rental rooms at the former Kramer-Schiferl Realty office until the neighboring property owners could be formally notified of the proposal.
_ The council approved the appointment of Paul Erickson to the planning commission, filling a vacancy left after the resignation of Marcia Hochhalter.
_ The council approved alcohol operator's licenses for Kimberly Buginer at the Shell gas station, Brenda Spath at Fat Boys (formerly The Corral), and Jose Ortiz at La Cantina (formerly Hardees).
_ The council approved a new copier lease agreement with Bauernfield Business Technologies for $97.41 per month for 48 months, plus $0.0055 per black and white image and $ 0.030 per color image.