Posted on
Abby enlists help to market empty lots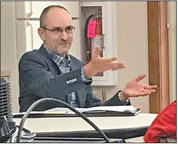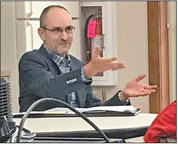 With the goal of selling off the remaining empty lots in the Schilling Meadows subdivision as quickly as possible, the city of Abbotsford is looking to hire a commercial real estate advisor to market the land to potential developers.
Tony "T.J." Morice of NAI Pfefferle in Wausau spoke to the city's planning commission on June 9, ironing out the details of how much the city is willing to charge per lot and what kind of "volume discounts" it may offer for developers who buy multiple lots at once.
The city recently sold five contiguous lots north of Swamp Buck Drive to the owner of Abbyland Foods, at $1 per lot, in order for him to build two additional apartment buildings for his employees.
City officials now want to sell the remaining 13 lots east of Fourth Avenue for single family homes or duplexes. Under a plan developed by the commission in 2018, the city is offering each lot for $5,000, on the condition that the buyer builds a home worth at least $175,000 within a year of the purchase.
However, commissioners wanted to make it clear that the city is willing to be flexible on those terms and negotiate with prospective buyers who may want to buy multiple lots at once.
Because the city-owned land is located within a TIF district, all of the property tax revenue on any new developments goes directly to the city instead of being shared with the school district and other taxing jurisdictions.
Morice said his plan is to contact home builders within a 30-mile radius to see if they are interested in buying multiple lots at once. Based on a land listing contract from Pfefferle, his firm would charge the city $2,000 in commission for each lot sold.
To further promote the lots for sale, the firm plans on placing 4 by 8 signs on all four corners of the subdivision, with a rider advertising multiple-lot discounts.
The proposed contract only lists 12 lots to be marketed, as one lot north of Swamp Buck, west of a retaining pond, is already close to being sold, according to city administrator Dan Grady.
"We could put that lot in the agreement later if the purchaser decides not to go ahead with it, but it sounded very close to happening," he said.
Ten of the 12 remaining lots are located along the newly extended Swamp Buck and Porcupine Lane, in the one block between Fourth and Third avenues. Two lots are also available on the southeast corner of Fourth and Porcupine, but those may used for building a community center if the city qualifies for a grant.
"If they sell first, they sell first," Grady said.
In order to encourage more home construction at a faster rate, commissioner Gerry Anders suggested a 5 percent cumulative discount for each additional lot purchased beyond the first, up to four.
"We want buildings on there, not just grass," he said.
With the discount applied, a single lot would cost $5,000, two lots would be $9,500, three lots would $13,500 and four lots would be $17,000. If four lots are purchased, houses must be built on each one within a year.
That was the recommendation passed by the commission for the council to consider at its meeting tonight (June 17), but it was made clear that those provisions would just be a starting point for discussions with potential developers.
"I think the council is willing to entertain just about any offer," said Ald. Mason Rachu, emphasizing the need to build new homes so the city can start collecting additional tax revenue.
Commissioners also discussed a proposal by city staff to establish a walking trail through the subdivision, which would start in the area near the new playground and run along North Third Avenue before going around the retention pond on the northeast corner of the subdivision.
DPW Craig Stuttgen said his crew could dig up the trail path and put down some gravel this year already, but he'd prefer to have a concrete surface put in at some point because that's something the city could maintain on its own.
Grady said the project would involve cutting through a tree line and putting in a bridge, and there may be TIF money available to do it this year.
The commission directed Stuttgen and Grady to come up with a proposed trail map to consider at a future meeting.
Ald. Rachu said he's also heard from a lot of people who would like to see a basketball court established within the subdivision. Stuttgen suggested city-owned land near the intersection of Third Avenue and Pine Street as a location for a court.
Mayor Lori Voss pointed out that there are basketball courts at several other locations in the city, but Rachu said it would still be a popular option.
"I'm not saying it's something we have to have, but I know it's something that will get used," he said.
Commissioners also mentioned previously discussed plans for a pavilion with bathrooms, which is estimated to cost about $250,000, according to Grady.
Under a developer's agreement signed last year with Abbyland Foods owner Harland Schraufnagel, the city has agreed to spend $400,000 over the next 10 years to build park and recreation facilities in the subdivision. A playground and soccer field on Fourth Avenue have already been approved as part of that deal.
Grady said he could have the city's engineering firm, MSA Professional Services, come up with detailed layout options for the commission to review. He said the council would first have to approve that expenditure.