Posted on
A chance to make history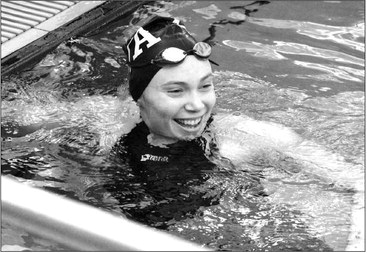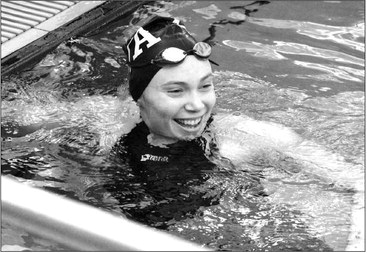 Colby senior sets sights on school record
Brooklyn Filtzkowski steps to the edge of the pool, shaking her arms and legs, loosening up the muscles before she dips into the warm water.
Before she does, she steals a quick, covert glance towards the back wall of Colby High's pool where a large board is fastened. It bears the name of every swimmer who holds a school record.
Many of these records are recent, set in the last ten years, but there is one that has stood the test of time, one that has refused to go down. It's that record that Filtzkowski's eyes linger upon.
She takes a deep breath, focuses her mind, and slips into the water, ready to race the dreaded 500-yard freestyle. Most swimmers refuse to participate in that race, but Filtzkowski, an incoming senior at Colby High, relishes it.
Each race means another opportunity to make history. With 2020 her last season with the Abbotsford/Colby swim coop, there's an urgency to everything she does in the off-season. She knows that this season - if it should happen - it's now or never.
"Coming into my senior year I know I just have to put it all on the line and have that be enough," Filtzkowski says during an online interview. "I'm using the pressure and the nerves to train even harder and push even harder. I've worked hard for the record. I want that record."
Brooklyn has been a swimmer almost all her life, starting around three or four years old. As early as grade school, probably around third or four grade, Brooklyn was attending swim camps and swimming with high school and middle school girls.
"I've always really loved swimming and it's always been the sport that I've focused on the most," Filtzkowski says, discussing her relationship with the sport. "It was a big part of my childhood and I didn't want to give it up, so I decided to stick to swimming."
As Filtzkowski says, she had others asking her to abandon swimming, to switch to volleyball, where her height would be a great asset at the net. But she stuck to her guns and remained a swimmer when she entered Colby High in the fall of 2017.
It was there that Filtzkowski's coach, Monica Tesmer, made a decision that would have a lasting impact on her career as a swimmer.
You see, Filtzkowski never imagined herself as a 500-yard freestyle specialist. Brooklyn had always favored shorter distances, but Tesmer knew Filtzkowski's build and length would be better suited to longer distances.
"I originally swam butterfly and that's what I thought I was going to be swimming in high school. Then [coach Tesmer] told me I was swimming the 500."
Brooklyn remembers that first attempt at the 500 with a grimace and a laugh. It's something she'll never forget.
"I didn't think I was going to make it through the first time I swam it. My lungs felt like they were on fire, and I was just glad to finish it."
Despite not wanting to swim that race, Filtzkowski's first performance awakened something inside her, and she vowed the next time she swam the 500 she'd be better. And as her freshman season continued, the results she was seeing in practice bolstered her confidence.
"There were other girls that were swimming the 500, and when I started training with them, saw that I could keep up with them, I started growing in confi dence," Filtzkowski said. "After that I wanted to see if I could meet the next goal and set new challenges for myself."
Commitment to the craft
Filtzkowski's freshman season was a good beginning, and as the year advanced her times dropped. By the end of her freshman campaign she was swimming the 500-yard freestyle just under seven minutes, a huge improvement from her first race. She also increased her speed by competing in the 200-yard freestyle and in relays.
MAKING HISTORY Her sophomore year, Filtzkowski wanted to do more than just compete she wanted to push for podium finishes, and to make history. For that to happen she knew success would have to be paid for with sweat and hours of training.
Brooklyn took to the weight room to help her, working to strengthen her muscles to move through the heavy and churning waters of a meet.
"For training for a long distance event it's definitely putting in more yards and more time, so repetition is key. Strength is also huge thing. You need to be able to have that lung capacity and be willing to keep going even if you're really tired."
Filtzkowski also discovered that there was more to a race than just a physical component - she had to stay mentally fit as well.
"I really do think that swimming is more of a mental sport than physical sport. Sure, you need to be in shape and it's a tough sport, but you need a strong mentality especially in a long race like the 500, where your arms and legs feel heavy but you might have three or four more laps to go."
More work was spent on honing her technique. She studied film of her races, went to swim camps, and increased her knowledge of nutrition to aid in recovery and health. All of this together led to a truly special sophomore season, but even Filtzkowski was surprised how quickly success came.
Breakout season
Every race in swimming poses its own unique set of challenges, and the approach to each one is different. A 50-yard race can be done in under a minute, but a 500-yard race requires consistent times and speed and rhythm.
"There's definitely a big structure to swimming this race and it takes time to figure out how to swim it the best," Brooklyn says. "I personally have to split it up and think of it as two races."
Filtzkowski also uses music to help her swim. In much the same way a musician will use a metronome to keep a beat, Brooklyn plays songs in her head to maintain a rhythm to her strokes.
That unusual technique paid off, and by her sophomore year, Brooklyn's times kept falling and falling. Late in the 2018 season she had her best result, finishing with a time of 6:05.8 - mere seconds off of Katie Thew's 1995 record of 5:56.
"It really did shock me," Filtzkowski said of the result. "I didn't think I would be able to get that close. It let me know that the record was in reach."
Brooklyn came into her junior season brimming with confidence - but inside there was no small amount of turmoil. With the success of her sophomore season, Filtzkowski felt the pressure to break Thew's record at every race. And every time she came up short, that pressure grew and grew.
"I started out my junior year thinking I could pick up where I left off, which was not the case. When I started to see that my times were not consistently dropping I got down on myself."
Filtzkowski's times were solid, and were extremely consistent, hovering around six minutes, twenty seconds, but after coming so close to swimming under six minutes in 2018, her frustration mounted. Already facing a strong physical challenge, Filtzkowski said the mental fatigue began to affect her as her junior season wore on. The numbers on the record board soon began to haunt her rather than drive her.
"Anytime I talked about swimming the record was always brought up . . . and that was always hanging over my head. I think that was part of the reason I got really frustrated my junior year."
Pressure is a privilege
With her junior campaign not going the way she had hoped, Brooklyn leaned on her team and family for support.
"If I didn't have my teammates supporting me all the way I don't think I could accomplish as much," Filtzkowski says. "My teammates kept encouraging me to keep trying and kept telling me I would get there. Once I overcame that mental block I was back to my times and I got my confidence back."
Brooklyn's times edged down at the tail end of 2019, and she says her mind and body are back to where they need to be. She's unsure what the 2020 season will hold, with COVID-19 putting all her plans on hiatus, but she's using her time wisely this summer, working on her strength and endurance.
"I'm not able to get in any pools but my mentality going into senior year is to push myself as hard as I can go, and help inspire and push the girls around me. I don't only want to succeed, I want to see the girls around me succeed."
Brooklyn no longer dreads seeing the numbers on the wall, and when she's finally able to get back in the waters of Colby High's pool, she'll look for that record on the wall once again. She has one more year to prove to herself that she can do it, one more year to make history.
Filtzkowski has come to embrace that pressure and is chomping on the bit as she waits for her senior year to begin. She's battled past her doubts, battled the nerves, and has come out stronger on the other side.
She's eager to show the girls coming behind her that hard work can make history happen.
"Since I was little and was just starting to swim I have always watched girls break records," Filtzkowski explains. "It has always meant something to me when I see names on the walls.
Just seconds separate her from her name on the wall. If she should get the record, she wants others to chase it.
"If I can do that, if I can get that record, I feel like it would inspire other kids and show them that this isn't something that happened in 2008. This is something that happened in 20020. This is something that's possible right now."