Posted on
Dorchester Days to go ahead with pulls, bands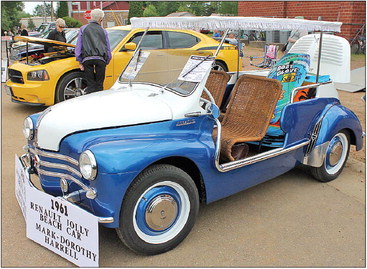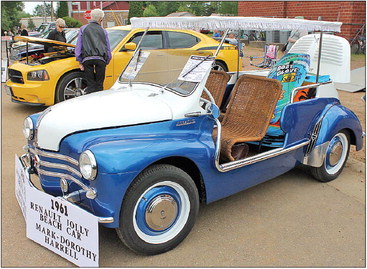 Two village board members vote no on event's beer license
By Kevin O'Brien
A motion to grant a beer license to Dorchester Days — something that normally passes unanimously without much discussion — drew a pair of no votes at last week's village board meeting.
Concerned about the potential spread of COVID-19 and a possible last-minute shutdown by the Clark County Health Department, two members of the board voted against issuing the license.
"I think we should be following what the health department says," said trustee Daniella Schauer, referring to advice by county health officials not to hold large public gatherings at this time.
Schauer was joined by trustee Klemm Klimpke in voting against the temporary Class B retailer's license for the threeday event, slated for June 18-20.
The motion passed 4-2, with yes votes from trustees Eric Klemetson, Keith Lageman and Julie Goldschmidt and village president Kurt Schwoch. Trustee Justin Duranceau was absent.
Goldschmidt, who is also a member of the Dorchester Days committee, said committee members wanted to proceed with the annual event, even with fewer activities scheduled.
Schauer, however, worried about the possibility of the event being shut down at the last minute by the Clark County Health Department, which successfully convinced Colby to cancel Cheese Days in July Schwoch said he spoke to Clark County health officials the week before about holding the annual event.
"They weren't going to tell us we couldn't have it at this point," he said. Reached by phone, Clark County public
See DORCHESTER DAYS/ Page 8 health nurse Brittany Mews said her department is strongly recommending that Dorchester Days be cancelled. Though she has not issued a public health order to shut it down, Mews said she could legally do so as part of her statutory duties to prevent the spread of communicable diseases.
As of June 5, Clark County had 42 confi rmed cases of COVID-19, an increase of three from the day before. Four people in the county have died from the disease and one remains hospitalized.
Event organizers have scaled-back the normal activities, though Mews said her department is still worried holding any event that draws a crowd.
Unlike most years, there will be no carnival rides,softballtournament,beanbag tournament or WTPA tractor pull on Saturday night. Instead, a tractor pull with two local farm classes — 11,500-pound, 8 mph hour and 11,200-pound, 12 mph — will be held Saturday night. The Badger-State Dirt Flingers will hold garden tractor pulls on Friday at 7 p.m.
The event will also feature live music on Friday and Saturday night, a cornhole tournament at noon on Saturday, and the annual Father's Day car, truck and antique show on Sunday. A food stand and beer tent will run all three days.
"Money-wise, I think it could be the most successful one in awhile," said trustee Keith Lageman.
Other business
_ During public comment, resident Jeff Staab criticized the village for not making committee meeting schedules and other information more readily available online. He also took aim at police chief Gary Leichtman, accusing him of having a "bad attitude toward good citizens" and failing to do his job.
Eventually, after Leichtman started responding to Staab, board member Eric Klemetson came to the police chief's defense, and accused Staab of mounting a "direct attack on a local officer." The exchange ended after Staab came to the end of the five-minute speaking limit.
_ In his monthly chief's report, Leichtman said he has contacted the Clark County Sheriff's Department about providing extra assistance during Dorchester Days. He said that shouldn't be a problem this year, as every other event in the county has been cancelled.
_ Public works supervisor Clint Penney said his crew has cleaned up the vacant property on South Front Street formerly owned by Terry Recore, who had left several of his possessions behind after the village reclaimed the property.
_ The board accepted a bid of $95,742 from American Asphalt for paving portions of North Front Street, Circle Drive and North Second Street. The company submitted the whole bid, which was $73.65 per ton for 1,300 tons of asphalt.
_ Schwoch said the planning commission will meet Thursday, June 11, at 6 p.m. to review a proposed capital improvement plan presented by MSA Professional Services and to discuss maintenance of a dead-end road off the corner of East Fourth Avenue and Oak Street.
_ Schwoch said the village buildings and utilities committee will meet on Friday, June 12, at 1:30 p.m. to discuss naming village buildings and buying signs.
_ The board was informed that Chief Leichtman has filed a complaint with the Wisconsin Department of Workforce Development regarding his rights for comp time after being switched from a salaried employee to an hourly work in 2017.
Deputy clerk-treasurer Christie Erikson said the matter has been turned over to village attorney Bonnie Wachsmuth, who will be handling the village's response to the complaint.
_ The board took no action on a donation request from the organizers of Dorchester Days. Trustees noted that the village has not previously donated to the event, though village employees do provide assistance with the festival.
_ The board set June 11-13 as the dates for this year's villagewide garage sales.
_ The board accepted an offer from Chuck Mengel to repaint the exterior pipes on the village's water plant, for an estimated $2,500.
_ The board voted to have the employee committee revisit several issues regarding the Emergency Family and Medical Leave Act, a temporary extension of leave benefits passed by Congress in response to COVID-19. As an employer, the village is being asked how it wants to deal with issues like accrued sick time and paid time off for employees affected by school shutdowns, daycare closings and other coronavirus-related issues.
_ The board accepted a $9,737 quote from Municipal Well and Pump to chemically clean out a water line between Well 2 and the water treatment plant that gets clogged with iron over time.
_ The board discussed an offer from Computer TR of Abbotsford to provide computer maintenance and security services for a flat monthly fee of $250, or $3,000 per year. Schwoch said the village normally doesn't spend that much per year on computer services, so the board decided to wait until 2021 budget discussions to review the proposal further.
_ The board renewed the village's contract with Becker Appraising for 2021, at a cost of $4,500, the same as 2020.
_ The board accepted an annual report on its wastewater utility, which gave the village A grades in all one category, which received a B.
_ The board approved a motion to include Brooke Bruesewitz's names on the Dorchester Days checking account, as she is serving as the treasurer for one more year.
_ The board accepted a $3,985 quote from Tri-State Pump & Control to rebuild a pump at a sewer lift station.
_ The board renewed all of the village's alcohol and tobacco licenses for July 1, 2020, to June 30, 2021.