Posted on
CBD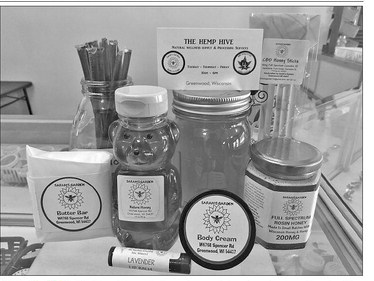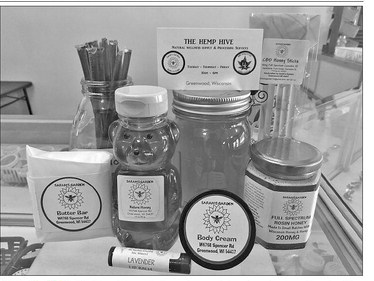 PUTTING THE BEE IN CBD
The Hemp Hive in Greenwood experiments with new combination
Honey and hemp are two Wisconsin specialty crops that are not mentioned in the same sentence very often. They surely are at The Hemp Hive in Greenwood.
It wasn't always that way for business co-owner Sarah Kelley, at least not until the state of Wisconsin in 2018 began allowing industrial hemp production in the state after decades of prohibition.
Sarah and her mother, Bev, were already turning a surplus of beeswax from their honeybee operation into cosmetic products, but then came a chance to add something new and unique to their line. With the CBD oil produced by Uno Xtracts LLC — owned and operated by Sarah's boyfriend, Jamie Degenhardt, and his parents — The Hemp Hive now offers an all-natural line that blends the sweet and soothing aspects of honey with the health-promoting properties of the oil extracted from cannabis.
Bees were the first business for Sarah, with she and Bev dabbling in hives for several years on the home place west of Greenwood. After several years of removing the honey from the hives and selling it, they had a pile of beeswax calling out for some sort of use.
"In 2015, we just started experimenting with the leftover wax," Sarah said. "We accumulated all this wax for a few years. We just wanted to do something with it. We had heard of Burt's Bees products. We figured we could do the same thing with it, but a little more natural."
From a recipe they found, Sarah first made a batch of lavender lip balm. The beeswax — the part of a hive's comb that's left after the honey is removed — is a good base ingredient for such a product because of its natural smoothness.
"It's better for your skin," Sarah said. "It's been used for lips for many years, before people started to make synthetic types."
Through trial and error and honing cooking techniques to keep ingredients from separating, Sarah developed other beeswax-based cosmetics and began selling them under her Sarah's Garden brand. She now has solid lotion bars, body creams infused with scented essential oils, soaps and more. Her honey balm is recommended for everything from skin conditions to waxing beards, to softening bald heads.
With Sarah and Bev tending about 20 European honeybee hives and adding to their line of edible honey products and cosmetics, they were gaining business steadily. At one craft show they attended a few summers ago, a CBD oil producer from Colorado approached Sarah and asked her if she had ever thought about adding it to her products.
At about the same time, Jamie and his parents were looking into applying for one of Wisconsin's first industrial hemp permits after the growing ban was lifted. Jamie said he was at first looking at hemp to sell it for its fiber, but the query about cannabis oil got him thinking. Was there more money to be made by harvesting only the cannabis plant's buds, and processing them for their oils?
That's the way he went, and in 2018 he had 5,000 cannabis plants in the ground. He learned to process his own oil and sell it, and soon he and Sarah were adding together the respective benefits of their two products.
The Hemp Hive now carries CBD honey, which is said to boost a person's immune system, and three flavors of CBD honey sticks (original, lemon and raspberry). She has also made CBD honey puff corn, and plans to add a line of maple syrup with CBD oil.
On the cosmetic side, there are CBD body creams in three strengths and scents, to soothe pain and assist in skin healing; CBD chill cream, to temporarily relieve pain associated with arthritis, and muscle strains, sprains and cramps; a sugar scrub; honey and shea butter soaps; and a lotion bar.
Sarah and Jamie opened The Hemp Hive store on Main Street in Greenwood late last year. There they sell both of their products, ranging from Sarah's edible and cosmetic honey products, to Jamie's line of cannabidiol (CBD) products, including tincture oil.
In selling their CBD products, both Sarah and Jamie have had to educate potential customers not only about the purported benefits, but the difference between the hemp plant from which their oils are derived and the more notorious relative — the marijuana plant.
Marijuana and hemp are from the same family, but are different plants. Marijuana has high levels of THC, which provides the psychoactive affects for which it is known. Hemp plants contain very low levels of THC, with the state Department of Agriculture, Trade and Consumer Protection actually testing samples from Degenhardt's field to make sure the levels are low.
While hemp plants are grown for their fiber for various products ranging from rope to clothing to canvas, if the buds are harvested at the correct time, they are filled with the cannabidiol that can be further processed into tincture oils, for vaping, and other uses.
Or, infusing into honey and beeswaxbased products. Sarah said the CBD oil adds to the beneficial effects of her products, giving customers a unique chance to buy edibles and cosmetics that benefi t both from the work of bees and the hemp oil.
Jamie and Sarah said it's a continual process to let potential customers know about the positive affects of their products, and to overcome the stigma that they may contain marijuana.
"Everyone was skeptical of it in the beginning," Jamie said.
Sarah said she is selling more of her CBD-infused honey/beeswax products through her website, because some customers are still leery of buying a CBD oil product in person.
"It's a product people feel more comfortable buying online," she said.
Jamie said the key to getting new customers is getting them to try the products, and then they see there is no "high" associated with THC, but health benefits to be had from pain reduction to anxiety reduction to better sleep.
"Most people find out it works when they stop taking it," Jamie said.
Word is spreading, as Sarah said demand for their products has been on the rise. It takes work, though, both in production and sales. Not only do they have to tend to hundreds of thousands of honeybees that are sensitive to food supply changes and mites, but to a four-acre hemp field that needs constant care during the growing months. Oddly, the bees and hemp do not mix, as pollination will ruin the plants for oil production. Only female plants produce the oil, and if a male plant is mistakenly mixed in the seeds, it can create troubles. Worse yet if the honeybees do their jobs and pollinate the crop.
"Bees and hemp don't necessarily work together," Sarah said.
She and Bev are the beekeepers, with hives located in three places. With fewer blossoming crops like alfalfa being planted in recent times, the bees sometimes are short of the nectar they need to make their food. The Kelleys may supplement their diet with sugar water, but only when necessary.
"It's better if they find their own food," Sarah said.
The Kelleys also take good care of their bees. When handling them, they don't use smoke to calm the insects. Instead, a mist with essential oils keeps them inactive and more healthy during the process.
After a season of the bees' work, Sarah and Bev collect the combs. They put what they collect in an extractor, which separates the components.
"The honey basically whips out of the comb," Jamie said.
From there, the honey is filtered and bottled. The wax is further processed and combined with essential oils or CBD oil or whatever else a recipe calls for with a particular balm or creme. Sarah makes the products in winter for sale during the warm season, and in small batches to ensure high quality.
"You can make a product from start to finish in three hours or so," she said.
Then, it's marketing. Sarah sells the products at the Greenwood store, online, and at as many craft sales as she can make in a summer.
"Every weekend for the last two years, for sure," she said of her distribution. "We pack up our Jeep and we go all around the state."
The Hemp Hive has a promising future, Sarah says, although the COVID-19 pandemic has wiped out many of the usual events for the summer at which she would sell her items. In the long run, it's based on two natural products — honey and hemp — that man has turned to for centuries for their various benefi ts.
"It's just an ancient thing," Sarah said. "Bees have been used for thousands and thousands of years."
For more information, visit www.sarahs- garden.com.